Some sites and social media accounts are claiming that the Edmonton Oilers are actively fielding calls about Jordan Eberle, and though they haven't been substantially backed up by anything other than "someone said" it's an interesting topic to look into. The more talk that surrounds the right-winger, the more it appears that even with the Oilers on the cusp of the playoffs, the sentiment is looking more and more like this could be Eberle's last season in Edmonton.
Eberle has remained a steady face on a variety of top trade bait boards. TSN has him ranked at No. 28 on their board, while The Fourth Period has him ranked as high as No. 11 on theirs. Today, that same site suggested the Oilers are considering moving the forward prior to the March 1st trade deadline and while they've not named any sources, that the talk has gathered as much steam as it has, suggests there may be something going on.
Eberle has two seasons left after this one with a $6 million cap hit. He has 37 points on the season but is being viewed as a disappointment.
Who Would Be Interested?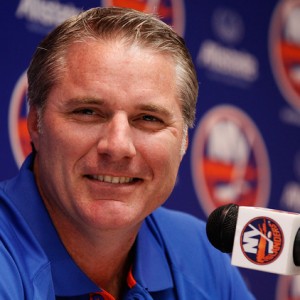 The New York Islanders have been the team most notably connected to this Eberle situation. Arthur Staple of Newsday has noted that Islanders' Special adviser Claude Loiselle was apparently sent to Florida last week to watch the Oilers take on the Panthers and Tampa Bay Lightning — the idea was to keep tabs on Eberle and report back on whether Eberle would be helpful putting the Islanders over the hump. Edmonton's forward may also be a good match with long-time friend John Tavares.
There are of course other teams lacking offense and Eberle is young and experienced with a proven track record of top-line performances in the NHL. Not long ago, Elliotte Friedman suggested there wasn't much of a market for Eberle's services, but a player of Eberle's talents will undoubtedly find a suitor.
The Return
Clearly, moving Eberle would create a hole on the right side offensively for the Oilers. It's not an issue they can't address come the off-season, but it would be problematic for their current playoff push. If the Oilers management team believes that Edmonton has a chance at the postseason or the potential to steal a round or two, it makes little sense to move what is arguably your best right-winger. One would have to think a right-winger would be coming back in return and that Leon Draisaitl will find a permanent home on the top line.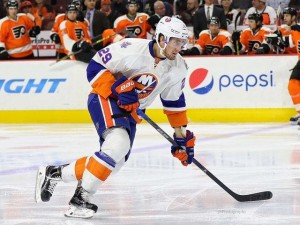 If not someone to take Eberle's spot with a lower cap hit, only a bonafide NHL player who'd help the team in an area of weakness makes sense from an Edmonton perspective. If an offensive defenseman or a depth center were part of any deal, Chiarelli might be listening. If we're talking the Islanders, young defenseman Travis Hamonic or a center like Ryan Strome or Brock Nelson might be of interest. Maybe goaltender Jaroslav Halak makes his way into the conversation.
A Mistake
As names move quickly off the market and during the NHL trade period that ends on Wednesday, Edmonton has done nothing to bolster their roster. They've been rumoured to be in on a few popular choices like Martin Hanzal and Brian Boyle, but nothing has materialized.
Moving Eberle in the summer or before next season is one thing. Moving him now without a replacement is writing off the playoffs. It's the opposite of rewarding the team for getting to the postseason for the first time in a decade.
Undoubtedly, the chatter is out there and Eberle may be on his way out. If it's in the next two days and the Oilers stay as quiet as they've stayed to date, this would be one of the Oilers bigger short-term mistakes to make — even if the right deal makes sense long-term.