Is it really the end of February already?
This season has flown by. As of this writing, we are mere hours away from the NHL trade deadline. That is the unofficial start of the push to the playoffs. For the Columbus Blue Jackets, there is no shortage of storylines.
Now is a great time to empty my notebook. We'll try to touch on as many topics as possible. These are my takes and opinions based on team storylines and fan questions and am not holding back. Let's begin.
The Trade Deadline
The Columbus Blue Jackets need to hold steady. I know it's boring and you likely want to see action. Many of you want to see Matt Duchene dawn the union and blue. Now is not the time. The franchise is not in position to pay the kind of prices other teams have paid to this point.
Saying all that, if an opportunity presents itself, the team will look at it. But they must not overpay. They're already losing a second rounder either this season or next (likely this season.) They're also going to lose a good player in the expansion draft (more on that below.) Expect this Wednesday to have little action. But expect the time leading up to the expansion draft and entry draft to have more fireworks.
The Expansion Draft
Stop worrying about who the team could lose. Management is all over this situation more than any of us know. They're planning for this day. Although the Blue Jackets will lose a good player, their future is still brighter than ever. Let me calm you down for a moment. Pierre-Luc Dubois and Vitaly Abramov are in waiting for future seasons. No matter who the Blue Jackets lose, they have two exciting prospects on the way.
I see many of you asking who they should expose. Let's revisit this question after the season. We'll have a better idea of that after seeing the season play out. Players know they need to perform. This is a time of separation. A player we'd never think to expose now could eventually find themselves subject to selection by Vegas. We don't know. But trust management. They'll have a plan for this.
Brandon Saad
What's with the Brandon Saad hate? I had a fan try to convince me that the Blue Jackets should protect Josh Anderson and expose Saad in the expansion draft. What the what?
This fan cited better recent play. I've seen others get frustrated with Saad when he disappears from some games. He's one of the better 5-on-5 players in the league. He can get you 20-30 goals a season and has improved on his playmaking. He's also only 24 years old.
With the assist, @BSaad20 becomes the fourth #CBJ player to reach 40 points on the season (17-23-40), joining Atkinson, Wennberg & Foligno.

— CBJ Public Relations (@BlueJacketsPR) February 16, 2017
Anderson is in the midst of a nice season in his contract year. He has 14-10-24 in 59 games and is +9. Saad has 18-25-43 in 60 games and is +21. Saad can also contribute on both special teams unit. He's also won a pair of Stanley Cups.
There is no comparison. The Blue Jackets will protect Saad. Will they protect Anderson given his season? We'll see. But to expose a player acquired in a major trade who you committed to for six years is ludicrous.
Zach Werenski
The three best rookies I've seen this season are Auston Matthews, Matt Murray and Zach Werenski. Werenski is in the midst of a historic season for a 19-year old defenseman. Yet he gets lost in the Maple Leafs shuffle. That's a shame.
What Werenski has done this season is remarkable. His impact to the defense and power play has helped transform the Columbus Blue Jackets from mediocre to a young contender. They're only going to get better.
Werenski should appear as a finalist for the Calder. Just watch a couple of his games. Watch how he quarterbacks the power play. Watch how he makes a great breakout pass. Watch him in transition. He looks like he's 25 or older. He can't drink alcohol yet. I thought he was the best defenseman in the 2015 draft. I've seen nothing to convince me otherwise.
Matthews likely wins the Calder. But Werenski deserves credit considering the position he plays.
Other Quick Hits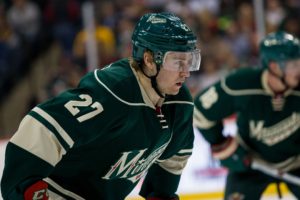 The Blue Jackets are ecstatic they landed Zac Dalpe on waivers from the Minnesota Wild. Many fans weren't aware that a player could go directly to the minors. The Wild tried to reset Dalpe's clock. The Blue Jackets saw an opportunity. They landed a player who can help Cleveland and can help the Blue Jackets in an injury pinch. This was a shrewd move by Jarmo Kekalainen and company.
The Blue Jackets young guns have stepped up in recent games. Oliver Bjorkstrand and Markus Hannikainen have not looked out-of-place in their limited time. It's a nice upgrade at the cost of no assets. They bring speed and skill. Their energy has rubbed off on the team. We'll see if they can keep this up as the games get harder.
Alexander Wennberg recently told me that the Ryan Johansen/Seth Jones trade was his wake-up call. The team made the move in part to give Wennberg his chance at center. He has taken the puck and skated with it in a major way. He scored twice against the Rangers on Sunday night. He's becoming a dual threat, both in the passing game and shooting game. As he goes, so goes the offense and power play. He's a number one center who's only improving.
Will the Blue Jackets continue to keep eight defensemen as they have all season? I'm watching this one closely. Scott Harrington and Dalton Prout continue to sit while there are no injuries. You can't waive them without risking losing them for nothing. Could a trade come out of this perhaps? I don't see it, but you never know. Carrying eight defensemen limits your roster flexibility especially if you need extra forwards. It cost them once this season having to dress 11/7. I'm sure the Blue Jackets would like to see them play at some point too. But as it is, unless there's an injury, they're sitting.
Finally, how far can the Blue Jackets go in the playoffs? They can make it to the second round and beyond. When you have Bobrovsky and an improved defense, you can win. It's matchup dependent. One thing I know, they will not be intimidated by any Metro opponent. They own two wins against Washington and Pittsburgh and three wins against the New York Rangers. This team is for real. Get used to it.
That's all I got for now. See you next month for more emptying of my notebook. Enjoy the trade deadline everyone.