If there is one thing we can take away from Edmonton Oilers GM Peter Chiarelli's press conference today, it's that you can't revamp a roster overnight.
That said, the Oilers have made some surprising moves over the summer as well as into finalizing their roster for the October 8th season opener. They've buried $6.8 million in the AHL with Ben Scrivens and Nikita Nikitin starting the year in Bakersfield. They've also done something Oilers management before them hasn't – do the right thing for a player's development.
This is where the biggest news of the day factors in with the Oilers sending Leon Draisaitl to the minors to join fellow top prospect Darnell Nurse. It's a conscious effort to take care of the long-term future of the team.
Related: Edmonton Oilers 5 Games To Watch This October
Regardless, this shouldn't be seen as a slight to Draisaitl in any way, as he'll be the first recall up to Edmonton. Ditto for Nurse.
Chiarelli took the time in his press conference to go over the roster moves, the waiver wire options and the big elephant in the room with Andrew Ference and the Oilers' captaincy situation that has everyone buzzing.
Here is Chiarelli's press conference in its entirety from Oilers.com:
---
Oilers 2015-16 Season Opener Lineup
---
Goaltenders
#33 Cam Talbot
#39 Anders Nilsson
Defense

#77 Oscar Klefbom

#19 Justin Schultz

#2 Andrej Sekera

#5 Mark Fayne

#8 Griffin Reinhart

#62 Eric Gryba

#21 Andrew Ference

#88 Brandon Davidson
Forwards

#67 Benoit Pouliot

#93 Ryan Nugent-Hopkins

#16 Teddy Purcell

#4 Taylor Hall

#97 Connor McDavid

#42 Anton  Slepyshev

#28Lauri Korpikoski

#51 Anton Lander

#10 Nail Yakupov

#12 Rob Klinkhammer

#55 Mark Letestu

#23 Matt Hendricks

#20 Luke Gazdic

#14 Jordan Eberle (IR)
---
Draisaitl To AHL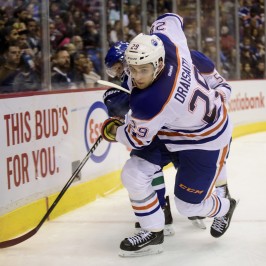 The biggest news of the day was Draisail getting sent down to Bakersfield to start the season in the AHL. Many were expecting the 2015 Memorial Cup MVP to earn a spot on one of the top three lines with the Oilers, especially after earning a spot out of camp last year.
Unfortunately for Draisaitl (who Chiarelli said took the news hard), there are some holes in his game, and the Oilers are more concerned with the long-term forecast over being short-sighted. You read that statement correctly.
Chiarelli noted he wanted Draisaitl to work on his 200-foot game and his defensive skills when he doesn't have the puck. Make no mistake, Draisaitl can play offensively at the NHL level, but the Oilers are going to be patient.
The goal is to get Draisaitl ready for full-time NHL duty in the not too distant future. He won't be in the AHL for long (similar to Nurse).
---
Slepyshev Starting Year With Hall  & McDavid
The Eberle injury created a need for a short-term answer and it came down to Slepyshev and Draisaitl battling for the spot with Hall and McDavid. At the end of camp, the Oilers decided to go with Slepyshev over Draisaitl because both Chiarelli and McLellan felt his development curve is a little further along than Draisaitl's.
There's also Slepyshev being more prepared for the professional game after enjoying a successful stint in the KHL. Scouting reports were quite favorable on him last season overseas. Yet it was obvious Slepyshev struggled in the early parts of rookie camp, even during the Penticton rookie tournament. That said, Slepyshev has gotten more comfortable with the North American game and has come on strong as preseason has progressed.
Related: Anton Slepyshev Has Earned His Job with the Edmonton Oilers
This is a solid player getting a solid opportunity (even if temporary) to prove himself in the absence of Eberle. Make no mistake, this is an extended audition for the Oilers to see what they really have in a prospect like Slepyshev, who's temporarily working in a more favorable position in the lineup than Oilers 2012 1st overall pick Nail Yakupov.
"In a snap shot he might be a little bit ahead, but in a photo album he might not be" – Peter Chiarelli
---
Andrew Ference & The "C"
Nothing to report as of today, but be on the lookout for a possible announcement tomorrow or Wednesday with head coach Todd McLellan changing the captaincy. Chiarelli was otherwise mum on the topic but the general belief is that the Oilers will go towards rotating assistant captains this season.
Discussions have been had and it's obvious Ference isn't going to play the same role he did last year. Chiarelli danced around the topic of Ference being the No. 7 defenseman by saying that he was in the grouping that would make up the bottom-pairing, take that as you may.
Either way, there is nothing that can't be said about the professionalism Ference has displayed throughout the summer and in handling his role.
Related: Oilers Griffin Reinhart Could Be In For A Rough Ride
At the end of the day, Chiarelli would rather have two extra defensemen instead of stockpiling forwards in the lineup, and that's a major reason why Ference wasn't waived the same way Nikitin and Scrivens were. Chiarelli reiterated his preference to carry an eighth defenseman, especially with Eberle coming back in early November.
If you remember, Chiarelli and Claude Julien carried eight defensemen with the Boston Bruins during his tenure, including the one that won a Stanley Cup championship in 2011.
---
Ben Scrivens on Waivers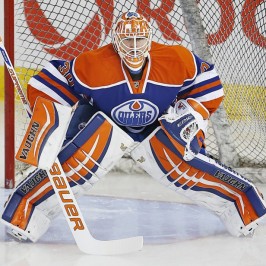 It was a difficult decision to place Ben Scrivens on waivers, especially after a conversation in the summer where Chiarelli asked Scrivens to focus on a few key areas to improve his game. He also warned him that there would be competition for the two goaltending spots with Cam Talbot coming in.
It was even harder when Scrivens came to camp having done everything he was asked but was simply beaten out by a hot goaltender in Anders Nilsson, who is the new backup in town.
Related: Oilers: Anders Nilsson And Seizing An Opportunity
Related: Oilers Waive Ben Scrivens
Scrivens, at the very least, is depth for the Oilers as the current No. 3, but it's very possible he ends up somewhere else before the end of the year, possibly via waivers or trade.
It's amazing what can happen in two years.
---
Nikita Nikitin Sent To AHL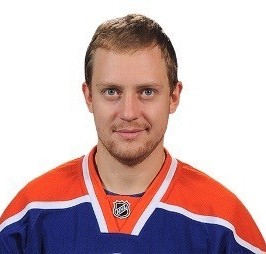 Clearly, Nikita Nikitin's game wasn't quite where it was supposed to be and in the end, it cost him a spot on the Oilers' blue line. By not factoring into the top eight, they had no choice but to re-assign him and hope he finds his game in Bakersfield this year.
Nikitin enters his final year of a two-year, $9 million deal after posting 4 goals and 10 points in an injury-plagued season that only allowed him 42 games last year.
Related: Oilers Place Nikita Nikitin on Waivers
It's worth noting that Nikitin showed up in much better shape than last year, but he still looked like one of the more tired players on the back end during the preseason. He's got his work cut out for him, but this is a chance for him to find his legs and try to work his way back into the lineup.
This is also a chance for the Oilers to pay a problem to go away.
---
Where Do We Go Now?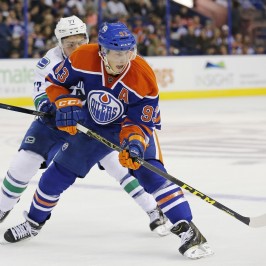 Chiarelli stated the Oilers are unlikely to go after anyone on the waiver wire, but they will take a look. Their current roster is essentially what the Oilers are going with and they're comfortable with their internal options down in the AHL to start the year.
Is this team better than it was in the past? Sure, Chiarelli is obviously comfortable with the direction the team is headed right now. That said, there are still going to be changes coming to Edmonton in order to ultimately get this team into the playoffs.
There are going to be some growing pains this season — even with 2015 1st overall pick Connor McDavid.
We're talking about the team that finished 28th overall in the NHL, with the 5th worst offense and worst goals against per game last season. Any improvement on this should be celebrated. Even if the Oilers improve by winning ten more games to add to the 24-44-14 record they had last year, they'd still be the second-worst team in the Western Conference.
Although, they'd at least be nipping at the heels of some of the playoff contenders at the lower end of the field. That's improvement enough for what fans have seen in the last nine playoff-less years.