The Edmonton Oilers open the 2015-16 season on October 8th in St. Louis, but that's not the only game worth watching this month. The Oilers start the season with a three-game road trip against the Central Division before returning home on October 15th to face the Blues.
From there, the Oilers leave again for a set of back-to-back games against Calgary and Vancouver before a three-game home stand against Detroit, Washington and Los Angeles. They do get a highly-anticipated game against the popular Carey Price and P.K. Subban-led Montreal Canadiens near the end of the month, but the Oilers are going to be front and center this season.
Edmonton plays three of the first four Saturday nights on Hockey Night In Canada (HNIC) with two of them being Battle of Alberta games against Calgary.
It's the debut of Connor McDavid that has many buzzing outside of the Alberta capital, and it's obvious both Rogers and CBC are trying to capitalize on the "McDavid Show" that will tour around the NHL with lots of good TV slots, something that wasn't exactly the case for much of the rebuild. It's a conscious effort to get the Oilers more exposure as the league tries to market a future contender.
Related: Top 10 Calder Trophy Candidates
Related: Oilers Send Darnell Nurse To AHL To Start 2015-16 Season
There is tons of star power playing against Edmonton this October.
Vladimir Tarasenko and Alex Pietrangelo (St. Louis), Shea Weber (Nashville), Tyler Seguin and Jamie Benn (Dallas), Johnny Gaudreau, Dougie Hamilton and Sean Monahan (Calgary), Daniel and Henrik Sedin (Vancouver), Pavel Datsyuk and Henrik Zetterberg (Detroit), Alex Ovechkin (Washington) and Zach Parise, Ryan Suter and Devan Dubnyk (Minnesota) just to name a few.
Here is the official Edmonton Oilers October schedule from Oilers.com: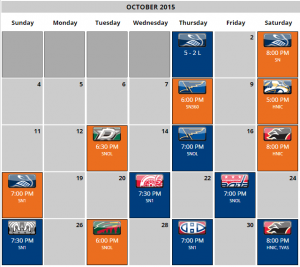 ---
5 Oilers Games To Watch This October
---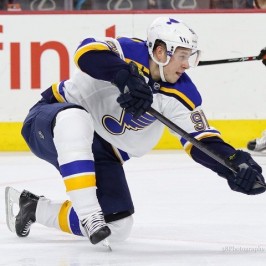 St. Louis Blues (Season Opener)
Thursday, October 8th
Road Game
6:00 MT (TV: SN360, NHL Gamecenter)
Blues 2014-15 Record: 51-24-7 (109 Points)
Oilers 2014-15 Against Blues : 0-3-0
---
Details: The Oilers kick off the season with a three-game road trip to start the year against the Central Division. This game also marks the NHL debut of Connor McDavid and the Oilers debut of Cam Talbot, Andrej Sekera, Griffin Reinhart, Eric Gryba, Lauri Korpikoski and Mark Letestu. Edmonton also has the possibility of debuting Anton Slepyshev as well.
Last year, the Oilers had a poor start in October finishing 3-9-2 including a 1-6-1  run in their first eight games. The hope is that new head coach Todd McLellan can help the team get off to a better start. During his seven seasons in San Jose, McLellan held a 311-163-66 record and qualified for the playoffs in all but one season.
Related: Open Letter to You, My Non-Hockey Fan Love – Why You Should Care About the Oilers This Season
This is a big test as the Blues have been a perrenial contender in the Western Conference and have a number of stars including Vladimir Tarasenko, who finished the year with 37 goals and 73 points. It'll be an interesting challenge for the Oilers (namely Sekera) to be able to shutdown the talented Russian star.
Jordan Eberle will be out for the opener and won't return to the lineup until early November. Teddy Purcell is also day-to-day and questionable for the opener.
---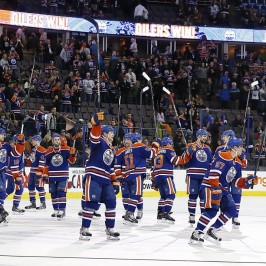 St. Louis Blues (Home Opener)
Thursday, October 15th
Home Game
7:00 MT (TV: SNOilers, NHL Gamecenter)
Blues 2014-15 Record: 51-24-7 (109 Points)
Oilers 2014-15 Against Blues : 0-3-0
---
Details: The Oilers will return from a three-game road trip for their home debut against the very team they started the season against. It's a short-lived home stay as they leave for two games in two nights against Calgary and Vancouver.
This is the much awaited debut of Connor McDavid at Rexall Place, which is as good as sold out at this point. The Oilers will bring to the table a much stronger roster than they did in 2014-15, which saw them finish 15-23-3 on home ice.
Related: McLellan Hoping Edmonton Can Roll Four Lines This Season
Edmonton will have to be much better at home if they want to make a run at the playoffs in 2015-16. If you look at the Calgary Flames, who finished as the 8th place team in the West last season, they went 23-13-5 on home ice to make the playoffs — if you were curious.
---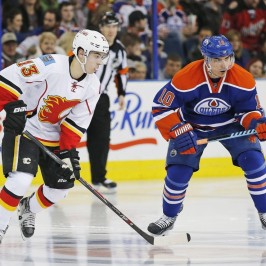 Calgary Flames (Battle of Alberta)
Saturday, October 17th
Road Game
8:00 MT (TV: HNIC, NHL Gamecenter)
Flames 2014-15 Record: 45-30-7 (97 Points)
Oilers 2014-15 Against Blues : 0-5-0
---
Details: The Oilers play three of the first four late games on Hockey Night In Canada this year, largely in part because of the ratings Rogers and CBC want to capitalize on with the arrival of McDavid. This is the Oilers first game against the Flames and after all the comparisons made, both were two of the most improved teams in the NHL and the Battle of Alberta is on the verge of kicking into high gear.
The Flames top line of Johnny Gaudreau, Sean Monahan and Jiri Hudler gave the Oilers tons of problems last season, but the possibility of always having one of Mark Giordano, T.J. Brodie or Dougie Hamilton on the ice at all times is going to be Edmonton's biggest challenge with match-ups. Edmonton is hoping they can roll three offensive lines with McDavid and Hall on one, Nugent-Hopkins and Eberle on another, and Yakupov rolling with Lander on another to balance out their attack.
Still, the biggest intrigue is two different strategies in building a team; the Flames have built their team from the net and blue line out while the Oilers are building from the forwards back.
---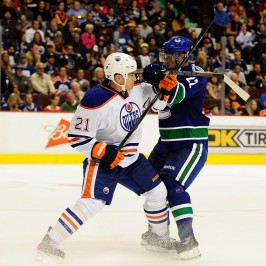 Vancouver Canucks (Divisional Game)
Sunday, October 18th
Road Game
7:00 MT (TV: SN1, NHL Gamecenter)
Canucks 2014-15 Record: 48-29-5 (101 Points)
Oilers 2014-15 Against Canucks: 0-5-0
---
Details: Edmonton struggled against the Pacific Division last year, and ultimately, they need to play better against the Canucks and Flames, who they went 0-10-0 against last season. Even winning half those games would move the Oilers up three spots in comparison to last year's overall NHL standings.
The Oilers have to win games in the early part of the year if they want to be playing meaningful hockey in January, let alone by the trade deadline. Picking up wins against a transitioning team like the Canucks is going to be the difference. The Sedin twins (Henrik and Daniel) are still stars in the league as Daniel finished tied for 8th in league scoring last year with 76 points. Henrik finished with 73 points tied for 10th in league scoring.
Vancouver has some rising stars in the lineup in Jake Virtanen and Bo Horvat who will both play key roles. Factor in Brandon Sutter and as much as the Canucks are in transition, it's still going to be difficult for the Oilers to rack up wins. These are far from "gimme" games.
---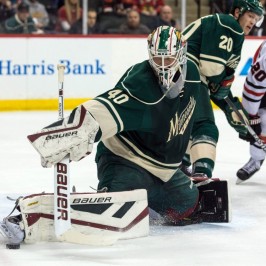 Minnesota Wild (The Dubnyk Game)
Sunday, October 18th
Road Game
6:00PM MT (TV: SNOL, NHL Gamecenter)
Wild 2014-15 Record: 46-28-8 (100 Points)
Oilers 2014-15 Against Wild: 1-2-0
---
Details: Since Devan Dubnyk was shipped out of Edmonton and suddenly reemerged as a legit No. 1 goalie in the NHL with the Minnesota Wild, some Oilers fans have been tainted. Did the Oilers give up on Dubnyk too soon? Was Dubnyk a good goalie playing behind a bad team? Did a change of scenery and tutelage under goalie coaches Sean Burke in Arizona and Mitch Korn in Nashville do the trick?
Dubnyk has already played against the Oilers since being shipped out of town going 5-1 and posting one shutout in that span with the Wild and Coyotes.
Regardless, Dubnyk was a Vezina Trophy finalist in 2014-15 and backstopped the Wild to upset St. Louis in the first round before falling in the second round to Chicago. The true test is going to be whether or not the former Oilers starter can string two solid seasons together. Edmonton finally feels they have found their long-awaited starting goalie in Cam Talbot, and they paid a heavy price to get him.
Therefore, on October 18th, it'll be curious to see if the Wild and Oilers pit the two starters against each other.