Last season saw five Canadian teams clinch playoff berths in the NHL; apart from the 110-point Montreal Canadiens and sub-70 point Toronto Maple Leafs and Edmonton Oilers, there were four Canadian teams bunched up with a four-point separation altogether. The Leafs and Oilers have each improved this offseason, the Canadiens have remained powerful and the rest of the Canucks, Flames, Jets and Senators certainly haven't gotten worse.
Will most of the NHL's teams in the great white north be around the middle of the pack, points-wise, in 2015-16? Probably. What may not be as clear cut, however, is who the best to worst Canadian teams are on paper. For this reason, I ranked my predictions.
Part 2 will be available this week.
1. Montreal Canadiens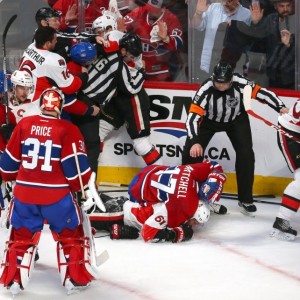 The Habs have last season's Vezina and Hart Trophy winner in Carey Price between the pipes, a one-time Norris Trophy winner (and child-care miracle worker) in P.K. Subban and a talented core of players including Alex Galchenyuk, Brendan Gallagher and newly named captain Max Pacioretty.
They finished atop the Atlantic Division in 2014-15 and three points behind the NHL-best New York Rangers, and should challenge for their first Presidents' Trophy in franchise history. The last time the Canadiens finished first overall in the league was 1978, a feat they've actually accomplished 21 times – all before the introduction of the Presidents' Trophy.
What may be the biggest test this season for a Canadiens team that is poised to win a lot of games this year is how far they can go in the postseason. They've qualified for the playoffs in seven of the last eight years and lost in the conference finals on two occasions. Now with a group of players that has experienced lots of playoff action in recent years, led by a core in their primes including Price, Subban and Pacioretty, the best may be yet to come in Montreal.
2. Calgary Flames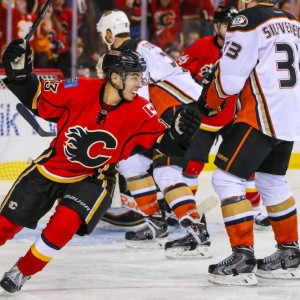 The Flames surprised many with their 97-point season in 2014-15, fueled by a few dynamic veterans and talented youngsters, as well as a flare for the dramatic late in games.
Calgary led the league in third period goals last year, and the team's never-say-die attitude had a lot to do with the influence of coach Bob Hartley, who took home the Jack Adams Award last season. Lady Byng Trophy winner Jiri Hudler finished in the top-10 in league scoring with 76 points, and paced sophomore Sean Monahan (31 goals) and Calder Trophy finalist Johnny Gaudreau (64 points).
31 year-old Mark Giordano may have been a Norris Trophy candidate before missing the last 21 games of the regular season with a torn bicep injury. Even without the presence of their captain on the ice, the Flames' blue line still helped them reach the second round of the playoffs last season. Add newly acquired Dougie Hamilton to a back end that includes Giordano, T.J. Brodie, Kris Russell and Dennis Wideman and Calgary has one of the deepest blue lines in the NHL.
The Flames' 45 wins and 97 points were a surprise last season, but Calgary could very well improve on those totals this year and potentially surpass 100 points if their top players can build off of last season's successes.
3. Ottawa Senators
As much as the Flames surprised the hockey world last season, the Ottawa Senators' 99-point season was even more improbable. The Sens sat at 49 points through 51 games of the season, and went 23-4-4 in their final 31 games to clinch a playoff spot on the last day of the season.
CXN: Check out the difference in the @NHL East standings from Feb. 10 to April 10 (2 months). #cbcott #Ottawa pic.twitter.com/8c718hmiiM

— Jamie Long (@cbcjlong) April 10, 2015
While the Senators took an unlikely route to 99 points last season, don't be surprised to see Ottawa build on that success into this season. Led by Erik Karlsson, who is only 25 and has two Norris Trophies, and a supporting cast of proven and up-and-coming forwards including Bobby Ryan, Kyle Turris, Mark Stone, Mike Hoffman and Mika Zibanejad. And with the well-documented standout performance of Andrew Hammond last season, the Sens have stability in net between Hammond and veteran Craig Anderson.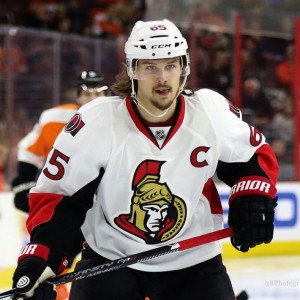 With this core of talented young players, who are only getting better, and lots of veteran leadership – Chris Neil, Chris Phillips, Milan Michalek among others – the Sens seem to be trending upwards, and earning a playoff spot may not be as surprising this season.
4. Winnipeg Jets
The Winnipeg Jets finally appear to be coming together with strong chemistry in their veteran group and depth in all areas, as they proved with their 99-point campaign in 2014-15. Last season was only the second time the Jets franchise has clinched a playoff spot since they joined the league as the Atlanta Thrashers in 1999. It was also the first time since 1996 that the Winnipeg fan base got to witness playoff hockey.
You would've thought they won the Stanley Cup when Lee Stempniak scored the first playoff goal in Winnipeg in 19 years.
With the likes of Andrew Ladd, Blake Wheeler, Drew Stafford, Bryan Little, Dustin Byfuglien and Tyler Myers, who are all in their best years, the Jets have a powerful group of top players. Youngsters like Mark Schiefele, Jacob Trouba and Nikolaj Ehlers should also be impact players in the Jets' lineup this year, and the suddenly reliable tandem of Ondrej Pavelec and Michael Hutchinson in goal gives the team security between the pipes.
So while they've yet to win a playoff game in Winnipeg, the Jet's fan base should expect their team to once again reach the postseason. Winnipeg seems to have finally found their identity and looks poised to build on their 43-win season in 2014-15.