The Edmonton Oilers finally defeated the Arizona Coyotes in regulation! In 25 straight contests — even back to 2011 when the Arizona Coyotes were not named the Arizona Coyotes — the "Desert Dogs" earned points in every matchup against an Oilers team that simply couldn't overcome the Coyotes curse. On Wednesday, the Oilers won a crazy battle full of action, fights, penalties and non-calls. It was like Christmas had come early.
With one major obstacle checked off the Oilers' Christmas wish list, there are a few items left that I'm sure Edmonton fans would like to see delivered by the big guy in the red suit.
Proper Officiating
It's becoming quite the story in Edmonton. The officiating — or lack thereof — has drawn the ire of fans and media and possibly the attention of the NHL. At some point, if the officiating isn't addressed, it's going to start costing the teams with superstars games and the NHL will need to make a statement.
On Monday, the Oilers won a close contest against the St. Louis Blues. It was an overtime victory that could have gone poorly thanks to a blown call by official Chris Lee on a very obvious hook and slash by Alex Pietrangelo during a Connor McDavid breakaway. No penalty shot, no penalty and no call whatsoever. Frankly, it was embarrassing.
The game against Arizona on Wednesday was full of non-calls on both sides and again, McDavid was held, hooked, whacked and hampered throughout the contest. But, this time, it wasn't just McDavid. It was Leon Draisaitl who was held but almost scored anyways. It was Eric Gryba who was kicked out of the game for an illegal check to the head, even though he must have mysteriously targeted the player with his buttocks and there was no penalty call on the play. It was a blatant dive by goaltender Mike Smith who then chewed the ref a new one when the officials didn't actually reward him for cheating.
The lack of calls is one of the major reasons this game became so out of control. Poor officiating, in general, has become a sore spot for the team. It's as if the Oilers not only have to beat their opponents but the refs as well. As a result, Oilers fans would simply love the officials to call the game by the rules.
Seriously. I never rag the refs. But since one zebra stood six feet away and watched McDavid get mugged it's been a mess.

— Terry Jones (@sunterryjones) December 22, 2016
Tyler Pitlick's Injury to Be Less Serious Than Expected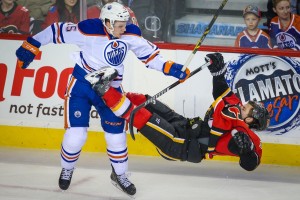 It's almost unfair the way Tyler Pitlick has been so unlucky with his injuries during his NHL career. This season, without any injury issues, he was finally looking like the player the Oilers had drafted. He was healthy, he was scoring goals in a limited depth role and he was having the season of his life. He even scored the first goal of the game in which, once again, he got injured. Pitlick had 8 goals in 31 games.
Now he's out with a lower body injury and there isn't a lot of news. Coach Todd McLellan said this about Pitlick following the game on Tuesday.
Usually if a player's on a flight mid-trip to go back and see doctors it's not a real good thing. But we've got our fingers crossed. I really felt for him last night, he was really emotional. He had such a positive impact on our team. Just finding his way into the League now permanently. It's tough for the young man but I was happy that the group picked it up for him and played for him down the stretch. He's been through it before. In my opinion, he has established himself as an NHL player. Depending on what the injury is, he'll have some rehab time and then get back at it. He'll have good support staff around him.
What a present it would be if Pitlick's injury weren't nearly as serious as it appears to be at first glance.
First Place in the Pacific Division
The Oilers hadn't won 10 road games in three of the last six seasons. This season, they did so before Christmas. Currently, Edmonton sits in second place in the Pacific Division. If they defeat the San Jose Sharks on Friday, Edmonton will hold the first place spot going into the Christmas break.
Either the #Oilers or the Sharks will be in 1st place in the Pacific Division for Christmas. We'll find out on Friday. pic.twitter.com/XL1L8UWOaM

— Edmonton Oilers (@EdmontonOilers) December 22, 2016
Oilers fans are so used to the team being out of playoff contention by Christmas that the ritual has been to use the World Junior Championships as a scouting tool to see who might be available to the Oilers in the draft lottery for the upcoming summer. For the Oilers to be looking at finally making the playoffs after a decade would be a welcome holiday gift.
A Legit Scoring Right-Winger
Oilers Christmas list item #1?
IMO…A shooting winger, with some term left in his deal…preferably a right shot

— Bob Stauffer (@Bob_Stauffer) December 22, 2016
While the McDavid line looked dangerous against Arizona on Wednesday, they didn't manage a point and the chemistry on his right wing has been a problem area for the team. If the Oilers are in playoff contention come trade deadline, Edmonton may want to look at adding a bonafide winger who can provide consistent results.
There are a few ways Edmonton could go. Potentially Edmonton could hunt for a rental like a Jarome Iginla or go after a player with term left on his contract. The expansion draft rules potentially provide a bit of flexibility for the Oilers on the forward front, depending of course, on how Edmonton deals with protecting its blue line.
A Time for Giving
The holidays are often seen as a time for giving. Already this season, Oilers fans have been gifted a much more competitive hockey team. Should someone this Christmas feel so obliged, it would be great if the Oilers were even that much closer to a playoff spot.
Perhaps, it's a lot to ask. Perhaps the Oilers and their fans are due.