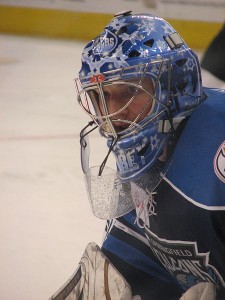 Edmonton Oilers goalie Devan Dubnyk spoke to the media before he faced the St. Louis Blues on Wednesday. He was all smiles when discussing his most recent opportunity to prove he can be a number one goalie. Head Coach Tom Renney chose his words carefully when discussing the young goaltender.
"He's going to play a good number of games down the stretch. Whenever you get that opportunity, you better be good." – Renney on Dubnyk (Edmonton Oilers)
Dubnyk certainly didn't seem nervous in his interview, but then again he probably didn't expect the type of game that would follow. Less than a minute into the game, Andy McDonald scored to give St. Louis a 1-0 lead. Dubnyk settled down after the goal, and the Oilers went into the first intermission only down by one. But early in the second period, the Blues would strike again. Scott Nichol scored his 3rd 2 minutes in, and 5 minutes later McDonald notched his second of the night to give the Blues a commanding 3-0 lead. And that would spell the end of Dubnyk's night. Were all the goals his fault? His defenseman certainly didn't help, in particular the struggling Cam Barker. Barker's numerous mistakes on the night, and ill-timed penalty were partially to blame. But Dubnyk isn't about to point fingers.
"On that third goal I lost an edge. I read what was going to happen. I'd like the second one back. I thought my lineup was good but obviously it wasn't." – Dubnyk (Toronto Sun)
Renney wasn't quite blaming Dubnyk either, but felt the team needed a change during the game. It almost worked, because after back-up Yann Danis entered the game, the Oilers scored twice to cut the lead to just one. Corey Potter and Ryan Nugent-Hopkins both scored for Edmonton. But in the third period it was all Blues. Kevin Shattenkirk scored on the powerplay, and then Chris Stewart converted on a penalty shot to seal the 5-2 victory. Danis stopped 10 of 12 shots in his first NHL appearance in over a year. Defenseman Nick Schultz was solid in his Oiler debut, picking up an assist on the Oilers second goal. He finished the game with an even rating.
The Oilers are home to the surging Dallas Stars tonight, and Dubnyk is probable, though not confirmed, to be the starter. Every goalie has a bad game now and then, and a lot of the trouble in the loss to St.Louis could be pinned on the team in front of him. Dubnyk was very good in wins over the Flames, Jets and Flyers, and has likely earned more starts. But with Nikolai Khabibulin cleared to play, the crease may have gotten a little more crowded. You can't help but cheer for a guy like Dubnyk, however, so hopefully he'll get another chance to show what he can do.