There are plenty of rankings available each year for the upcoming NHL Entry Draft. As fantasy hockey managers we read and pour over these lists and read the scouting reports looking for the best fantasy value in the draft. Most pools do not go deep enough to look beyond the top ten players with fantasy value, so here is the only list with that ranking in mind.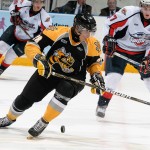 1. Nail Yakupov
RW/LW, Sarnia Sting OHL. 6'0" 190Lbs
2011/2012 Stats: GP 38, G 30, A 35, Points 65
Projected Fantasy Value
Simply put Yakupov is your best bet to play next season and contribute similar to what Ryan Nugent-Hopkins did this year. That being said Yakupov is a very different player than Nugent-Hopkins will be.
The young Russian is more of a pure goal-scorer and a bring you off your feet type of player with his individual talents. He shows a chippiness that makes him seem bigger than his barley six-foot frame and has no problem sticking up for himself if needed like Taylor Hall.
To some he brings back memories of a young Alexander Mogilny when he first came to the NHL and played with the Buffalo Sabres.
He's the clear-cut first overall draft pick this year and will likely take a roster spot immediately, but for him to hit his full potential it will still take a good 3-4 seasons, however his numbers in the meantime will still look good for a fantasy player looking to add a young kid, especially in a keeper league scenario.
2. Filip Forsberg
LW, Leksands (Sweden). 6'2" 181Lbs
2011/2012 Stats: GP 36, G 7, A 7, Points 14
Projected Fantasy Value
Playing for a year and a half already in the Swedish Elite League shows Forsberg, despite only being 18 years old is ready to step into the NHL. Forsberg played a key role in Sweden's World Junior Gold Medal Championship. He is big, strong, and has a quick and hard shot. Skating is a liability, but not a serious concern. Forsberg has the potential to play in a top six power-forward capacity bringing offense and a physical presence. He is not afraid to throw, or take a hit. Forsberg uses his size and strength well to protect the puck. No relation to Peter Forsberg.
Center, Quebec Remparts QMJHL, 6'3" 200Lbs
2011/2012 Stats GP 52, G 38, A 41, Points 79
Projected Fantasy Value
Grigorenko should be forecasted to be similar to fellow Russian star Alexi Yashin. He is big, protects the puck well and has plenty of offensive talent. Projects to be a sure-fire first line center in the NHL. He has all the tools and skills, size and strength, soft hands and vision to make plays, a heavy accurate shot and offensive instincts. He skates well displaying a smooth powerful stride and sound balance. The knock on Grigorenko is his desire and consistency, has drawn comparisons to Viktor Kozlov. Will he achieve his massive potential?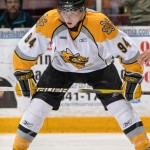 4. Alex Galchenyuk
Center, Sarnia Sting OHL. 6'1" 185Lbs
2011/2012 Stats Missed entire season with ACL injury
Projected Fantasy Value
It remains to be seen if the lost season has hurt his development as it has cost him his entire draft season. Perhaps, or perhaps it will allow him to slip under the radar and down a few spots making him an absolute steal! In his OHL rookie season he scored 31 goals and 83 points. That placed him third in CHL rookie scoring behind Nail Yakupov (101 points), and Sven Bartschi (85 points).
The American born Russian has an attractive combination of size, skill and skates at an above average level. He sees the ice well and has great vision as a playmaker.
Some young players need "seasoning" to learn the defensive side of the game and to develop a professional work ethic. The rare players who can immediately make the jump into the NHL already possess those attributes. David Burystin of McKeen's scouting said "Galchenyuk has elite skills and marries it with a competitive streak that is unrivaled by his peers. In addition to his scoring exploits, he is an incredibly smart-two player. He simply hates to lose and his training regime is second to none as he is very committed off ice."
Galchenyuk has the skills of top European players, and an aggressive North American approach to the game. The intangibles of players like Paul Kariya, Joe Sakic and Steve Yzerman are what set them apart from equally skilled but not as successful players. Galchenyuk has tremendous upside.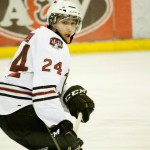 5. Mathew Dumba
Defense, Red Deer Rebels WHL. 6'0" 183Lbs
2011/2012 Stats GP 58, G 17, A 27, Points 44
Projected Fantasy Value
Dumba draws many comparisons to Montreal's P.K. Subban. Dumba has perhaps the hardest shot of the draft eligible players. He has above average skating ability in terms of agility, angling, balance, and timing. Dumba uses his skating and positioning with timing to deliver hits similar to Ryan Ellis. Dumba however has decent size and often the combination leads to devastating and clean hits. Aside from skating and shooting skills, he sees plays well allowing him to quarterback the power play and find shooting lanes. Dumba posses' similar skills to Subban, but he has better overall hockey sense.
Defense, Everett Silvertips WHL, 6'1" 201Lbs
2011/2012 Stats GP 26, G 8, A 12, Points 20
Projected Fantasy Value
Murray has been scouted heavily since he was 15 and broke out in the WHL and having represented Canada in U-18 Tournaments and World Juniors. Murray is a reliable two-way puck moving defenseman. He is big, but does not play an overly physical game; he does not need to because he thinks the game so well. His sound play and defense has drawn comparisons to Scott Niedermayer, but his skating and offense are not quite comparable to Niedermayer.
Murray has leadership characteristics and could be a future team captain in the NHL one day. Unfortunately defense and leadership do not offer much fantasy value. So while annalists and experts are singing his praises remember his fantasy value is not as high as his NHL value. Defense often take longer to develop but Murray should be able to jump into the NHL after his draft or in the following season. He will be a top two, or three defensemen and log a ton of minutes.
7. Sebastian Collberg
RW, Frolunda Sweden. 5'11' 174Lbs
2011/2012 Stats GP 14, G4, A 5, Points 9
Projected Fantasy Value
Collberg is not the largest prospect in the draft, but his stock is rising fast based on his accelerated development and outstanding performance with Sweden winning Gold at the World Juniors. His skill set is at an elite level, from puck control, to passing. Collberg has outstanding offensive instincts and is beginning to draw comparisons to Jeff Skinner who was drafted seventh overall in 2010. He needs some defensive zone work, but offensively he is NHL ready now. May not be ready to compete physically in the NHL and may require a year of growing and adding of bulk and strength.
8. Morgan Rielly
Defense, Moose Jaw Warriors WHL, 6'0" 190Lbs
2011/2012 Stats GP 18, G 3, A 15, Points 18
Projected Fantasy Value
Notre Dame Hound turned WHL star Rielly is yet another of this drafts attractive defense prospects. While he has average size it is his offensive abilities that are garnering all the attention. In particular it is a skating ability that is above average and his creative instincts. Rielly is adept at rushing the puck up the ice and quarterbacking a power play while not sacrificing defense. Such players are highly sought after in the NHL and receive a lot of playing time. Think Ryan Suter here.
Defense, Edmonton Oil Kings WHL, 6'4" 207Lbs
2011/2012 Stats GP 38, G 11, A 14, Points 25
Projected Fantasy Value
Reinhart has a shot like Shea Weber, accurate and very hard. At 6'4" he is physically ready to compete at the NHL level. His skating is surprisingly above average as bigger kids usually take a little longer to hone their skating skills. Reinhart is also drawing comparisons to one of last years top draft picks Dougie Hamilton. Like Hamilton last year, expect Reinhart to take another year of junior to round out his game and dominate in the WHL and in the World Juniors. He will develop into a top two NHL defenseman in the not to distant future.
10. Brendan Gaunce
Center, Belleville Bulls, OHL 6'2" 215Lbs
2011/2012 Stats GP 60, G 27, A 35, Points 62
Projected Fantasy Value
Gaunce plays in all three zones. He has the ability to use his size to drive to the net and create offense, and as a center he has good vision and play making ability. He is a very intelligent player who anticipates well and makes sound defensive plays. He is very adept at unleashing a powerful wrist shot off the rush, drawing comparisons to Mark Recchi. Considered to be a low risk pick but may not yield top upside. At the very least, Gaunce will play in the NHL as a third line center, potentially a second but would be miscast as first.