The 2020-21 NHL season is still in the early going. That said, because this particular season is only 56 games long, everything is amplified and the Edmonton Oilers 3-5 record rightfully has some fans concerned. Admittedly, there are areas that haven't gone as well as hoped when the team was constructed just a few short weeks ago. That said, the season is anything but lost.
For as many negatives that someone closely examining this Oilers team can point out, there have been positives. Eight games into the season, the best the Oilers can do in an attempt keep the train on the track is identify the issues and do less of what's not working and more of what is. Sounds simple enough.
As the Oilers welcome the North Division-leading Toronto Maple Leafs into town on Thursday and Saturday, then play the Ottawa Senators on Sunday, these are an important three games.
Four Ups for the Oilers So Far
Let's start with the positives on the season so far. Despite the desire of Oilers Nation to often scream the sky is falling, there have been some. A few players have stood out, the goaltending hasn't been nearly as bad as some expected, and the stars are doing their job.
Yamamoto As Good As Last Season, Maybe Better
The play of Kailer Yamamoto has been nothing short of remarkable. Here's a player who is smaller than almost everyone else, but plays bigger than most of his teammates. He's not afraid to lay in a hit, he's forechecking like a man possessed and he's producing on the scoresheet.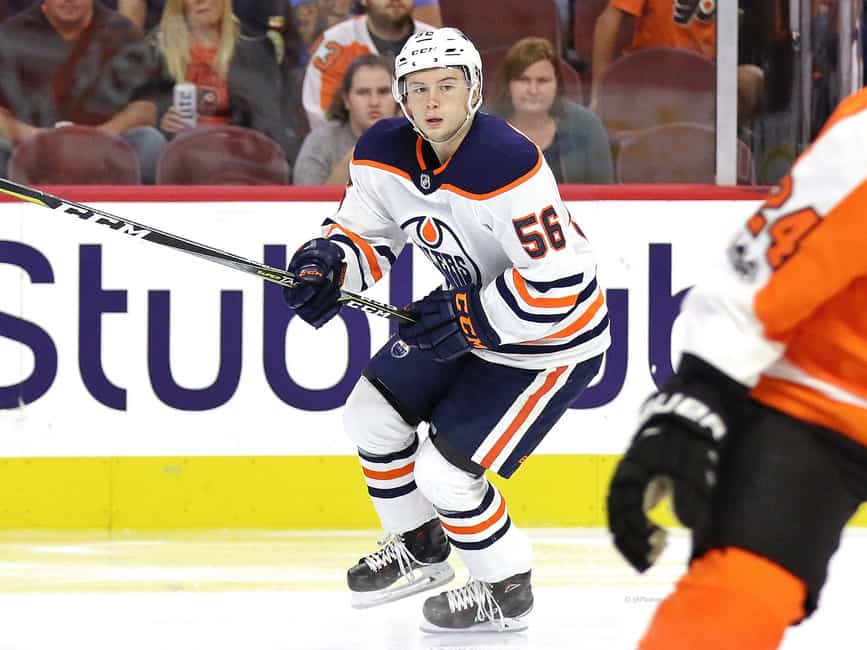 The concern for Yamamoto this season was whether or not he could reproduce the magic he displayed in a short period of time last season. So far, he's done that and more. He's a touch shy of last season's pace, but he's got six points in eight games and he's been everything the coaching staff could have asked for. Head coach Dave Tippett has been glowing in his review of the player.
Jesse Puljujarvi Jumps Up to the Top Line
Fans weren't sure how Puljujarvi would fit in after a couple of seasons away. When he left, a huge portion of the fan base said good riddance and many didn't want him to return. It would be interesting to take a poll of those same fans to see what their feeling about the player is now.
Puljujarvi has worked hard, fit in well, and seems to be enjoying this current run with the Oilers. He's been a pleasant surprise and despite not scoring, he's been far more impactful than most might have envisioned. He's earned himself a promotion up to the top line alongside Connor McDavid and he's shining, creating Grade A scoring chances all over the place.
Related: Oilers' Goalie Situation Remains Precarious 2 Weeks Into Season
Mikko Koskinen Hasn't Crumbled
Not everyone will agree that Koskinen has been a revelation. Still, if you look at the situation he's been inadvertently thrown into, it's hard to complain about the way he's performed so far this season.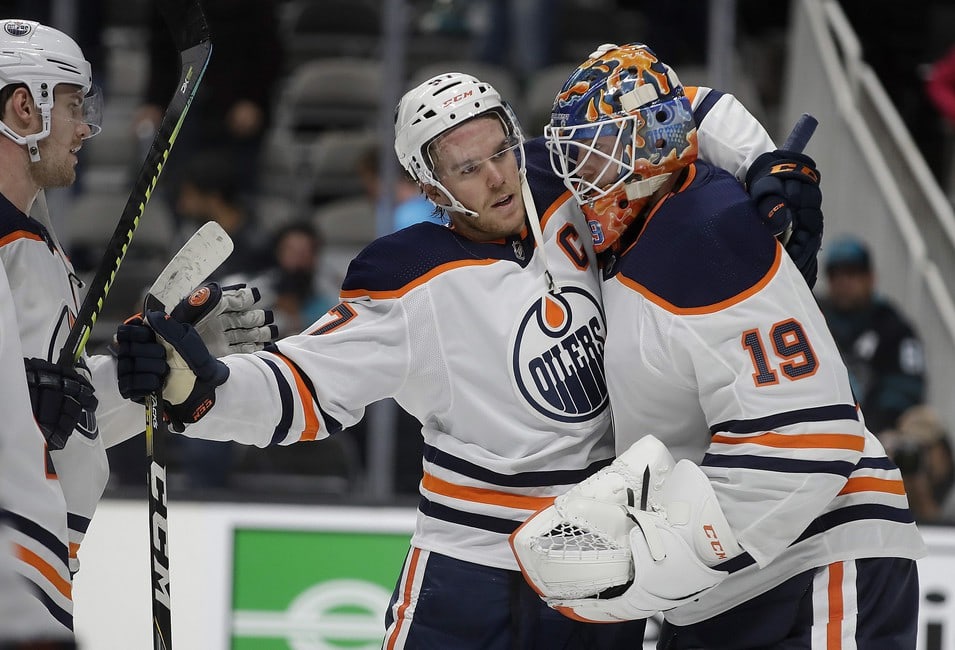 Koskinen is not the reason the Oilers have the record they do. In fact, if not for the goaltending, the record could be much worse. To boot, he's played all eight games for the team this season and there's no relief in sight. No one knew Mike Smith was going to go down and it was hard to predict Anton Forsberg was going to be claimed on waivers considering all the other names who cleared before him. Koskinen has stepped up in a big way and while imperfect, he's done an admirable job.
McDavid and Draisaitl Look Good… Again
If there was ever any doubt that McDavid or Leon Draisaitl could score at a similar pace to what they did last season, there shouldn't be any longer. Both are right near the top of the scoring race in the NHL again.
No matter what happens with this team, the Oilers have two of the best players in the world that the coach can call on. That means, at any given moment, if healthy, there's hope.
Related: NHL Rumors: Blues, Canadiens, Canucks, Laine News, More
Four Downs for the Oilers So Far
After being kind to the Oilers in areas where they deserve credit, it's time to point out the concerns… and there are many. Most of these things can be fixed (one would hope) but there are also items on this list that will pose major issues if ignored.
Inconsistent Defense
There seems to be a scapegoat on the blue line after each and every Oilers game. Sometimes it's Adam Larsson, sometimes it's Ethan Bear, sometimes it's Darnell Nurse. After Tuesday's game, it's Tyson Barrie. The reality is, no one defenseman has played so poorly that they are to blame for the Oilers issues.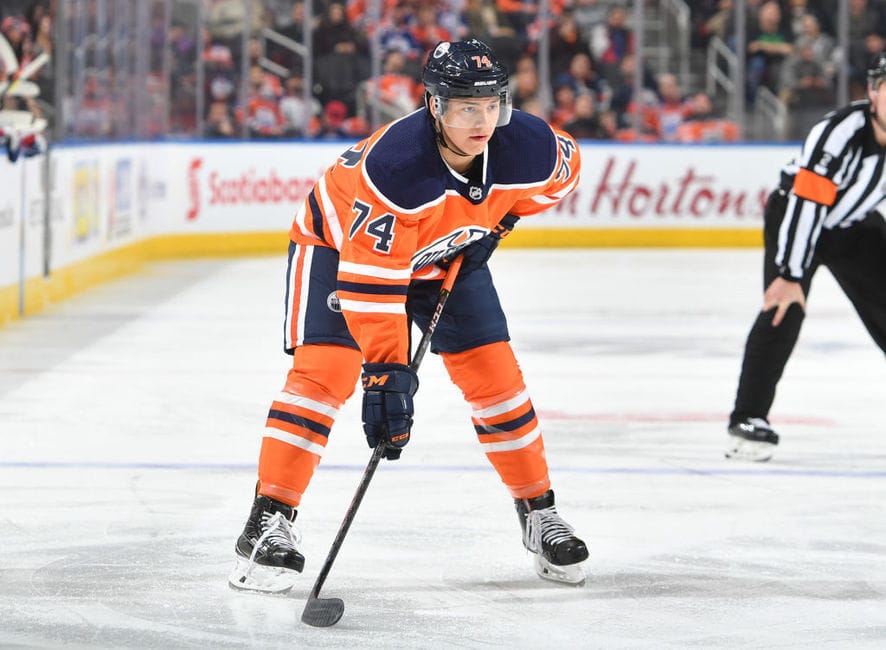 The problem is the inconsistency from game to game. In every contest, there's been at least one or two glaring issues that, in many cases, have cost the Oilers a win. If the team can't figure out a way to cut down on those gaffs in their defensive coverage, the team is in trouble.
Kyle Turris Has Struggled
Patience is going to be needed when it comes to Turris and his play as the Oilers de facto third line center this season. He has struggled, he looks slow and it's hard to know if it's a matter of trying to reinvent himself as a player or fit into a new system after a long time away.
Coming into the season, the Oilers thought they had their third-line center issues solved with Turris and, at the very least, that may not be the case. If it isn't, the team has a problem. The bigger issue is perhaps the third line as a whole. If Turris isn't the guy to center it, that makes the entire line less effective.
Barrie Still Figuring Out Where He Fits
Overall, it's hard to complain about Barrie's play this season. Sure, he made a pretty big error Tuesday and there may still be some concern about his defensive coverage in all situations, but he's been effective. He's certainly been better than Maple Leafs media would have wanted you to believe.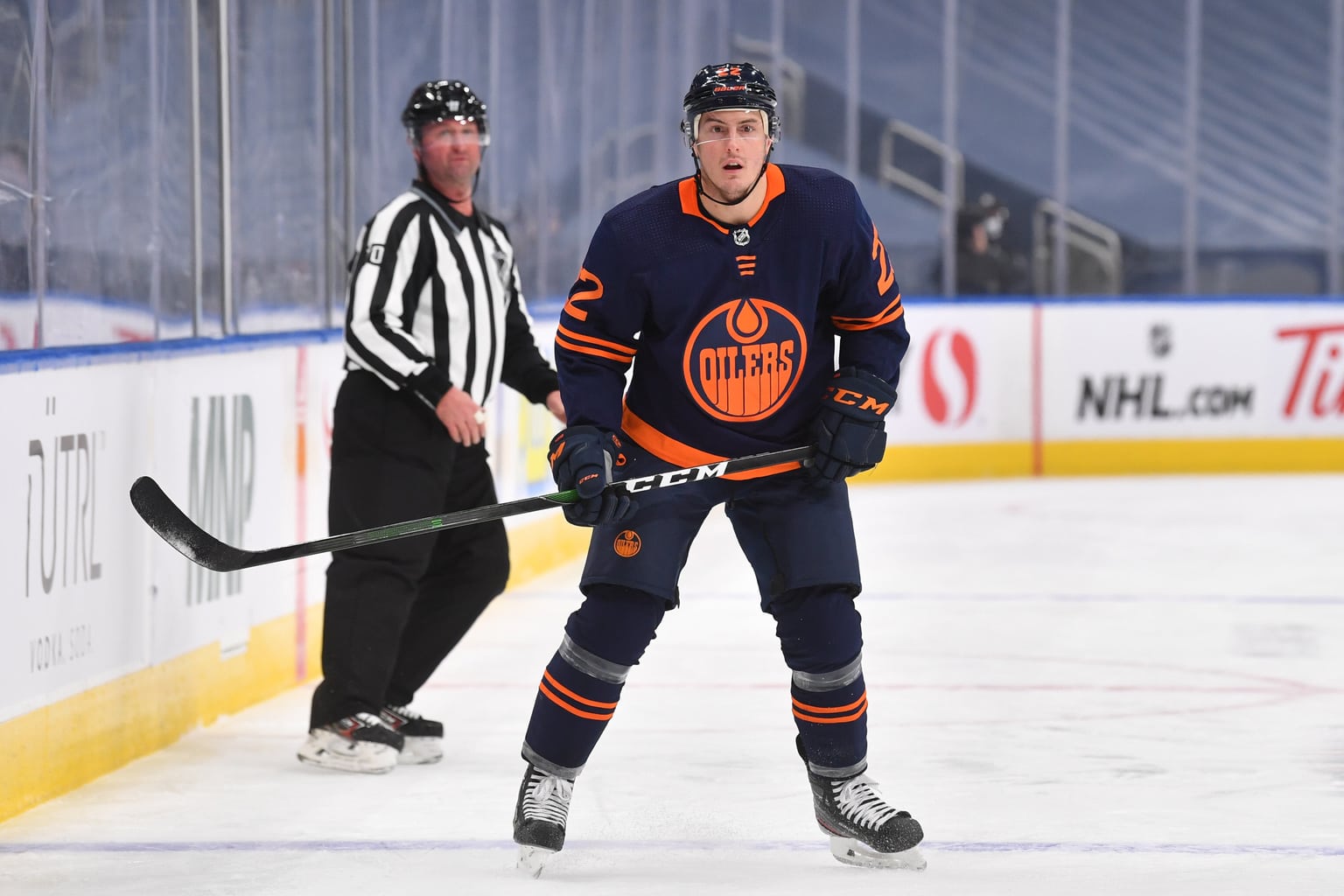 The issue is more than he's not meshed in an area that the Oilers are really counting on him. The idea behind adding Barrie was that he would come in an quarterback the power play and he's yet to score a goal. In fact, he's often the fourth option, recently having been demoted in place of Nurse who is a left-handed shot. That's not a great sign in the early going.
Barrie is too gifted offensively not to eventually figure out where he fits. But, as mentioned earlier, the season isn't a long one. He needs to make the adjustment quickly.
Kahun Hasn't Scored… He Needs To
Thus far, recently acquired Dominik Kahun has had some opportunities, but he's yet to score. That's going to be an issue the longer he goes without a goal. The winger was meant to come in and play and contributing role on the Oilers second line and while he's had moments where his chances are there, he's not creating enough of them.
There are a few players on this roster that need to get that first marker out of the way. Kahun may be right at the top of that list.
Catch up on all the latest NHL Rumors