The Edmonton Oilers have been rebuilding for what seems like an eternity.
While the rebuild is still in progress, it's safe to say that this season will usher in a new era.
Be it the drafting of generational talent Connor McDavid, the management overhaul including Bob Nicholson, Peter Chiarelli and Todd McLellan, it's a different atmosphere in Oil Country these days.
Sitting in between the excitement of the NHL Entry Draft and the free agent frenzy and waiting for main training camps to open, breaking news is fewer and far between.
One exciting area, especially in Edmonton, has been the recent rookie camp and a look at not only McDavid, but other Oilers young hopefuls.
Here's a look a some that could make an impact in 2015-16.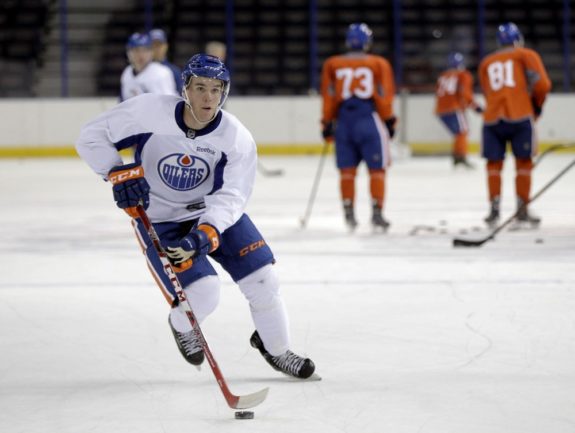 Connor McDavid – Centre
Last season: Erie Otters (OHL)
No shock here. The most anticipated rookie since Sidney Crosby and Eric Lindros, McDavid will draw the eyes of hockey fans north to Edmonton.
Expected to be in a prominent role from the get go, McDavid will be a key contributor for the Oilers from day one.
It would be a surprise if any other rookie league-wide had more of an impact than McDavid.
Darnell Nurse – Defense
Last season: Sault Ste. Marie Greyhounds (OHL)
The more Nurse progresses, the more Oilers fans get excited about a future potential star. He had a stellar season in the OHL and was the top shutdown defenseman for Canada at the World Juniors en route to a gold medal.
The issue for Nurse will be the numbers game. With the signing of Andrej Sekera and the acquisitions of Griffin Reinhart and Eric Gryba, the Oilers have a minimum of seven NHL calibre defensemen in camp outside of Nurse.
Having said that, Nurse still has the ability to outplay a number of those players and secure a spot.
He will be given every chance to earn a spot on the roster, however don't be surprised if he starts the season in the AHL.
"Extremely mobile for his size, Nurse seems ready to jump into the Oilers lineup this season, but with a logjam of defensemen, he is likely to start the year with Bakersfield in the American Hockey League. But a strong training camp could force the Oilers hand" – NHL.com
Regardless of what league he starts in, he will be in an Oilers jersey before the end of the season and stay in it for years to come.
Leon Draisaitl – Centre
Last season: Kelowna Rockets (WHL)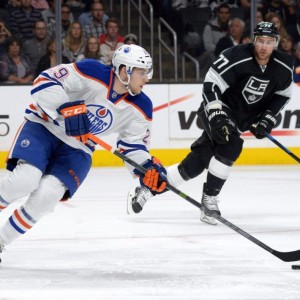 Technically not a rookie based on his games played last season, however he was included on this list due to finishing the year in junior.
Draisaitl tore it up on his return to the CHL and had a very impressive Memorial Cup. He looks NHL ready and while he probably should have played the whole year in junior, the way last year played out seems to have had nothing but a positive effect and end to the year.
The one thing standing in Drasaitl's way?
Connor McDavid.
With McDavid expected to take one of the top two centre spots along with Ryan Nugent-Hopkins, and the bottom two slots reserved for Mark Letestu and Anton Lander, Draisaitl may be on the outside looking in.
Similarly to Nurse, he will be given every opportunity to make the initial roster, but odds are he too will start the year in the AHL, which may not be the worst thing to further his development.
Brandon Davidson – Defense
Last season: Oklahoma City Barons (AHL)
A stalwart, stay at home defenseman, Davidson was the OKC Barons best defenseman through last season and in the playoffs.
"Davidson, 23, played smart, gritty hockey the entire playoffs and moved the puck well even under pressure. He's developed a knack for making the right pass, which is exactly what he needs to do to make it as an Oiler. He would fit in well on the bottom-pairing on the Oilers next year, or as the seventh d-man. Played mostly at left-defence." – David Staples, Edmonton Journal
He had a short stint of games with the Oilers as well and acquitted himself nicely in limited minutes.
All but guaranteed to start in the AHL as well, barring injury, he will be one of the first names ready to be called up when needed and will not look out of place.
Bogdan Yakimov – Centre
Last season: Oklahoma City Barons (AHL)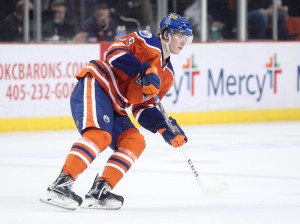 A mammoth centre who also played in OKC last season, he looks to have a long term future as a bottom six centre for the Oilers.
He has drawn comparisons to Bobby Holik for his combination of size and two way game, and the Oilers are certainly hoping that is accurate.
Acclimatized well to the North American game last season in his first as a pro, even though he had it partially derailed due to injury.
At 6'5" and 230lbs he is an imposing presence on the ice. Another player who will start the season in the AHL, he could bring an element of size to the Oilers forwards that is lacking, should the opportunity present itself.
*****