With the NHL Trade Deadline a few short months away, February 29th, 2016, speculation has already begun to surround numerous players and their respective futures.
As the 2016 off-season slowly approaches, a number of highly talented and valuable players are set to become Unrestricted Free Agents (UFAs). Amongst these players are Carolina Captain Eric Staal, Tampa Bay Lightning sniper Steven Stamkos, and Los Angeles King Anze Kopitar, all of which are poised to demand considerable contracts of similar term and money; deservedly so.
A more comprehensive UFA list can be found here: "The NHL's Top 5 Pending UFAs"
In Edmonton, the Oilers don't have a large number of players set to become UFAs, yet do happen to retain one pending free agent in particular of surprising value, largely because he has played extremely, if not surprisingly, well this season.
Teddy Purcell
In the final year of his current three-year, $13.5 Million contract signed as a member of the Tampa Bay Lightning, Oilers winger Teddy Purcell is Edmonton's top pending UFA.
On pace for his best offensive season since 2011-12, Purcell has been an extremely valuable player for the Oilers thus far this season, providing excellent scoring depth. Further, the manner in which Purcell has produced has been consistent, and in doing so, he has taken a fair bit of weight off the shoulders of Edmonton's younger players, who are often over relied upon to produce offensively.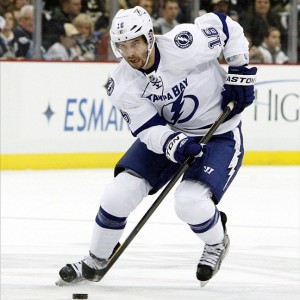 A former 24 goal scorer with the Lightning, Purcell has become an asset of tremendous value due to his offensive resurgence this season. On pace for 18 goals and 52 points, these two totals would amount to the second highest offensive production of his career, offense which has been largely unexpected from Purcell since his arrival in Edmonton. Purcell's current rate of contribution is even more impressive when looking at the Oilers' top scorers, as Purcell ranked in a tie for third in team scoring as of the Christmas break. On a team laden with incredible young talent, Purcell's place among the Oilers' best is something which should not be taken lightly.
Due to Purcell's superb play and pending contract status, this begs the ultimate question: sign him, or trade him?
Top Trade Chip, or Valuable Asset?
Given his solid, quite honestly surprising rate of production this season, the Oilers will soon be faced with a difficult decision.
The first option will be to trade Purcell, as the February 29th Trade Deadline is quickly approaching.
A decision to trade Purcell could certainly not be made until closer to the deadline itself, as the Oilers must first gauge their respective location in the Standings. If the Oilers are in fact in contention for a playoff spot come the end of February, they would be best suited to retain their current roster of players moving forward. However, if the Oilers feel they will miss the playoffs once again, Purcell, given his impressive season, could become an attractive player to playoff bound teams.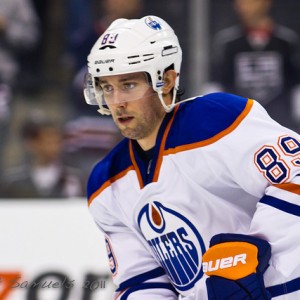 So, what could the Oilers fetch in return for Purcell? When he was acquired from Tampa Bay, the Oilers sent Sam Gagner to the Lightning in a trade which was highly influenced by the contracts of the respective players.
As a result, it would be safe to assume the Oilers could command a combination of draft picks, or more preferably, a solid depth defenseman who could fill a full-time roster spot.
On the other hand, the Oilers could elect to re-sign Purcell.
Ultimately, this decision would truly boil down to where Purcell feels his future lies, whether it be with Edmonton or another NHL team. A native of St. John's, Newfoundland, Purcell could elect to stay with a Canadian team, or perhaps seek a potential suitor in the East Coast which would come closer to home. Unfortunately for the Oilers, if they chose not to trade Purcell by the deadline, his future would be entirely out of their hands.
In terms of a contract extension however, at an AAV of $4.5 Million, Purcell would likely stand to earn a similar rate of pay in his upcoming contract. Surely a deal in the $4-5 Million range would suit both parties, with contract term likely being the main area of contention.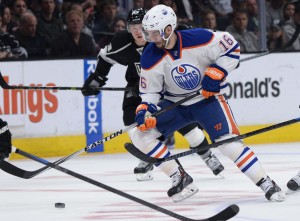 If the Oilers are able to extend Purcell, it could be of great benefit to the team, as they will have locked up a strong, physical winger who can contribute offensively; a type of player highly sought after in today's NHL, especially in the Western Conference.
On the other hand, if the Oilers decide Purcell isn't part of their future plans, or vice versa, Purcell would immediately become an extremely valuable trade chip for the Oilers. As mentioned, big, physical wingers with offensive upside aren't easy to find in the NHL, and as a result are in high demand. As such, the Oilers would be able to deal Purcell from a position of advantage, allowing Edmonton to potentially up-sell Purcell for a greater return.
Whatever the case may be, the Oilers will certainly be faced with a difficult decision in the coming months. Purcell has been terrific for the Oilers thus far in 2015-16, yet whether he fits into the Oilers' long-term plans is another question entirely. However, at 30 years old, Purcell undoubtedly has a ton of hockey ahead of him.