The Edmonton Oilers have had yet another disappointing season, which barring a miracle, will end up in another lottery draft pick.
There is some positive news within the organization though, as many of their affiliate teams and players are doing well.
Here's a look at some of the system's top up and coming prospects and their progress this year.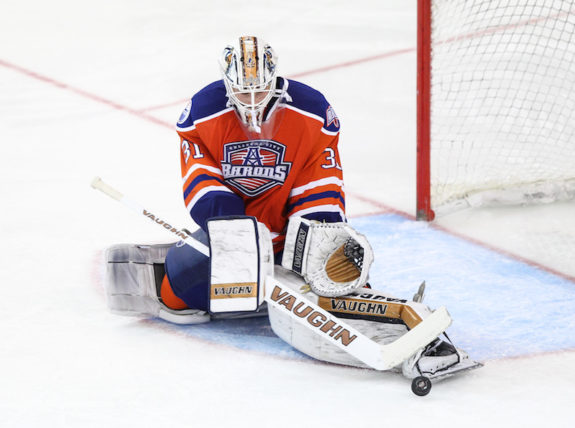 Key Stats Legend: GP-G-A-PTS, +/-
AHL
The Oklahoma City Barons are currently the AHL's top team and many of the Oilers prospects have been key contributors to their success.
Laurent Brossoit
Acquired: 2014 trade from Calgary (drafted #164 overall in 2011)
Splitting time with Richard Bachman between the pipes, they have formed a very effective tandem. Brossoit has had success at every level so far and is starting to figure the pro game out.
Key stats: 13-7-2, 2.60 GAA, .916 S%
Brandon Davidson
Acquired: Drafted #162 overall in 2010
Injured to start the season but has been rounding into form. He's a solid, consistent, well rounded defenseman. His +10 lead all Barons defensemen.
Key Stats: 31-2-5-7, +10
Jujhar Khaira
Acquired: Drafted #63 overall in 2012
The 20 year old has struggled adjusting to the pro game and has just 2 goals on the season. Has shown flashes and will hope to translate that to second half success.
Key Stats: 40-2-6-8, -6
Martin Marincin
Acquired: Drafted #46 overall in 2010
The season on a whole has been a disappointment. Marincin was expected to take hold of an NHL job and not be back in the NHL. He has just 7 points for the Barons and at -4 is one of the only regular defensemen to be in the minus column. The Oilers hope he turns it around and is back in the NHL by season's end.
Key Stats: 27-0-7-7, -4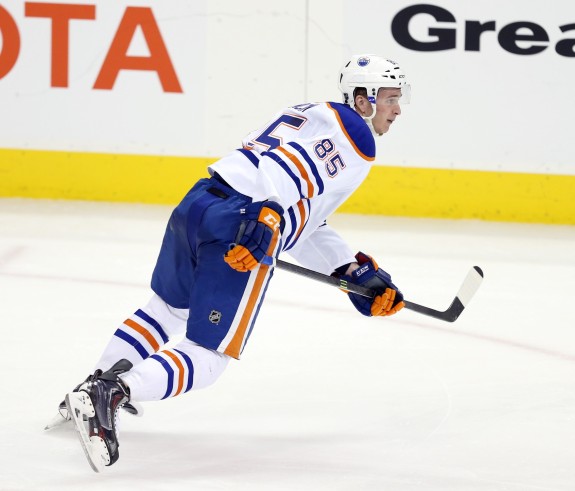 Mitch Moroz
Acquired: Drafted #32 overall in 2012
Largely invisible in his rookie season, Moroz has not enjoyed a lot of success in his first year out of junior. Has scored just once this year and has struggled to find his game.
Key Stats: 35-1-3-4, -4
Dillon Simpson
Acquired: Drafted #92 overall in 2011
Simpson has been one of the better surprises on the Barons defence and has solidified himself as a regular. Has shown poise and although there have been a few minor hiccups, has shown a lot of promise.
Key Stats: 40-2-7-9, +7
Bogdan Yakimov
Acquired: Drafted #83 overall in 2013
Projected to be an effective two-way bottom six centre in the NHL, Yakimov has shown promise and that he could be exactly that for the Oilers. One of the last players cut out of camp, he has shown some inconsistency but for the most part has been exactly what the Oilers were hoping he would be.
Key Stats: 40-6-10-16, +7
CHL
There is a good chance that the Oilers could have their three top junior prospects representing the three CHL leagues in this year's MasterCard Memorial Cup.
The Quebec Remparts (QMJHL) are hosting and both the Sault Ste. Marie Greyhounds (OHL) and the Kelowna Rockets (WHL) are among their league's top teams.
Leon Draisaitl – Kelowna Rockets (WHL)
Acquired: Drafted #3 overall in 2014
Adjusting to life back in junior after playing 37 NHL games. He goes from being a bit player with the Oilers to a difference maker with the Rockets.
Few players in junior have his skillset or vision and with Kelowna loading up, he should be in for a valuable playoff run.
Key Stats: 37-2-7-9, -17 (NHL) / 11-7-10-17, +4 (WHL)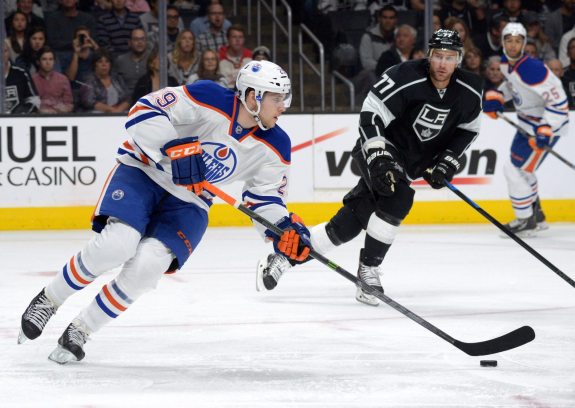 Greg Chase – Victoria Royals (WHL)
Acquired: Drafted #188 in 2013
Traded mid-season to the Royals, he has been the team's best forward on many nights. Continues to be a point per game player while playing the aggressive agitating style that makes him so effective.
Key Stats: 41-15-29-44 +4
Darnell Nurse – Sault Ste. Marie Greyhounds (OHL)
Acquired: Drafted #7 overall in 2013
Arguably junior hockey's best shutdown defenseman, he has exceeded expectations for the Oilers. After the disappointment of being returned to junior, Nurse has led the Hounds to one of the CHL's best reconrds and was a key contributor to Canada winning gold at the WJC, and earned MVP honours for the final game.
Key Stats: 28-8-19-27 +9
Marco Roy – Quebec Remparts (QMJHL)
Acquired: Drafted #56 overall in 2013
Playing for the Memorial Cup hosts, Roy will have the opportunity to make a statement on a large stage. He has had a very good season with 20 goals, but is a player that the Oilers have wanted more out of since they drafted him.
Key Stats: 41-20-16-36 +6
NCAA
Joey Laleggia – University of Denver
Acquired: Drafted #123 overall in 2012
Somewhat small by NHL standards, but Laleggia has been making a case to be noticed over his college career where he has led Denver defense in scoring the last three seasons and this year is no different.
Key Stats: 24-9-13-22 +7
Europe
Erik Gustafsson – Frolunda HC (Sweden)
Acquired: Drafted #93 overall in 2012
One of the lesser talked about Oilers defence prospects, Gustafsson has quietly put together a solid young career. At 22 years old, he currently leads his third place squad in defensemen scoring.
Key Stats: 43-3-22-25 +3
Anton Slepyshev – Ufa Salavat Yulayev (KHL)
Acquired: Drafted #88 overall in 2013
One of the most enigmatic talents in the Oilers system, he has all the tools to be an NHLer, but like many has been extremely inconsistent. This year has been no different as he struggled early and had very little ice time. Has had a much better second half which included a standout performance at the Spengler Cup.
Key Stats: 52-13-9-22 +1