Drafting goalies can be somewhat of a science. Selecting them in the first round is always risky because they take longer to develop than skaters do, and you don't always know what you have in them. Taking a goalie with your first rounder carries the risk of being a bust (although that can go for any pick). Goalies chosen in the first round need to have the athletic ability, or at least size, because you can't teach that. And you have to believe his mechanics can be improved to become more effective.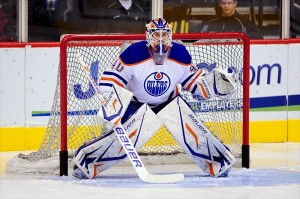 Drafting Goalies is a Mystery
It's no surprise, however, that many of the star goaltenders in the NHL were late-round selections. Jonathan Quick (3rd round), Pekka Rinne (8th round), Henrik Lundqvist (7th round) to name a few. Patrick Roy went in the third round and Dominik Hasek was taken in the tenth round. Goalies are always the crapshoot of the draft. You might waste a pick, and you might end up finding a gem. The Oilers chose Dubnyk 14th overall in 2004. The most notable players taken after him in the first round were Travis Zajac (20th), Cory Schneider (26th) and Mike Green (29th). Not exactly the cream of the crop.
The Oilers choice of Dubnyk certainly wasn't the worst of their often disappointing draft history. He was a big goalie, which was part of the appeal, though his numbers in junior were average. But he had good rebound control and impressive positioning. He bounced around a bit before making it to the NHL. His first appearance was in December of 2009. His first win didn't come until March of 2010. Unfortunately for Dubnyk, he came into the league during the Oilers never-ending rebuild.
Dubnyk's Oilers' Tenure was Forgettable
Dubnyk spent most of his early years in Edmonton as a back-up. But the Oilers really believed that he was going to be their goalie of the future. Throughout Dubnyk's time with the team, they had a veteran in Nikolai Khabibulin, perennial back-ups in Jeff Deslauriers and Jason LaBarbera and the much maligned Ilya Byrzgalov. In other words, the moves they made always seemed to be temporary, hinging upon the hope that Dubnyk would step into the starters role full time.
But the Oilers were a bad team defensively, and simply didn't have enough to help Dubnyk find his way in the league. He was thrown to the wolves on many nights, and his numbers suffered because of it. One of his weaknesses was the tendency to let in a soft goal, and not be able to recover mentally. And playing behind the Oilers, you faced a lot of rubber. It wasn't an ideal situation for a young goalie to develop. His best season with the team was in 2011-12 where he had 20 wins and two shut-outs. But his numbers left a lot to be desired. In January 2014, the Oilers traded Dubnyk to the Nashville Predators for Matt Henricks.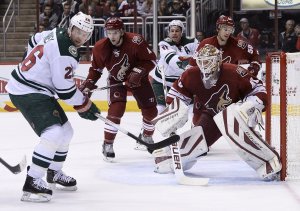 At the time, the move seemed like the right decision. It was time for change, for both the team and the player. But unfortunately for Dubnyk, he probably didn't get a real chance to show what he could do. It's never easy for any player to be at their best on a bad team, especially the goaltender. But, Dubnyk did get opportunities, and he simply wasn't able to live up to the expectation.
Has Dubnyk Finally Found a Home?
The Predators traded Dubnyk to the Montreal Canadiens in March, but he never saw time with the team. On July 1st he signed with the Arizona Coyotes. Though his time with Nashville was forgettable, his play in Arizona wasn't terrible, especially considering that the team was as bad as the Oilers were. He posted a 9-5-2, with a 2.72 goals against average and one shut-out. It looked as though he had somewhat resurrected his career.
In January of 2015, he was traded to the Minnesota Wild, a team who should be better, but had been having a terrible season. So far, he has been a wonder for them. In eight games, he has six wins, three shut-outs and a sparkling 1.48 goals against average. In fact, he is coming off a shut-out of the powerhouse Chicago Blackhawks. Not too shabby for a guy who has been with five different organizations since 2014. The Wild have had troubles in net for a while, due to injuries and poor play. Dubnyk has stepped into the role and he has done remarkably well with it.
Other than Nashville, in which he only appeared in two games, Dubnyk has yet to play for a winning organization. He has never had good help in front of him, though the Wild's defence is better than both the Oilers and Coyotes. It's been a whirlwind for the kid over the past year, but he has taken it all in stride, and he believes in himself. He was just named one of the NHL stars of the week. He's been making adjustments to his game and working hard with his goalie coach.
"It was a difficult time for me mentally and where I was with my game," Dubnyk said. "From a goalie standpoint, if a guy crosses the blue line with the puck and you are thinking about what you are doing, you are going to get torched, and that's kind of where I was. I wanted to make sure I didn't change my approach coming here," Dubnyk said. "I didn't want to feel like I was coming in to save the day. I wanted to continue to do what I was doing in Arizona, keep working on the same parts of my game, not changing because I was in a playoff race now. All it does is make things that much more fun." [NHL]
There is no guarantee that Dubnyk has found a permanent home in Minnesota. But he's been giving them ample reason to consider him part of the future.