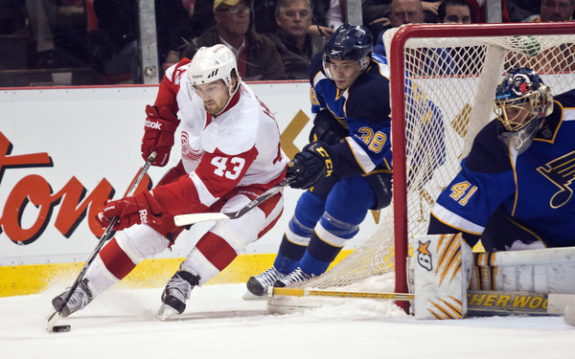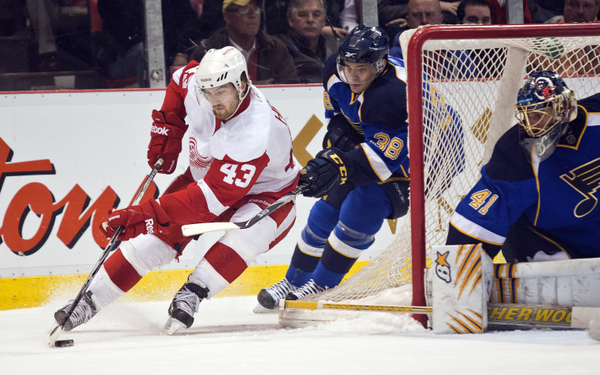 The Detroit Red Wings are right in the thick of the battle for the top spot in the Atlantic Division, as we approach the last two months of the regular season.
The usual suspects of Pavel Datsyuk, Henrik Zetterberg, Tomas Tatar and Gustav Nyquist have been key contributors for the Red Wings, but there have been some surprises this year as well.
Here are four Red Wings who are having surprisingly good 2014-15 campaigns.
Darren Helm
Darren Helm is by far the biggest surprise, and not so much for his offensive production, but for his ability to stay healthy. He played in just one game during the 2012-13 lockout season and missed approximately half of the season last year with various injuries. I wasn't sure if Helm would ever play anything close to a full season again after the string of bad luck he had in the past two seasons.
So far this year, he has played in all 50 games and has been the stable third-line center the Red Wings hoped he would be. Helm has nine goals and 12 assists for 21 points. He was a bit more productive last year, notching 20 points in 42 games, but he also had a ridiculously high shooting percentage (14.5) that would be nearly impossible to sustain this year.
Helm does it all: He wins faceoffs (56.6 percent, best mark on the team with at least 100 draws taken) he kills penalties and he provides secondary scoring. He's an invaluable asset for the Red Wings, and they have to be happy and relieved he has been able to overcome his injury issues and remain in the lineup on a consistent basis.
Luke Glendening
A quick look at Luke Glendening's stats, and you might be wondering how he is having a surprisingly good season. He has nine points in 50 games, but it's not about offensive production for Glendening. He's a fourth-line center, and as such, he is not expected to contribute much on offense.
However, he surpassed his point total from last year in eight fewer games and improved his plus/minus from minus-8 to plus-3. It's even more impressive when you consider the fact that Glendening's line has faced the opposing team's best players in a large amount of games this season.
He also is one of the best on the team at winning faceoffs (55.7 percent), is second on the team in blocked shots (41) and leads the team in average shorthanded time on ice per game at 3:14.
His 3.51 shooting percentage last year has nearly tripled to 9.52 this season, and he has taken more shots in a fewer amount of games.
Not too bad for a guy who was playing in the ECHL two years ago and was never drafted.
Justin Abdelkader
Justin Abdelkader is well on his way to setting season highs across the board. He already set a season high in goals with 11 and is two assists away (16) from tying his season high in assists (18) and one point away (27) from tying his season high in points (28).
Abdelkader has been featured on a number of different lines. Generally, he spends his time with Datsyuk and Zetterberg on the top line. He establishes a net-front presence and creates time and space for the Euro twins to work their magic.
In addition to creating space for Datsyuk and Zetterberg, he has managed to get more quality scoring chances for himself. As you can see in the shot charts below from Sporting Charts, Abdelkader has lowered his average shot distance from 28.66 feet to 21.99 and has nearly doubled his shooting percentage.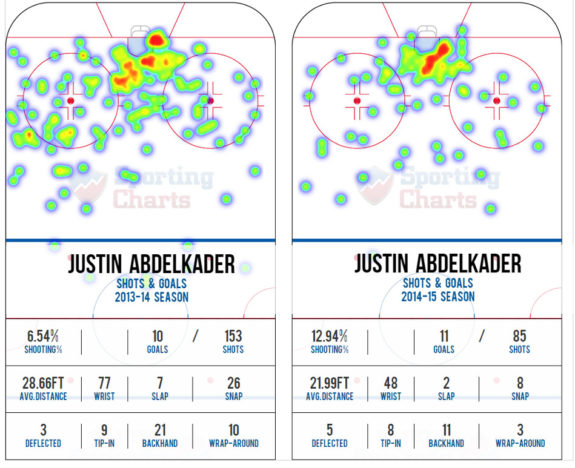 He doesn't have that dominate presence in front of the net like Tomas Holmstrom did, but when he's not in the lineup, the Red Wings sorely miss him. Abdelkader is another guy who isn't expected to light up the scoreboard, but he has been pulling his weight and then some.
Kyle Quincey
When general manager Ken Holland re-signed Kyle Quincey to a two-year deal last summer, it reeked of a panic move after he struck out on all of the free agent defensemen he was pursuing. However, Quincey has been one of the more consistent defensemen for the Red Wings this season.
Being paired with Danny DeKeyser has helped Quincey become a more reliable defenseman. As you can see in the chart from War on Ice, Quincey's Corsi For percentage is greater than 50 percent at even strength while facing fairly high quality of competition and ranking in the top four on his team in defensive zone starts.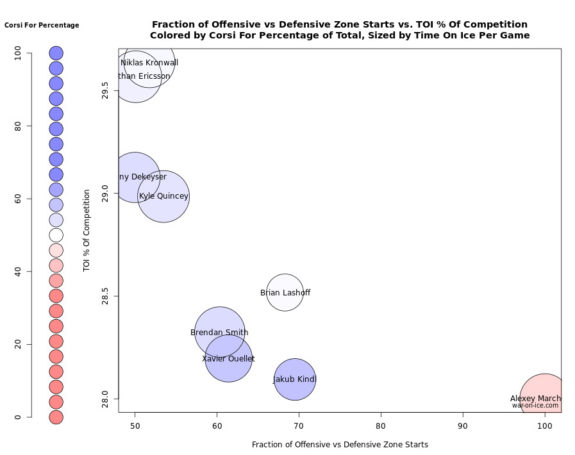 He's also chipping in on offense, with 12 points in 46 games. Quincey had 13 points in 82 games last season, so he should easily eclipse that amount, which would be the highest amount he's ever had as a member of the Red Wings.
Quincey isn't perfect by any means. He still takes the occasional bad penalty or turns the puck over at inopportune times, but there aren't as many games this year where a goal is scored against the Red Wings and I immediately point to Quincey as the reason for the goal being scored.
Subscribe to our Red Wings stories to get email updates every time a new story is published.
Tom Mitsos is a Detroit Red Wings and Grand Rapids Griffins staff writer for The Hockey Writers. You can follow him on Twitter @tom_mitsos.