The Edmonton Oilers had a fantastic 2016-17 season. Perhaps it didn't end the way the team and its fans would have liked, but that doesn't mean a ton of positives can't be taken from the experience. Undoubtedly, this version of the Oilers learned a lot about themselves.
One thing this team may take from the season, more than anything else, is the type of team they'll be looking to employ next season. General manager Peter Chiarelli added size and grit, along with depth at all positions. It clearly worked. Younger stars have taken a foothold with this group and a number of verterans showed their leadership abilities. Along the way, a few question marks on the season have been answered. Others haven't.
Where will the Oilers look to make room for big contracts due to take shape over the next two seasons? Who will the Oilers look to for depth in areas that show holes and weaknesses? How will the team protect themselves from the upcoming NHL Expansion Draft? Even for a team that found so many positives in a season that was full of them, there are issues that require addressing and not much time in which to get started.
What Worked: The Keepers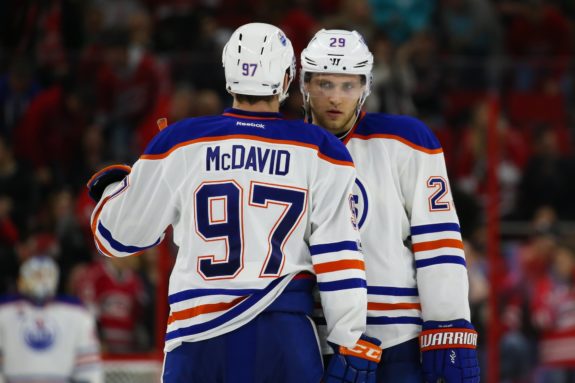 Connor McDavid
Connor McDavid was, well, Connor McDavid. He came completely as advertised and notched a 100-point season with an admirable effort in the playoffs. He didn't have that breakout postseason scoring bonanza that many might have hoped for, but his play was vital in getting the Oilers as far as they went. He'll be the key moving forward and a high priority will be placed on ensuring his long-term future in the city of Edmonton and working to put the complimentary pieces around him.
Leon Draisaitl
What a break-out season Draisaitl had. A 77-point season put him the eighth spot in NHL scoring and despite the Oilers no longer being a part of the postseason, his 16 points places him third in playoff scoring. He's now being viewed as Edmonton's second-line center and when needed or called upon, can hop up to the first line to compliment McDavid or provide the Oilers with a scoring touch. The one-two of McDavid and Draisaitl bring back fond memories of those who recall the Oilers moving Mark Messier to center and having that one-two Wayne Gretzky and Messier punch for years.  That combination drove the opposition's defense crazy and the McDavid and Draisaitl duo has the ability to do the same.
Mark Letestu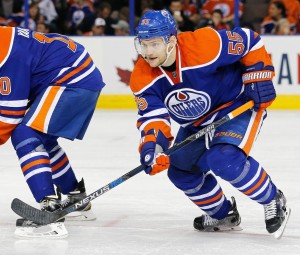 A depth scoring center, Letestu provided that special teams presence that became increasingly important as the season progressed. Into the playoffs, he continued his productivity scoring 11 points with four of his five goals scored on the power play. He's got one more year at $1.8 million and he'll become an unrestricted free agent (UFA) come the summer of 2018. Letestu needs to be seriously considered as an asset worthy of protection as the Oilers draft their NHL Expansion protected list.
While Draisaitl has dramatically improved, Letestu is the Oilers exclusively reliable faceoff man. In the playoffs, he was the only player over the 50 percent marker. Unless the Oilers address their faceoff woes, he's almost indispensable.
Cam Talbot
If there was anyone on the team worthy of consideration as the team's MVP and not named Connor McDavid, Cam Talbot is probably the guy. His performance over the course of the regular season and then his play in the playoffs cemented him as the Oilers true top goaltending option and any additions at the goaltender position this summer will be to back him up — nothing more. Barring a collapse next season, the Oilers will have to look at ways to convince him to sign a long-term contract at a value that allows them to beef up their team in other places.
Oscar Klefbom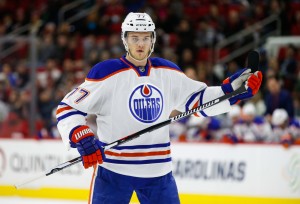 This was a breakout season for Klefbom who showed that he has all the tools to be a No. 1 defenseman in the NHL. He had a run of back luck with injuries in the postseason, but he played all 82 games in the regular season scoring 38 points with 12 goals. He became a bonafide power play weapon with a booming shot from the point (an area of need for Edmonton heading into the year). He led the team in ice time with an average of over 22 minutes per game.
Adam Larsson
All year, Larsson was the subject of a massive debate in Edmonton. Of course, when the team that obtains you trades Taylor Hall to get you, that's inevitable. As the season wore on, many changed their opinion and Larsson became a fan favorite. He averaged over 20 minutes per game, continued his production offensively (would be nice if he added a couple more goals or points) and led the team in hits with 253. He was aggressive, tough to play against and a little bit nasty. He rounded out Edmonton's top pair nicely and despite some that called him a passenger, he was anything but.
Patrick Maroon
To get 27 goals and 48 points as a $1.5 million player is remarkable. That's exactly what Patrick Maroon did as he fit nicely on the top line with McDavid most of the season. He's got one more year at the same price tag to prove that this past season wasn't an anomaly. If he provides numbers anywhere in that range, he'll be considered one of Peter Chiarelli's best trades since coming to the Oilers.
Zack Kassian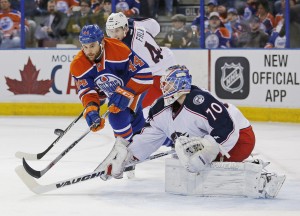 A reclamation project gone completely right, Kassian was sort of an afterthought when the season began. By the time the season ended, he proved he needs to be taken seriously and may have earned himself a multi-year extension. He's exactly what Chiarelli hoped he'd be getting when he traded Ben Scrivens for him as Kassian's play often changed the course of games. At least two to three playoff wins were a direct result of Kassian picking up this team and carrying them over their obstacles.
Drake Caggilua and Matt Benning
Caggiula and Benning were two college free agent signings that paid immediate dividends. Both contributed way more than expected and both progressed nicely over the course of the season. These two players made mistakes but limited them wonderfully considering their lack of NHL experience.
Kris Russell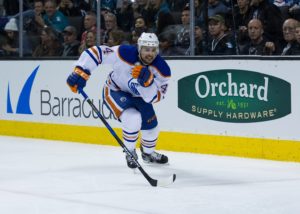 Russell was a lightning rod for criticism when the season started and as it progressed thanks to a hotly contested debate between analytics lovers and the hockey eye test believers. It can be argued no matter what Russell did, he was going to be bashed and beaten by stats guys, but the one thing he proved was that he deserved to be in the Oilers top-four blue and that he played his heart out for this team, often being among the best players on the ice on some nights. He was a one-year contract that ended up being a good choice and he's earned the opportunity for consideration as another returnee to the roster. What his contract looks like might be the only thing that doesn't bring him back to Edmonton as an Oiler.
Andrej Sekera
Perhaps one of the Oilers most well-rounded defensemen, Sekera was key to rounding out the top-four on defense. He was sorely missed in the last couple games of the playoffs and there should be no reason the Oilers consider making a change when it comes to his deployment. The problem is, it was announced today that he'd be out of action for 6-9 months with a torn ACL. If Russell is brought back (Sekera's injury making this more likely), these two had great chemistry.
Anton Slepyshev
Slepyshev took some major strides forward near the end of the season and the Oilers may have somewhat of a diamond in the rough type player here. He's an inexpensive option and he could break out offensively in 2017-18.
What Kinda Worked: Keepers Who Need to Step Up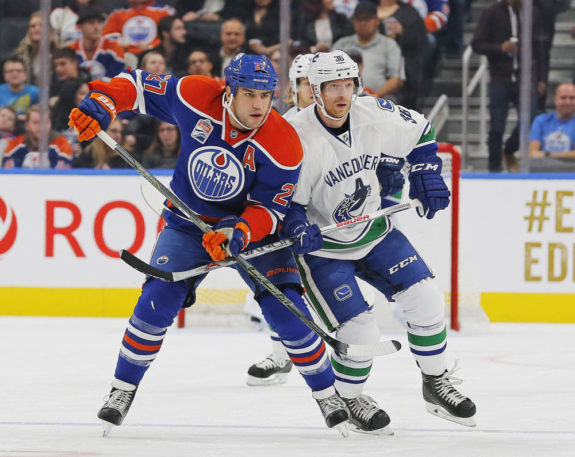 Milan Lucic
Lucic provided a ton of intangibles and made the Hall trade a bit easier to swallow. The reason he wound up on the kinda worked list is because, at $6 million per season for seven years, he needs to prove that he can do a bit more than 23 goals and 50 points, then virtually disappear in the playoffs. His postseason wasn't all bad, but he was central to that second line clicking and it didn't. The idea was that Lucic was here to play with McDavid and that didn't really pan out. He proved, however, that he can be a big part of a secondary threat and key on the Oilers power play.
Jordan Eberle
Also part of that second scoring line, Eberle wound up having a decent regular season with 51 points and 20 goals, but it was his least productive season as an Oiler. He was invisible in the playoffs and if it weren't for his $6 million cap hit over the next two years, he'd probably be on the next train out and would have made the didn't work list.  He's got the skill, he just needs to rebound in a big way.
Ryan Nugent-Hopkins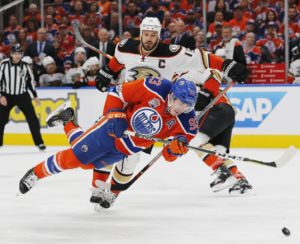 Nugent-Hopkins is shifting his game. He's no longer viewed as an offensive top line center, but a defensive specialist who can contribute on offense. If he can improve his offensive production slightly and continue to be a defense-first center, he'll be a very useful player. The question becomes, at $6 million per season and as a guy who doesn't win faceoffs, is that a good value?
Nugent-Hopkins was absolutely snakebitten during the playoffs, but somehow, he needs to make those opportunities count instead of just coming ever so close. He's on the cusp.
Tyler Pitlick
Hard to say where to place Pitlick. Do the Oilers give him one more opportunity? Or, is his injury history just too big a risk to keep him coming back? He had a great opening to his season before he got hurt. Maybe he's an inexpensive depth re-signing who will finally stay healthy.
What Didn't Work: On Their Way Out
Matt Hendricks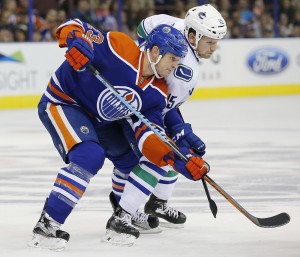 A loyal soldier, Hendricks time in Edmonton as an Oiler will likely come to a close this summer. An expensive option for the fourth line and a player who sat more than he played, there simply isn't room on this team for an aging veteran whose game has slowed and will likely have some trouble finding anything but a professional tryout (PTO) to continue his career in the NHL.
Benoit Pouliot
At $4 million per year for two more seasons, Pouliot probably takes the prize as the most notable contract that is too expensive for not enough value. After a minor injury, he had an opportunity to erase a poor season and contribute to the Oilers' success. He didn't. Hired as an analytics experiment, it's time to move him onward if the Oilers can find a taker. A buy-out might even he in play here.
David Desharnais
Desharnais has a lot of admirable qualities, but the Oilers will look to improve their third-line center position with an option that provides more grit, faceoff success and scoring punch. He had a huge overtime goal in the playoffs and there were times when Desharnais made the Brandon Davidson trade look acceptable, but he's not a long-term solution.
Overall
A few players got left out here. Darnell Nurse, Iro Pakarinen and others didn't have enough season under their belt to really tell what the future holds. Both players look promising, but one more year will really cement their futures or show the Oilers they need better options.
The good news is that the Oilers have a lot more keepers in the organization than not and that bodes well for another strong season with a potential return to the playoffs. The maybes have enough skill to add the necessary improvements and the players who didn't work, aren't crippling the franchise. Overall, the arrows are pointing in an excellent direction.