Lost in all the euphoria and excitement of the Edmonton Oilers first playoff run in 11 years is the uncertainty surrounding a forgotten Oiler. A torn left ACL derailed a breakout year for Tyler Pitlick who's had an injury-plagued NHL career. Pitlick's been out for the season since December, and the 2010 second-round pick was fantastic for the Oilers scoring eight goals and 11 points in 31 games.
Playing on the third line, he enjoyed several career highs and rejuvenated his value to the Oilers organization. The injury couldn't have happened at a worse time after Pitlick had finally established himself as a full-time NHLer. Fast forward several months into the healing process and he's found himself to be a bit of a forgotten man in Edmonton.
TYLER PITLICK STATS

YEAR
GP
G
A
P
+/-
PIM
S
S%
TOI
2016-17
31
8
3
11
–
6
54
14.8
9:55
Full 2016-17
82
21
8
29
–
16
143
14.8
9:55
Career
58
11
3
14
-5
10
81
13.6
 —
---
An Uncertain Future
An unrestricted free agent (UFA) this summer with an expiring $725,000 cap hit, will the Oilers offer Pitlick an extension? Pitlick worked his way into the opening night roster, then onto the third-line after a hot start (three goals in five games) and was even rotated into the top-six on occasion. Despite averaging just 9:55 in ice time (TOI), Pitlick had more goals than Ryan Nugent-Hopkins, Benoit Pouliot, and Drake Caggiula.
He had one less goal than both Jordan Eberle and Patrick Maroon. He was sixth in goals on the Oilers, and eighth in points. When you combine the ice-time with those type of stats, it's incredible how productive Pitlick really was. Those points calculated over a full 82-game NHL season translate to a 21 goal, 29 point season.
Pitlick would've had more points than Zack Kassian (24), Drake Caggiula (18), Pouliot (14), Anton Slepyshev (10) and even David Desharnais (18) if he had played a full season. Pitlick would've finished eighth in team scoring, which would've made him a bonafide third-line forward. In the five games leading up to the injury, he had four points in five games. So what does this mean for his future?
---
Contracts, Prospects & Roster Competition
The Oilers have a thought-provoking summer with 24 free agents (10 unrestricted, 14 restricted) including Pitlick himself. There's plenty of reshuffling on the deck and ways to keep Pitlick in the fold. It's a high probability that Edmonton walks away from UFA's like Desharnais ($2.8 million) and Matt Hendricks ($1.85 million). Substantial pay increases are also in order for RFA's like Leon Draisaitl ($925,000) and Zack Kassian ($1.5 million).
Edmonton's big picture cap situation gets a little dicey with the expiring contracts a year from now. Connor McDavid, Patrick Maroon, Darnell Nurse, Matt Benning, Caggiula, and Slepyshev will all need new deals. Then there's the question of what to do with Pouliot who could be traded, claimed in expansion, or bought out this summer ($5.33 million over four seasons).
BENOIT POULIOT BUYOUT

SEASON
SALARY
CAP HIT
COST
SAVINGS

BUYOUT

2017-18
$4 M
$4 M
$1.33 M
$2.67 M
$1.33 M
2018-19
$4 M
$4 M
$1.33 M
$2.67 M
$1.33 M
2019-20
$0
$0
$1.33 M
-$1.33 M
$1.33 M
2020-21
$0
$0
$1.33 M
-$1.33 M
$1.33 M
Where do the Oilers project their 2016 fourth overall pick Jesse Puljujarvi to play next season? Does his development warrant another year in the AHL, or is he ready for full-time NHL duties? Jujhar Khaira, Anton Slepyshev, Iiro Pakarinen and Joey LaLeggia are all also going to be competing for fourth-line jobs at training camp next season.
---
Is There Still Room For Pitlick?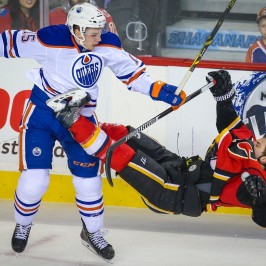 If Edmonton was able to re-sign Pitlick, a one-year deal worth anywhere from $700,000 to $1 million is favorable.
With such a massive roster turnover about to happen, there's still a fit for Pitlick on the Oilers main roster.
He's a low-risk, high reward type player that comes with minimal financial commitment because his greatest flaw is the Oilers best position to negotiate from; health.
EARLY PROJECTIONS FOR OILERS IN 2017-18
Patrick Maroon
Connor McDavid
Leon Draisaitl
Milan Lucic
Ryan Nugent-Hopkins
Jordan Eberle
Drake Caggiula
Mark Letestu
Zack Kassian
Anton Slepyshev
Jujhar Khaira
Tyler Pitlick
A healthy Pitlick is a speedy winger with size that plays like a pit bull on the forecheck. He plays an exciting game that combines skill with brute physicality. He's listed at 6'2 200-pounds, and he's right up Peter Chiarelli's alley if he's trying to follow that Boston Bruins formula that won a Stanley Cup in 2011.
The Oilers are evolving, and unfortunately, they might be evolving without Pitlick. There's only so many scenarios that have Pitlick as a member of the 2017-18 roster, and some of them come at the expense of other members of the roster, like Puljujarvi who would have to spend another year in the AHL. All that being said, I still have time for Tyler Pitlick, do you?