The Edmonton Oilers have long been known for possessing a wealth of highly skilled young prospects.
However, especially in recent years, with the exception of Darnell Nurse and Oscar Klefbom, the majority of said prospects have been of the highly skilled forward variety, whether it be Center, Left-Wing or Right. As such it should come as no surprise to learn, if you somehow hadn't already, that the Oilers had long possessed one of the worst defence cores in the entire League.
In fact, the Oilers dressed a whopping 14 defenders in 2015-16 in hopes of finally icing sound defense. It didn't work.
So, as the Oilers headed into the 2016 offseason, their search for competent, experienced defenders once again unfolded. Outside of the draft, a major trade appeared to be the likely option for Edmonton through which to significantly upgrade their defense, as the coming free agent market also appeared to be relatively weak.
[Related: Salary Cap and Contract Info on all Oilers Prospects]
However, little did they know, the Oilers already possessed a quality young defenseman within their organization and one which they had drafted. All he needed was a little time to further develop.
Caleb Jones
The Oilers aren't known for their drafting after the first round, with Jeff Petry the most notable of which in recent history.
More recently however, Brandon Davidson emerged as a potentially quality defender for the Oilers after a surprisingly solid rookie season, yet he was traded to Montreal ahead of the 2017 expansion draft. Despite Davidson's departure, one player who could soon be joining the Oilers and make an impact is Caleb Jones, a fourth round pick, 117th overall in the 2015 NHL Entry Draft.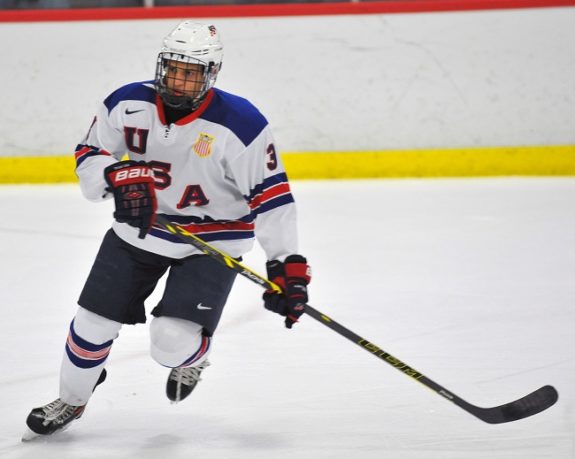 The son of former NBA great Popeye Jones and the brother of Columbus Blue Jackets defenseman Seth Jones who was drafted fourth overall in 2013, Caleb has slowly, yet definitively begun to carve out his own identity despite originally falling under the shadow of his more commonly known family members.
A native of Arlington, Texas, Jones first spent considerable time playing with the United States National Development Team, where he groomed his game amongst the top young players in the U.S. Following his time with the USNTDP, Jones decided to further grow his game by committing to the Canadian Hockey League's Portland Winterhawks, who play in the Western Hockey League.
In his first season in the WHL, Jones excelled, notching an impressive 55 points, ten of which goals, over his team's 72 regular season games played. In fact, Jones led the WHL in scoring by rookie defenseman, while his totals ranked 11th best amongst defenders in the League, six places behind fellow Oilers prospect Ethan Bear.
#Oilers defence prospect Caleb Jones is developing nicely, by guest scout Ben Berland https://t.co/vB0LKKjlHj #yeg pic.twitter.com/ySDbg0bTcB

— Edmonton Journal (@edmontonjournal) April 12, 2017
Looking to build off of an incredible rookie campaign, Jones burst out of the gate to begin the 2016-17 season and never slowed. As one of the premier defenders in the WHL, Jones netted nine goals and a whopping 53 assists in his second season with the Winterhawks, totalling 62 points on the campaign. In fact, Jones' offensive production was good for the sixth-most amongst all WHL defenders – an indication of his lethal capabilities and sheer potency in the opposing zone.
Scouting Report
At 6'1″, 195 pounds, Jones brings decent size to a style of game marked with considerable offensive upside.
However, Jones has become a much more sound all-around defender in addition to his offensive prowess. Capable of playing a strong two-way game, Jones combines a tireless effort level and incredible skating skills into a highly mobile style of play.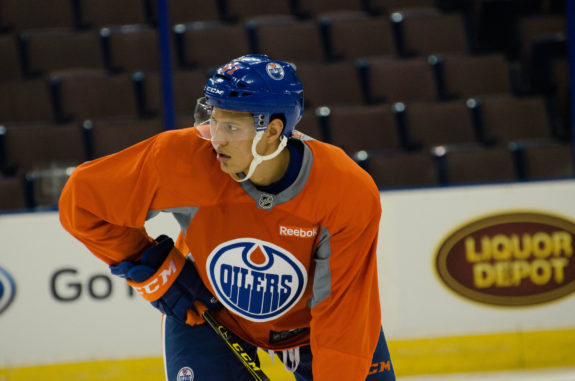 Aggressive on the blue line as well as along the boars in his own zone, Jones has become a reliable as well as versatile player for Portland and one whose valuable in immeasurable. Further, his workman like approach to the game in combination with his propensity to anticipate plays has allowed Jones to be a sound contributor at both ends of the ice, a quality which the Oilers have long desired.
In all, Jones not only possesses the ability to move the puck to his teammates as well out of his own zone but also to fire the puck through traffic to generate offensive opportunities. A high-end mobility level allows Jones to easily maneuver on the blue-line and in his own end, while an active, accurate stick allows him to defend with ease.
Future Projection
As a former fourth round selection, it would appear safe to say that Jones has a very bright future ahead of him, especially so considering his play in multiple levels of hockey to date.
Over the long term, given his size, offensive upside and defensive abilities, Jones could ultimately fit nicely into the Oilers' top-6. Of course, it goes without saying that he will need additional time within the professional hockey ranks to further his game, however, Jones could certainly see time at hockey's highest level in the immediate future.
. @Jones4Caleb making it look easy ???????? pic.twitter.com/yDbp7l6Yhb

— Portland Winterhawks (@pdxwinterhawks) February 20, 2017
Yet, having bolstered their blue line significantly, the Oilers will need to be patient with Jones and allow him to progress at his own pace. In years passed, Edmonton has rushed young players into their lineup only to fracture their respective developments.
Now, with a winning team on the ice, the Oilers are in no need to rush the progression of their best young prospects. So, despite Jones' incredible skills on both ends of the puck, the Oilers must, instead, take their time with the high-flying Texan. Allowing him to develop slowly yet surely will provide Jones with the greatest opportunity to succeed as an individual.
Yet, with the skill he has displayed to date, who could blame Edmonton for getting a little antsy.
The Hockey Writers' Shane Sander Also Wrote About Caleb Jones
Last month our contributors helped compile the Edmonton Oilers Top 10 Prospects list. This month we'll be looking at each of those 10 prospects in depth in reverse order. Defenseman Caleb Jones ranked fifth on our prospects list. Of all the young defensemen in the system, Jones might have the highest upside.
Edmonton's fourth-round pick in 2015 just wrapped up his junior career and will join the AHL Bakersfield Condors for 2017-18. A versatile two-way defenseman with a great hockey sense, he's the second-best blue-line prospect in the organization according to our rankings.
| | |
| --- | --- |
| Prospect: Caleb Jones (D) | Height: 6'1" |
| Born: June 6, 1997 (20) | Weight: 192 pounds |
| Birthplace: Arlington, TX | Shoots: Left |
| Acquired: Drafted 117th (4th Round) 2015 | Club: Bakersfield Condors (AHL) |
Player Profile
Ethan Bear seems to be getting a lot of love from Oiler fans, and it's overshadowed the emergence of Jones. As most fans know, he's also the younger brother of Columbus Blue Jackets defenseman Seth Jones. That being said, the 20-year-old has arguably been the Portland Winterhawks' best defenseman over the past two seasons.
In 135 WHL games, Jones put up 117 points and was the Winterhawks' top scoring defenseman in back-to-back years. That's good enough to rank 18th on the Winterhawks' list of all-time points by a defenseman. Adding to that he won a gold medal at the 2017 World Junior Championship with Team USA.
Jones has shown versatility and that he can play in any situation he's asked to by combining offensive and defensive prowess. He also didn't rely on the power play to pad his stats. Of his 62 points in 2016-17, only 26 came on the power play. A majority of Jones' points came at five-on-five, which bodes well for his transition to the pros where points are harder to come by.
In 2015-16 Jones had a brief cup of coffee with the Oilers' AHL affiliate, the Bakersfield Condors, and played three games. In 2017-18 he's set to turn pro and play his first full season in the AHL. He's still a few years away from joining the Oilers on a full-time basis, but make no bones about it, Jones has a very bright future ahead of him.
Long-Term Projection
Jones could develop into a future top-four defenseman for the Oilers with a two-way skill set. In fact, Ryan Kennedy (The Hockey News) believes that Jones can crack Edmonton's third pairing by 2020. There's a plethora of competition for jobs, however. Bear, Ryan Mantha, Zaiyat Paigin and Dillon Simpson highlight the top end of the blue-line prospects competing for jobs.
The current logjam adds Keegan Lowe, Ben Betker, Ryan Stanton, Mark Fayne and newly-acquired Yohan Auvitu to the mix. In the short-term, it's going to be competitive for minutes with a handful having to start the 2017-18 season in the ECHL. Edmonton will share an affiliate with the St. Louis Blues this season, the Tulsa Oilers.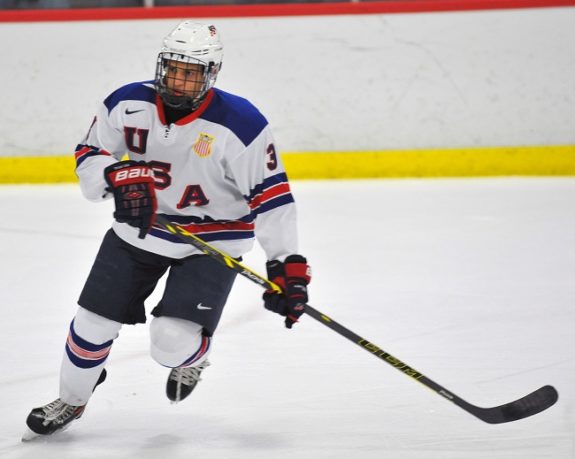 Ziyat Paigin, Keegan Lowe, Ben Betker, Ryan Stanton, Dillon Simpson, Mark Fayne and Yohan Auvitu for playing time, though Auvitu, Simpson, and Stanton will be in the running for Oilers roster spots. In short, it's going to be interesting to see how the competition for minutes shakes out.
"I believe in my ability and I believe I can make an impact at the next level. Having a good summer, eating healthy and training right and getting stronger, I want to do everything I can to give myself the best opportunity to succeed."
In comparison to his brother Seth, Caleb is a lot more of a physical presence. Seth will likely always have far superior offensive numbers, but there is an offensive flare to Caleb's game.
He's strong fundamentally and as time goes on his hockey sense will help him develop his positional game at the pro level. In the end, we're likely looking at a future No. 4 defenseman for the Oilers that plays a strong defensive game.