It has been a mere five days since panic started to set in with large chunks of the Edmonton Oilers fan base. With a decade-long absence on the franchise's recent resume and having just been passed in the standings by the red-hot Calgary Flames, all was not well in good ol' Oil Country. While somewhat understandable, it was rather odd considering the club has been among the top teams in the Western Conference for much of the 2016-17 NHL campaign.
"Panic & apprehension isn't going to help our group… Tomorrow is an opportunity. We park last night's game & move forward." Coach McLellan

— Edmonton Oilers (@EdmontonOilers) March 13, 2017
Well, after back-to-back seven-goal outbursts that led to victories over the Dallas Stars and Boston Bruins, it appears as though the masses have been calmed for the time being in the Alberta capital. Stomping on Lindy Ruff's crew of underachievers is one thing but to torch the streaking Bruins for a converted touchdown was something no one saw coming. And just like that, the three-game skid which had so many worried has rightly been cast aside as nothing more than the minor hiccup it always was.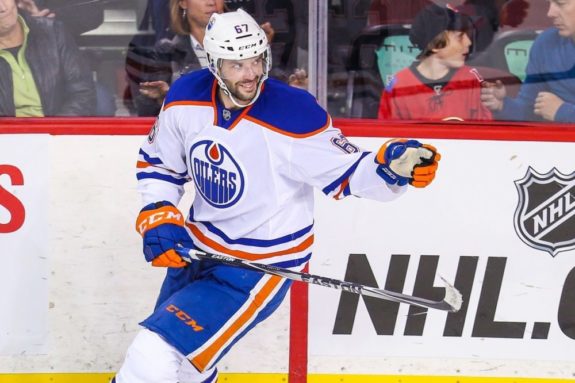 Oilers are Clicking
As if a pair of convincing wins which pushed the Oilers back in front of their provincial rivals wasn't reason enough for cooler heads to prevail, the manner in which Todd McLellan's club went out and won their games is what was so refreshing. Instead of being carried to victory by Connor McDavid and his linemates, as has been the case on many a night this season, Edmonton had production come from up and down their lineup. Don't get me wrong, No .97 did his part, chipping in with a goal and three assists in leading the charge with Leon Draisaitl.
However, this group had ten different players light the lamp over the course of their last two games and every forward not named Matt Hendricks or Mark Letestu picked up at least one point over the stretch.  Add to that, points from three of their six blueliners and nothing more than average netminding from goaltender Cam Talbot and the results are all the more impressive. Heck, even Benoit Pouloit managed to end his 28-game drought with goals in both games
Yes, we are talking about just a couple of games but just like the so-called "slide" they were on, a small snapshot is no reason to get overly excited or worried. Is a 3-2-1 mark in the midst of their season-high eight-game home stand the ideal place to be sitting? Probably not but if Edmonton goes out and picks up at least three of four points against the Vancouver Canucks and Los Angeles Kings to closeout  this run of games, it would not be a poor showing in any way shape or form…especially when one considers the level of opponent and time of year it is.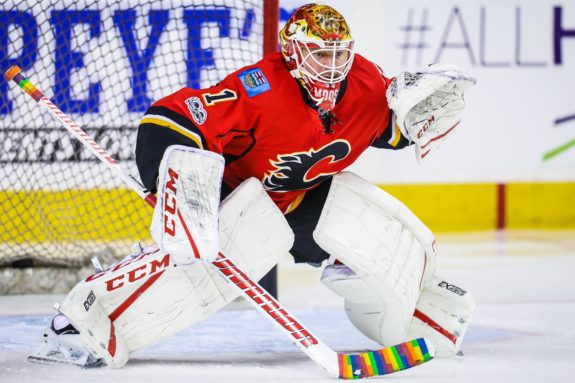 Flames Deserve All the Credit
And yet so many fans wanted to focus on how "badly" things had supposedly gone of late. Problem is, it just wasn't the case. Go back and look at the Oilers record since February 1 and you will find they have gone 9-8-1 during that time frame. Not exactly a dominant stretch of play but far from heading in the wrong direction.  Unless of course we are comparing it to Calgary's run of 14-3-1 during the same time frame, which allowed them to get back into the race for second-place in the Pacific Division.
Instead of giving the Flames credit for playing some great hockey and understanding the tide would eventually turn, some fans decided to try to make something out of nothing. Let's not forget, the ten-game win streak Calgary put together had never previously been done in franchise history. Think about that for second. Their inaugural season was in 1972 in Atlanta and until now, at no point had a Flames team done what this group has. Not surprisingly, it allowed them to climb up the standings in the blink-of-an-eye and what looked to be a two-team race for second-place in the Pacific Division suddenly turned into a three team derby.
The https://t.co/znAEWaNs0P Sports Tour Poll

How far do you think the #Oilers can go in the playoffs this year?

— Paul Almeida (@AzorcanGlobal) March 17, 2017
What that in mind, it was never about Edmonton coming back to the pack but rather the Flames joining both them and the Anaheim Ducks. In fact, there was never anything the Oilers needed to do to ease some of their fans about but the last two games, and a couple of crucial losses from the Kings, have accomplished to do just that. Again, one would have thought that bridge would have been crossed long ago but with all of twelve games remaining on their schedule, this fan base should have nothing but happy thoughts from here on out and simply be looking forward to watching their team take part in the post-season for the first time since 2006.