It's extremely impressive to see how much the Pittsburgh Penguins have committed to their farm system and prospect development. In past seasons — prior to Jim Rutherford taking over as general manager and honestly, even in his first year with the team — the Penguins viewed their youth and available picks as tradable assets, and not much else. They weren't a team who developed well internally and infused their lineup with youthful legs but instead, they moved those players to add a veteran presence quite often.
It's an old school way of thinking. The belief that a contender needs veterans, grit, leadership, character and well, all those intangibles that you hear so often in hockey circles — and it simply isn't the case. Not completely, anyway.
All of those intangibles are important in some way. But the idea of offloading so many future assets to build a team full of old guys for a postseason run is dated and ineffective. The Penguins spend to the cap every season and boast a top-heavy salary structure with stars like Sidney Crosby, Evgeni Malkin, Phil Kessel and Kris Letang. It's imperative they build around that core using young, inexpensive talent that can skate and play the type of hockey Pittsburgh loves so much.
Rutherford gets it and the Penguins are benefitting in a big way. Kudos to him for being willing and able to learn from his mistakes and observe what's happening around the league. This mindset is why the Chicago Blackhawks found so much success recently and also why players like Artemi Panarin choose to play there when plenty of teams come calling.
Destination Team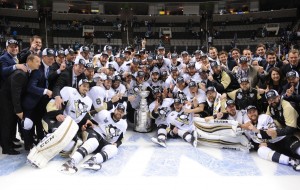 What exactly is a destination team in the NHL? It's simple. Veterans who want Cups and prospects who want to develop with a successful, winning organization will seek you out. The Penguins are exactly that, which is why they're frequently included in lists by players willing to waive their no-trade clauses and recently, it's evident in the fact that so many college prospects choose Pittsburgh.
They've built a reputation in recent years with players like Conor Sheary, Scott Wilson, Bryan Rust and Jake Guentzel. And while a few of those names were technically Penguins' draft picks, not unrestricted free agent signings that followed collegiate play, they're still a testament to this team's willingness and ability to develop young players fresh out of school. Add Ethan Prow, Teddy Blueger, and Thomas Di Pauli to that list as well, all of whom are currently playing with Pittsburgh's AHL affiliate in Wilkes Barre.
The most notable college acquisition for Pittsburgh may be an individual who had a four-year stint in Edmonton before joining the Penguins, though. Justin Schultz was highly touted coming out of the University of Wisconsin in 2012. However, he never lived up to the hype with the Oilers and was eventually offloaded for a third round draft pick. He was given the opportunity to join a championship caliber team and work with world class coaches like Sergei Gonchar. The rest is history.
What college prospect wouldn't want to join the Penguins' organization?
The #Pens have signed college free agent Zach Aston-Reese to a two-year, entry-level contract. Details: https://t.co/gisXjgbxti pic.twitter.com/tDZhtjetkw

— Pittsburgh Penguins (@penguins) March 14, 2017
Welcome to a New Era, Zach Aston-Reese
Aston-Reese, according to Rutherford, is a Patric Hornqvist type of player. He plays a 200-foot game and possesses solid finishing skills. He's an unrelenting forechecker and likes to mix things up, but still has the skating ability and skill level to play in Pittsburgh. In other words, he's the epitome of a Mike Sullivan type of player. And he's the most recent example of how far Pittsburgh has come in the eyes of young, promising prospects.
Aston-Reese, Daniel Sprong, Jake Guentzel, Oskar Sundqvist, and even Conor Sheary, Bryan Rust and Scott Wilson — who have already made names for themselves at the NHL level — understand and appreciate this organization's commitment to getting younger. Eventually, individuals like Hornqvist, Carl Hagelin, Chris Kunitz, and Matt Cullen will be moving on and Pittsburgh has young, talented bodies to deploy in their absence. It's a recipe for success, and could guarantee that the Penguins remain a contender — possibly a Cup favorite — for the foreseeable future.
Despite having Crosby and Malkin, that hasn't always been the case. Personnel decisions have hampered their progress as a franchise and you could argue that while the Penguins have recognized quite a bit of success in the last decade, two Stanley Cups is a bit disappointing when you consider their star power. The good news is, they've adjusted and look poised to make up for lost time. Aston-Reese choosing Pittsburgh certainly isn't as impactful as some of their larger superstars but it is a testament to a new era. A young, exciting era.