PRAGUE – After two very difficult seasons with the Buffalo Sabres, Tyler Ennis is enjoying his time at the 2015 IIHF World Championship with his Canadian teammates. Once again being a part of a winning locker room has been a welcomed reprieve for the 25-year-old forward.
Finding Success
"It feels good to be on the winning side of things again," Ennis told THW after Canada's 9-0 victory of Belarus in the quarterfinals.
Ennis has been a part of a dynamic second line that includes Tyler Seguin and Claude Giroux. He's been making the best out of the opportunity scoring three goals, including one game winner.
"It can be tough loosing all the time," said Ennis. "The last couple years have been tough in Buffalo so it's nice to have that winning attitude again and I'm bringing this back to Buffalo."
Tomorrow at 3:15 p.m. CET (9:15 a.m. EDT), Tyler Ennis and Team Canada faces off against the Czech Republic who will be supported by a raucous hometown crowd, while potential Buffalo Sabre Jack Eichel plays against new arrival Alexander Ovechkin and Team Russia at 7:15 p.m. CET (1:15 p.m. EDT).
Also check out:
Ennis Key to Sabres Future
In spite of the Sabres struggles as a team, Ennis has still been a productive player. The Sabres just wrapped up a two-year
offensive stretch that is the worst in the common era of the NHL. Even still, Ennis has posted two consecutive 20-goal seasons and amassed a total of 89 points. Imagine what Ennis can do with a little extra help.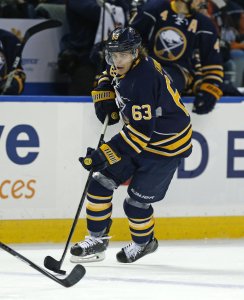 Looking ahead, the 5'9″ forward will be an important piece. As it stands, he's one of Buffalo's best players and last summer signed a 5-year, $23-million contract. He will be a part of a future in Buffalo that many are projecting to be very bright.
As the team grows and surrounds Ennis with more talent, he too will be expected to grow and eventually hit the next level. Not only will he have more talent on the ice around him, but he should also draw less matchups against the opposition's best. All of this should translate to more success.
How quickly the Sabres can turn around, will depend on how fast Ennis continues his projection upwards. He's got the right attitude and a ton of talent so all signs point to better days ahead for both Ennis and the Sabres.
Stay tuned here and follow me on Twitter as we continue our coverage of the World Championship from Prague with up-to-the-minute updates of the medal round.