With the recent addition of Eric Brewer to the Tampa Bay Lightning on Friday, Steve Yzerman has made a bold move to sure up the questionable at best Bolts defence corps. The trade sees the Lightning acquire the Blues captain and 12 year NHL veteran in exchange for young prospect Brock Beukeboom and a third round selection in the 2011 entry draft.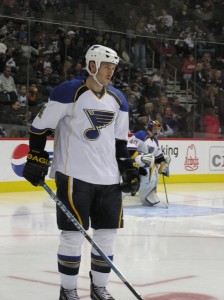 So far this season the Lightning have been able to make due with their somewhat questionable defensive gameplay due to the firepower that their offence can pack. With the likes of Steven Stamkos, Martin St. Louis, Steve Downie, Simon Gagne and Vincent Lecavalier leading the way the team can no doubt put up goals.
Tampa Bay ranks third in the Eastern Conference in goals for (179) but have allowed an abysmal 185 goals against which is good for third worst in the East. These numbers may be slightly skewed to the early parts of the season in which the Lightning were forced to rely on the weaker goaltending duo of  Mike Smith and Dan Ellis. Since the arrival of Dwayne Roloson (2.87 GAA) the goal against have gone down slightly.
Nevertheless, Brewer should be a welcome addition to a defence that may look good on paper but has struggled at times. Brewer should bring more of a physical defensive-type game as he joins Victor Hedman, Brett Clark, Pavel Kubina, Marc-Andre Bergeron and Matthias Ohlund on the back end.
To get Brewer the Lightning had to give up one of their better young defence prospects in Brock Beukeboom along with a third round selection in the upcoming draft. Beukeboom is the son of former NHL defenceman Jeff Beukeboom. Beukeboom was the Lightning's third round selection in the 2010 draft and is currently a member of the Sault St. Marie Greyhounds of the OHL.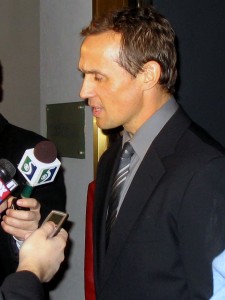 General Manger Steve Yzerman had earlier in the year made it publicly known that he was not interested in moving any early draft picks, namely in the first and second rounds in order to bring in talent. It would seem that Brewer was too good to pass up at the price of a third round pick and top prospect.
One has to wonder how much of a difference Brewer can make in the goals against department. There is now doubt however that his leadership skills and presence in the dressing room will make him a welcome addition.