In a tale of two players, the Albany Devils received an immediate upgrade.  Mattias Tedenby and Eric Gelinas were assigned to Albany by the New Jersey Devils and it could not have come at a better time for the A-Devils as they are in the midst of an important stretch of games.  Tedenby was placed on waivers on January 3rd and was not picked up by any other NHL team, which paved the way for his ride to the Capital District.  In the mean time, Gelinas fell victim to a "numbers game" on the New Jersey blue line and will be suiting up for Albany on Tuesday night at the Times Union Center for his first AHL action since October 19th.
Mattias Tedenby Survives Waivers
Tedenby returned to the Albany lineup on January 4th in the latest edition of the Time Warner Cable Cup Series.  He played alongside Stefan Matteau, fresh off his return from the United States team in the World Junior Hockey Championships, and Kelly Zajac.  He briefly played on the top line with Scott Timmins and Joe Whitney as well during the first period.  He did not pick up a point in the Devils 4-0 loss to the Adirondack Phantoms and finished with a dreadful -3 rating.  Tedenby previously skated for Albany during a conditioning assignment last month.  Playing against the Bridgeport Sound Tigers and then the Hartford Wolf Pack the following night, the Vetlanda, Sweden native scored three goals and picked up an assist.  Prior to Tedenby's three games this season, he tallied 19 goals and 25 assists in 84 AHL games, all with the Albany Devils.
The 24th overall pick of the Devils in the 2008 NHL Entry Draft burst onto the NHL scene during the 2010-11 season when he scored 8 goals and 22 points in 58 games.  Tedenby could not replicate his successful opening act the following season when he ended up with a goal and five assists in 43 games.  He also had a team low -15 +/-.  Tedenby opened last season with the NHL club but lasted just four games before being returned to Albany.  This season through 15 games in the NHL he has a single goal and is -8.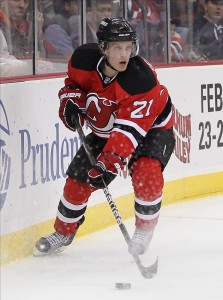 While Tedenby lights the lamp consistently in the AHL, his struggles in the NHL have tested the patience of New Jersey head coach Peter DeBoer and general manager Lou Lamoriello.  He has been in and out of the lineup and has split his time playing on the fourth line and the second line where he played with Patrik Elias and Damien Brunner.  Regardless of his linemates, Tedenby has been a defensive liability and has not been a factor on the positive side of the score sheet.  A roster spot needed to be opened with Ryan Carter set to come off the IR before Friday's game against the Chicago Blackhawks and the Devils placed Tedenby on non-roster waivers which left him open to be claimed by another NHL team.  Luckily for Albany, he survived his time on the waiver wire and will be an asset for the foreseeable future for Albany.
Less Than a Month After an OT Winner at MSG, Eric Gelinas Returns to the AHL
Also Friday, Anton Volchenkov was placed on the IR and was eligible to come off just a day later prior to the Devils game against the Buffalo Sabres, an eventual 2-1 loss for New Jersey.  This reopened a roster spot and Albany alternate captain Mike Sislo was recalled by the Devils to take the place of Cam Janssen in the lineup for Friday's game.  The morning after the Devils fell to the defending Stanley Cup Champions 5-3, Volchenkov was activated from IR.  To make room for him to play Gelinas was sent to the AHL.
With New Jersey, Gelinas became a staple on the power play with his powerful and accurate shot from the blue line.  In 33 games with the Devils, he became an offensive force and helped turn the season around for New Jersey.  He picked up four goals and twelve assists and elevated the play of Adam Larsson, another player that frustrated the Devils coaching staff early in the season.  Gelinas scored a goal against the Vancouver Canucks in his debut for New Jersey this season and even picked up an overtime game-winning goal at Madison Square Garden against the New York Rangers on December 7th.  Despite his hot start, Gelinas has cooled of late.  In his last seven games, he has notched just one assist and his +/- dipped by -4.  In his first seven games with New Jersey this season, he had 22 shots on goal.  In his last nine games, he mustered just eleven shots on net which coincides with a drop in play defensively that has affected his ice time.  During a ten-game stretch from November 23rd at San Jose to December 10th at Columbus Gelinas never dipped below 19:32 in ice time per game.  Since then, in ten games, he has only surpassed 18 minutes in ice time four times.
On December 7th, 2013, Eric Gelinas blasted home his first NHL game-winning goal for the New Jersey Devils against the New York Rangers:
http://youtu.be/qchW1GvmhQY?t=2m34s
With Gelinas struggling both offensively and defensively coupled with a battered defense starting to get healthy, the Devils opted to send Gelinas down so he could improve his game.  The 22 year-old started the season for Albany and in five games picked up a goal and two assists.  In 137 games with Albany, Gelinas has scored 23 goals and added 39 assists for 62 points.  Albany has been dressing seven defensemen in many games of late so the "numbers game" that is plaguing New Jersey has been passed along to the AHL team.
With the Albany Devils suddenly struggling, the return of Tedenby and Gelinas will hopefully provide the team with a much needed spark.  Albany has already surrendered first line winger Reid Boucher, Sislo, and Jon Merrill to New Jersey so there has been a significant drain in top talent.  They lost Tim Sestito for a short while to New Jersey and top-line center Timmins was gone for over a month due to injury.  The Devils have played well despite the expected adversity a developmental team will inevitably face but have won just two of their last seven games after a record-breaking six-game winning streak.  Going beyond their current three-game losing streak, Albany's power play has struggled mightily over their last eight games, scoring only three goals despite 45 chances.  While Tedenby and Gelinas battle to make their way back to the NHL, they will hopefully help Albany get their stride back during this important stretch of games that includes two more match-ups over the next week against the only team they are trailing in their division, the Springfield Falcons.