Fact: the reigning Norris Trophy winner is not only picking up where he left off in 2012, but is only getting better.
At only 23 years of age, Erik Karlsson is demonstrating that he is the present & the future of top of the line defenceman in the NHL; not only is he continuing to put up points at a furious pace, but he is also adding elements to his game that should (nay, must) silence those who say his style of play is too one-sided to merit having a Norris on his mantle.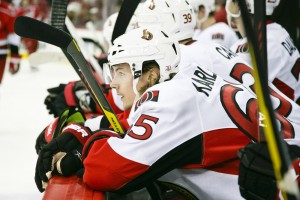 First, here's the skinny on offense: through 4 games this season, Karlsson has notched 5 points (3 goals, 2 assists) with 17 shots on goal. Extrapolated over an 82 game season, that would put him on pace for a 100+ points, with approximately 350 shots on goal. A potentially ridiculous pace to be sure, but there's every reason to believe that he is capable of at least matching his near point per game total of a year ago, especially if he continues to fire the puck with such stunning regularity and accuracy (his shot percentage is currently at an almost .176.)
As Travis Yost points out, Karlsson was averaging over 8 shots per game while playing with Jokerit over in the SM-Liiga. Although that league includes shots towards the net in their measurement, the fact that his number almost doubled the next highest D-man (Jason Demers) is an indication of just how offensive his game has been in recent months.
Here's the most recent example of exactly what's Karlsson is capable of doing on any given night:
What's more impressive, however, is how Karlsson is being deployed by Paul MacLean, and the kind of ice time that he is logging compared to last season. According to behindthenet.ca, Karlsson currently leads the Senators in ice time with 80.08 minutes (with a +6 rating to boot), including a team high 11.2 minutes on the power play. No surprise there.
On top of that, Karlsson has also logged 11.13 minutes in 4 on 5 situations, as compared to 45.48 minutes throughout the entire course of last season; that would put him on pace for 228 minutes on the PK in a full length season. It is important to point out that there are extenuating circumstances for this bump, namely the departure of the Filip Kuba and an injury to Jared Cowen, two key penalty killing D-men from a year ago. That notwithstanding, Ottawa is currently 6th in the NHL with an 83.3% kill rate, with Karlsson and his defensive partner Marc Methot logging 2nd pair minutes.
Karlsson, therefore, is seeing an uptick in his defensive duties, and is indeed helping his team at both ends of the ice in key situations.
Despite the fact that Ottawa has gone 3-1 to start the season, many will point to the fact that they have played all their games against Southeast Division opponents, not exactly the home of hockey's superpowers. Any team / individual success has to be framed within that context. Having said that, they are currently ranked 5th in goals per game with 3.75, and 6th in goals against per game with an even 2, and are playing as well as any other team out there.
And the Senators record and achievements to date – albeit in a relatively small sample size – are due in no small part to their star defenceman, who only seems to be getter better.
Ottawa's next game in Sunday vs Pittsburgh.
Follow Ian on Twitter for more hockey updates and commentary.