While the Devils' regular season may not end the way fans had hoped, Ray Shero's first year as New Jersey's general manager has been a success. Shero's inaugural year with the Devils could simply be defined as thrifty and opportunistic.
It started with the hiring of former Wilkes-Barre Scranton head coach John Hynes, who is delivering a fresh and honest perspective. He also seemingly shares Shero's vision for the future and is showing that he works well with young players and New Jersey's core group. Hiring Hynes was a great start for Shero but it certainly was not the only smart move that he made during the 2015-16 season.
Thrifty Trades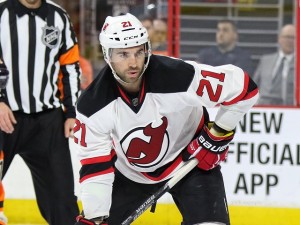 His biggest player move was acquiring forward Kyle Palmieri from the Anaheim Ducks. The trade only cost the Devils their 2015 second-round pick and a third-rounder in 2016. However, considering Palmieri's value and his play this season, Shero may have robbed Anaheim's general manager Bob Murray. The 25-year old never really had an opportunity with the Ducks to truly show how much of an impact player he could be. In contrast, New Jersey saw an opportunity to get a young, talented player that has not yet hit his prime. When the trade was announced, fans knew that Palmieri had a ton of upside but fast forward to now and he is one of the Devils' most important players and currently leads the team in goals.
But Palmieri was just the beginning in a series of smart player moves. Another opportunity presented itself when the Devils signed forward Lee Stempniak to a PTO prior to training camp. While Stempniak had been a solid player for several teams throughout the league, no one could have predicted the level of success he would have with New Jersey, which included leading the team in points.
As the Devils began to struggle prior to the trade deadline, Stempniak's market value was too high for Shero not to move him to the Boston Bruins for a 2016 fourth-round selection as well as a 2017 second-round pick. Also on deadline day, he sent defenseman Eric Gelinas to the Colorado Avalanche for more picks and shipped forward Stefan Matteau to the Montreal Canadiens in return for forward Devante Smith-Pelly.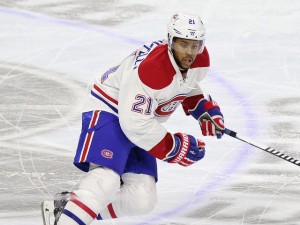 Smith-Pelly has been off to a scorching start with Devils. He too fits Shero's narrative of only acquiring players that benefit the franchise's long-term projection. It is fair to say that Smith-Pelly will not continue on his torrid pace but he provides the team with options moving forward and can slot within the top-six or even a third line role if needed.
In addition to acquiring players, Shero has also been able to help the Devils accumulate draft picks. These picks will be invaluable for the team and can be used in a variety of ways, including as part of a trade package during the offseason.
Staying the Course
While New Jersey's on-ice performance has taken a hit recently and the Devils now find themselves outside of a playoff position, this season has still shown improvement. The Devils were not thought to even be in the postseason discussion entering this year. Nevertheless, the team not only held a playoff spot at various points throughout the year, they were also competitive with elite teams.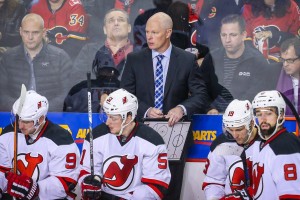 New Jersey's issues were never going to be solved overnight and Shero did not hide that fact. However, as the Devils began to struggle, he stayed the course. It would have been easy to look for a short-term answer on the market, but it also would have cost the team in the long run. Instead, he did not panic, even though the Devils were decimated by injuries throughout the year.
Now Shero's introductory season to the franchise and fans is coming to an end. As the offseason inches closer, people expect him to be active due to New Jersey's substantial cap space and number of free agents. For now though, people can say Shero's Devils debut has gone well. Nonetheless, this offseason and his second year with the club will not only determine a lot for him but more importantly, the organization as well.
Amanda Rosko is an avid hockey fan. This is her second year covering the New Jersey Devils for The Hockey Writers. She graduated with honors from Rutgers University in 2014 with a B.A. in Journalism and Media Studies.