There's a lot to undress in the ongoing Evander Kane soap opera in Winnipeg. A report from Chris Johnston at Sportsnet indicates that Kane may have intentionally skipped the Jets' game in Vancouver after teammates threw his track suit — worn in violation of team policy — into the shower.
There's never been a doubt that Kane has a strong personality, but skipping a game would be another level. However, there's a lot we don't know about this situation. We don't know if this was a long line in a string of bullying incidents or if it was an isolated incident. We don't know if his absence, as some have indicated, was really the result of the injuries Kane has been struggling with all season or if it was related to the shower incident, which appears to carry more weight than reports early in the day indicated, as the team placed him injured reserve late Thursday afternoon.
Renaud Lavoie tweeted Kane's side of the story after Johnston's story broke as well, which adds another layer. Bob McKenzie talked a couple of times today noting that there have been problems with Kane and some teammates, notably Dustin Byfuglien, for some time.
While the situation is complicated and there are questions of whether or not the shower incident crossed from locker room shenanigans into bullying, what is clear is that there is some bad blood in between Kane and some members of the Jets organization. It seems clear that Kane, fairly, appears upset about how he was treated. It's clear that, once again, there's some interest from the Jets in trading Kane.
Let's set today's situation aside, for the moment. Despite whatever bad blood there is, Kane has played hard in his career for the Jets and he's battled through injuries all season to stay on the ice and help his team. Assuming his health, which a GM can't completely assume for this season, what is Kane's value to a team that acquires him?
Scoring
Since the 2009-10 season, Kane has a .94 goals per 60 minutes of play (G/60), 37th in the NHL among players who've played at least 2,000 minutes. That puts him in some good company. Just above him? Thomas Vanek, Patrick Kane, Pascal Dupuis, and Jason Pominville. Just below? Daniel Sedin, Andrew Ladd, Patrick Marleau, and Chris Stewart.
His shots per 60 minutes of play (S/60) is 11.30. That's the fifth best mark in the NHL among all players over that same span. He's also not doing this by taking just a couple of shots in limited minutes. In his career he's averaged 14:18 of 5-on-5 ice time, which ranks 34th among all NHL forwards over that time. His 18 minutes per game in all situations ranks 81st among all forwards.
His possession numbers are positive as well, if only slightly so, at 50.5% CF% in his career, which is +1.2% CF%Rel.
Using Own the Puck's excellent new graphic display, you can see that Kane has been a solid second line winger with first line scoring ability over the last three years. That three-year span leaves out his 30-goal season and he's still hitting solid numbers.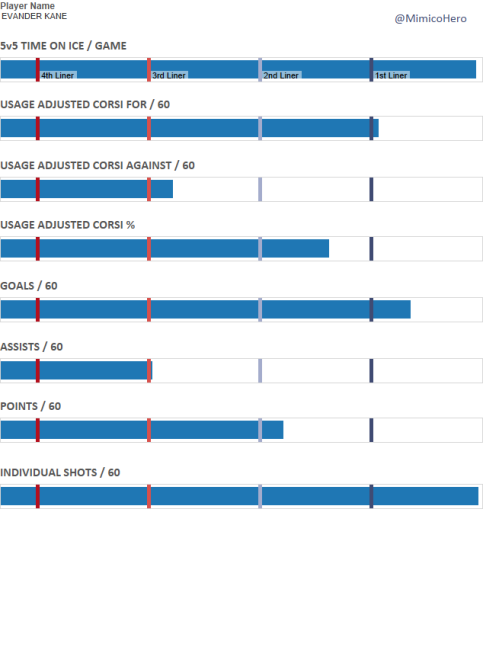 Usage
Here's a look at the players with the top 50 G/60 rates since 2009 and their usage. (Click to enlarge.)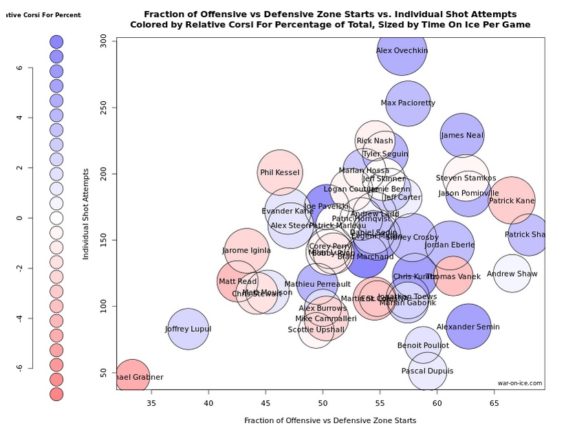 You'll find Kane just to the left center of that large clump in the middle.
Kane's hanging in this top group, but is getting fewer offensive zone starts than the majority of these guys and hanging around the midway point in shots. He also, as mentioned before, sports a positive relative Corsi For, which isn't a given in this group.
Power Play Time
It's not in the chart, but he ranks 42nd among these 50 in power play time per game. Among all forwards who have played at least 500 power play minutes since 2009-10, he ranks 167th in average PP time per game among 183 forwards that qualify. You might expect a scorer of his caliber to get more power play time, but he also hasn't been super productive on the power play. His 47.1 shots for per 60 (SF/60) on the power play rank 176th in that same group. He's tied for 115th in G/60 and his 2.5 points per 60 minutes (P/60) ranks 175th.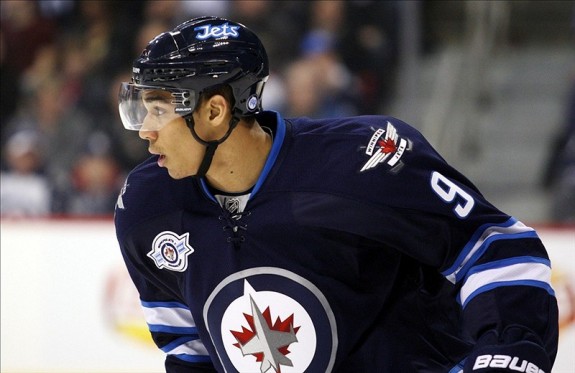 If you expand that group out to players who've logged 150 power play minutes or more over the same period, his TOI/G ranks 227th among 352 forwards. Likewise, he drops in other categories, ranking 183rd in G/60, 308th in P/60, and 260th in SF/60.
He doesn't have a stellar record on the power play, but he's also putting up impressive totals over his career without getting big power play minutes for a player of his skill and goal-scoring capability.
To Trade or Not To Trade
There are a lot of questions about Evander Kane, but things being said are more than a little reminiscent of the end of Tyler Seguin's time in Boston and that situation turned out all right for Seguin and the team that acquired him. (Though, yes, there are certainly plenty of differences too.)
In the end, things are sour in Winnipeg. Kane is on IR, but he's got three years left on his contract at $6M per year and a $5.25M cap hit, according to NHL Numbers. Kane provides a lot of value for a team and there's no reason to believe that these annual spring storylines involving Kane couldn't disappear when he's on a team where there's some mutual respect keeping both sides from making a scene.
Response from one GM when I asked if he was interested in Evander Kane: "Of course." People around league think very highly of him.

— Craig Custance (@CraigCustance) February 5, 2015
Many writers have noted that there's interest from GMs in Kane. You can't ignore the situation that has been going on in Winnipeg for a few years with Kane, but you also can't ignore the fact that the problems go both ways and that there aren't many opportunities to acquire a player who can score goals like Kane can.
Data from War on Ice, Hockey Analysis, and Own the Puck.