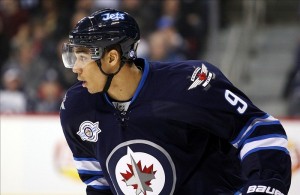 After much speculation that Winnipeg Jet's forward Evander Kane was made a healthy scratch Tuesday versus the Vancouver Canucks, it appears that was not the case.
Originally it seemed as though Paul Maurice had scratched Kane which surprised many since Vancouver is the left winger's hometown. But Sportsnet's Chris Johnston broke the news Thursday that in fact Kane had made the decision himself not to play in Tuesday night's game. According to the story, Kane showed up to the team's meeting wearing a track-suit Tuesday morning, which violated the team's dress-code policy.
BREAKING: Evander Kane failed to show up for #NHLJets game in Vancouver, @Sportsnet has learned: http://t.co/PWsjYEwIl0

— Chris Johnston (@reporterchris) February 5, 2015
Following that, teammate Dustin Byfuglien reportedly took the tracksuit and threw it into the team's shower to send a message. Kane then apparently didn't show up to the game or the team's pre-game skate telling the team during a phone call one hour before puck drop, that he would not be playing.
No Stranger to Controversy
This latest incident is just another in the on-going saga that has become Evander Kane. He has made headlines this past couple years, but they have had very little to do with his performance on the ice. Last April he was made a healthy scratch by head coach Maurice after going a stretch of 21 games with just two goals. He also sparked some controversy prior to Maurice taking over as the team's new bench boss. In a game against the Chicago Blackhawks Kane was said to have sat out due to an injury according to coach Claude Noel.
However, following the game Kane told reporters that he was not injured, but that he was made a healthy scratch. Then this December Kane posted a picture of himself on Instagram doing push-ups with stacks of money on his back. This came nearly three years after he posted a picture of him in Las Vegas using a stack of money to resemble a phone.
Evander Kane shows off his money, again #nhljets #cbcmb http://t.co/tfwRiOcS4Q pic.twitter.com/WJq4E04JNA

— CBC Manitoba (@CBCManitoba) December 3, 2014
Trade Rumours
All of this along with his inability to remain healthy have sparked much speculation over the years that the Jets have been shopping the 23-year-old. Rumours have not died down this season and after all of the off-ice distractions and his drop in production the price for Kane has apparently dropped.
Kane has just 10 goals and 22 points in 37 games this season and has missed 16 games. He has never played a full 82-game season in the NHL, though he did suit up for all 48 games during the 2012-13 lockout shortened season. What does make Kane still very attractive to other teams is that he does have the potential to be a great player.
The Vancouver native has a 30-goal season under his belt. Back in 2011-12, the team's first year back in Winnipeg, he had 30 and finished with 57 points in 74 games, both career highs. This year though, Kane is on pace for just 17 goals and 38 points. Originally it was believed that the Jets were hoping to get a solid roster player and a decent prospect or high draft pick for Kane. It is now believed that the team may only be looking for a decent roster player in return.  What might make him hard to trade are these same issues that have helped him to become deplorable in the first place.
Surveyed some NHL scouts and feeling is that price on Evander Kane has dropped. One top asset could be enough to land him from #NHLJets. — Chris Johnston (@reporterchris) February 5, 2015
Distractions Could Impede Movement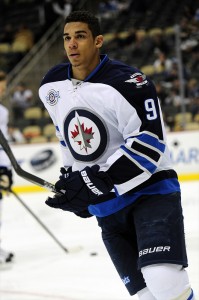 Teams might be wary about taking on a player who has injury problems and can be a distraction in the locker room. What also won't help his cause is the fact that he will be making $6 million for the next three years. It will take a lot for a team to want to commit to someone who not only can be a distraction, but eats up a lot of cap space as well.
Earlier this year Kane made more headlines when he told reporters that he knew he had it in him to score 50 goals in the NHL. But that has yet to be seen, especially as of late. Kane is still very young and though at times he hasn't looked to be on the team's good graces, when he has been in the lineup he has been relied upon heavily. He sees time on the power play and the penalty kill and averages over 19 minutes a game, playing closer to 21 minutes in his past two games.
He may have problems with discipline and create more poor press than good, but the fact is he is still young and does have talent. There have been rumours for years that he has been on the trading block and if his price has dropped, then maybe a move to a new team might do him and the Jets some good.