There is no denying Evander Kane's talent. There is no denying Evander Kane's work ethic on the ice. There is also, no denying Evander Kane's off-ice issues.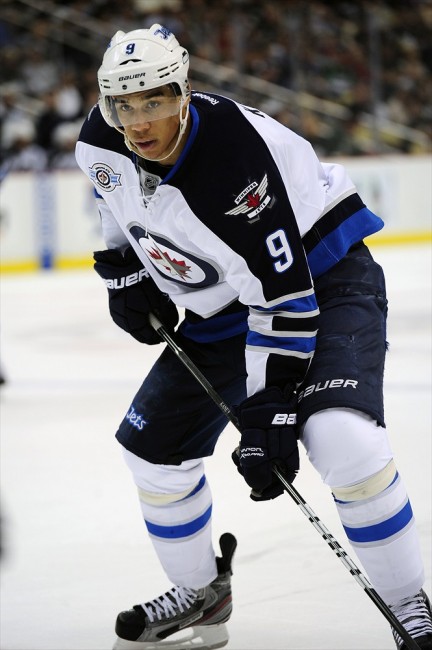 In a recent game in Vancouver, Jets head coach Paul Maurice made Kane a healthy scratch in his hometown. This, while the Jets are in the midst of a four-game losing streak and only had 12 healthy forwards.
Maurice called it a "coach's decision" and didn't elaborate further, even when pressed by the surrounding media throng. Later, Winnipeg Free Press columnist Gary Lawless sent out this tweet.
can now report Kane violated #nhljets dress code and arrived at rink in a track suit rather than suit – web story coming soon #bn

— gary lawless (@garylawless) February 5, 2015
Not The First Time
This isn't Kane's first go-around with this. When Claude Noel was coaching the Jets, he clashed with Kane on a few occasions, including scratching him in a game in Chicago last season, saying he was injured. Kane told the media he was healthy and thought he was a healthy scratch. The incident was the final straw in the battle. Noel was fired two months later and replaced by Maurice.
Later that season, Kane was made a healthy scratch by Maurice before a nationally televised game in Toronto. When asked on how Kane can get back in the lineup, Maurice said "Just show up at the rink."
Let us not forget the posts Kane has made on his Instagram account, featuring the ever famous money phone photo he took in Las Vegas during the 2012-13 lockout.
Today is the 3 year anniversary of the infamous #moneyphone #hadtodoit pic.twitter.com/586ecBHWmV

— Evander Kane (@evanderkane_9) November 21, 2014
Or the photo of him doing push ups with stacks of cash on his back. Those photos did leave some people outraged and upset.
Different Story
The fireworks started when Kane arrived to a team meeting wearing a track suit while the rest of the team were in suits. Chris Johnston of Sportsnet reported this story.
Kane wore a track suit when the Jets players gathered that morning for a meeting – a violation of team policy. Following a brief workout and stretch, Dustin Byfuglien is believed to have thrown those clothes into the shower to send a message to his teammate, according to sources.
When asked, Dustin Byfuglien told reporters:
"We're just a tight group. It is what it is. That's just among us. Things we've just got to handle ourselves."
Kane did not speak to the media, choosing to visit a doctor as he has suffered through various nagging injuries. While he has played through those injuries, the Jets decided to place him on IR retroactive to February 2.
Time For Cheveldayoff To Act
When it comes to making trades, Kevin Cheveldayoff isn't the first person you think of. It is common knowledge that the Jets general manager has yet to make a player for player deal, since he was hired back in 2011.
But if there ever is a time for Chevy to make a big splash in the trade waters, now would be a good time. Granted, he will have to wait until Kane is cleared to play by doctors and he will have to be moved off the injured reserve list. Still, the time to act is now for Chevy.
On the Evander Kane situation in WPG, how best to put this? It's complicated.

— Bob McKenzie (@TSNBobMcKenzie) February 4, 2015
Despite injuries and flaws, Kane is a valuable asset who is only 23 years old. His market value will be high and he would appreciate a fresh start. The Jets have needs such as depth at forward, especially in the bottom six. Kane could very well fetch two forwards or even a defenceman if there is a package involved. Kane currently has three years left on his contract with a $5.25 million cap hit.
It would be good for Kane as he desperately needs a new start in a new city. It worked for Tyler Seguin as he ran into some problems in Boston. The Bruins dealt him to Dallas where Seguin has shone in the Lone Star State. Kane could very well do the same thing if he leaves Winnipeg.
Cheveldayoff is aware of that and he would hate to see Kane leave and resurrect his career in a new city. However, keeping Kane could be a bigger risk. The alleged incident with Byfuglien is a sign of discontent between Kane and his teammates. Cheveldayoff can't let this incident fester any further. The Jets are on a five-game losing streak, with teams behind them making a charge.
At all-star break, #NHLJets had 92.4 per cent chance of playoffs, per SportsClubStats. Now at 57.4 per cent after 5 straight losses.

— Stephen Whyno (@SWhyno) February 4, 2015
Fans in Winnipeg are craving for some playoff hockey. This is a hockey mad market that lives, breathes and bleeds the Jets. However, this incident is threatening that possibility. If Chevy keeps Kane, the team will have to answer questions from the media on how everyone's relationship with Kane is. It will be a huge distraction in the room and the focus of the ultimate goal will be lost. Cheveldayoff's fate as an NHL general manager could be determined by how he handles the Kane situation. The soap opera continues.