The Dallas Stars are in a familiar position as we draw near the trade deadline and that is firmly placed in the playoff bubble. There is less than a month to go until the Trade Deadline arrives on March 2nd and it is expected to be an incredibly busy month in the NHL. The big question for the Stars and their fans is how Dallas will approach the deadline: will they be buyers or sellers?
It's going to be pretty tough to predict, as it is hard to imagine that this team will fall completely out of the playoff race but it is doubtful that they will cement a spot any time soon either. For that reason, I will examine each potential angle the Stars could take as we get closer to the NHL Trade Deadline.
Dallas Stars as Buyers
I'm going to start off a tad bit optimistic and for this portion of the article assume that the Stars are buying at the deadline.  The needs of the team are pretty obvious and that is defense. First off, it has been quite clear in Jim Nill's time with Dallas that he is not shy about pulling the trigger on a big trade if the right deal is available. That being said, I do not believe he wants to sell off future assets for a rental in the Stars current state. If they were a sure-fire Cup contending team that would be another story. However with the Stars stuck right in the middle of the playoff bubble, I highly doubt Nill goes out and gets a rental player at the deadline. That leaves the Stars pretty much one option if they are going to be considered buyers and that option is to go make a hockey deal that benefits the team long-term.
So who is out there and potentially available?
Hearing Dallas is in talks with the Leafs re: one of Phaneuf or Franson. Leafs should be looking to land Honka and picks in return #Leafs

— @HockeyDummies "TML" (@SButland) January 26, 2015
As the Toronto Maple Leafs continue to fade away this season, potentially every player on their roster is available. Both Dion Phaneuf and Cody Franson are attractive options for the Stars but Franson would be a rental. Considering the cost for defensemen these days, Cody Franson could command up to $6 million a year on his next contract and that would be if he even would be willing to stay in Dallas. As I mentioned above, I don't believe the Stars are in any position to give away top prospects for a rental.
That leaves Dion Phaneuf, and he is a pretty intriguing option for Dallas whether they choose to pursue him at the deadline or in the offseason.  His cap hit, according to nhlnumbers.com, is $7mil/yr and the Stars would have zero problem affording that. He is also under contract for three more years after this season so they would also be investing in a quality defensemen for several years. I would be a little wary if the asking price is Julius Honka, but Phaneuf could easily be a top-pairing defensemen and it might be worth the price. Quite frankly, elite #1 defensemen will just never be available because they are so rare, so Phaneuf is definitely one of the better options out there.
Another name that has been thrown about is Tyler Meyers and there is no denying he would be a great fit in Dallas. He has a huge frame, he is a right-handed shot, and Lindy Ruff has coached him already. There were rumors in the off-season about packaging Val Nichushkin for Meyers and I just don't see it happening. What Dallas would have to give up is simply too much and Buffalo still considers him a big part of their future.
It seems as though it is now highly unlikely that Meyers will be traded as his own coach Ted Nolan believes he is a key component of Buffalo's future. I would be floored if the Sabres trade him at all, let alone to Dallas.
Dallas Stars as Sellers
If the Stars find themselves drifting down the standings as they get close to March, it is very possible Jim Nill will want to sell off some rental players for future assets. The Stars have several players that would generate a ton of interest at this year's deadline and part of that is due to their play this season. I would expect players such as Erik Cole, Shawn Horcoff and even Trevor Daley to potentially be available if Dallas decides to sell. All three players are arguably having their best seasons in Dallas and have driven up their value pretty significantly. Cole is third on the team with 13 goals and could be worth a 2nd-3rd round pick from a team looking for a serviceable top-6 forward. Shawn Horcoff is just 2 points shy of his total last season with Dallas and could fetch a 3rd-4th rounder from a team needing veteran leadership in the postseason which he provided a ton of for the Stars last year.
And then there is the longest tenured Dallas Star, Trevor Daley.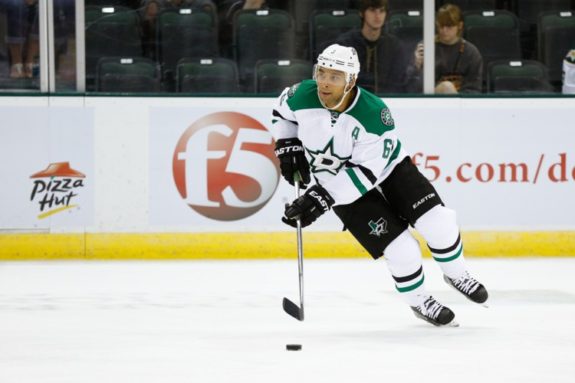 Daley has two years left on his deal that comes with a very reasonable cap hit of $3.3M per season. He has already surpassed his career high in goals and is just two points shy of his career high in overall points. He is currently fourth among defensemen in powerplay goals and tied for second in total goals among defensemen. He may be an intriguing option for some teams looking for a veteran defensemen at the deadline especially since they will be getting more than just a rental. Daley could easily get a high draft pick and a solid prospect and he could also be packaged in a deal for roster players.
What the Stars eventually decide to do near the Trade Deadline entirely depends on how the team performs on the ice in the coming weeks. Personally I expect the Stars to linger around the playoff race all season long and I'm just seeing any major moves being made during the season. Jim Nill has done most of his work in the off-season and I believe that trend will continue.