Recent history has not been kind to Canadian teams with a 24-season gap since the Montreal Canadiens won the nation's last Stanley Cup in 1993. Since then, Canada has had success with four teams reaching the Stanley Cup Final but it hasn't been consistent. In 2018, the Toronto Maple Leafs and Winnipeg Jets were the only Canadian teams to reach the postseason, but still higher than in 2016, when none made it for the first time since 1970.
On average, between two and five Canadian teams reach the postseason each year, a lower number than many would like given hockey's role in Canadian culture. Yet expecting every Canadian club to qualify for the playoffs each year would be futile, although it has been done before.
Playoffs Since 1986
Between two and five Canadian teams in the postseason may be the average but there have been outliers. As mentioned above, in 2016, zero of seven teams made the postseason. But in addition to that season, only the Canadiens qualified in 2014. Since 1987, there have been three instances when two teams reached the playoffs, seven seasons with three teams, and nine years with four teams.
There have also been seasons when nearly every Canadian team played postseason hockey. In 1988, 1990, 1996, 2015, and 2017, five of seven teams made the playoffs. Additionally, in 1993, when there were eight Canadian franchises, six reached the postseason. Finally, on two occasions since 1986 all but one Canadian team qualified. In 1987, only the Vancouver Canucks missed when there were seven teams and in 2004, when there were six franchises, the Edmonton Oilers were the only one that sat out.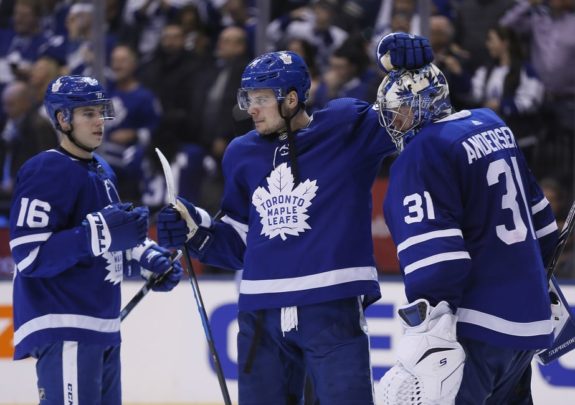 Yet despite those close calls, the most recent time that every Canadian team reached the postseason was following the 1985-86 season when there were seven clubs north of the border.
The 1985-86 Regular Season
Regular Season Finishes for Canadian Teams
Edmonton Oilers: 56-17-7, 119 points, 1st in Smythe Division
Quebec Nordiques: 43-31-6, 92 points, 1st in Adams Division
Calgary Flames: 40-31-9, 89 points, 2nd in Smythe Division
Montreal Canadiens: 40-33-7, 87 points, 2nd in Adams Division
Winnipeg Jets: 26-47-7, 59 points, 3rd in Smythe Division
Vancouver Canucks: 23-44-13, 59 points, 4th in Smythe Division
Toronto Maple Leafs: 25-48-7, 57 points, 4th in Norris Division
Edmonton Oilers
The Oilers entered the 1985-86 season as Stanley Cup favorites after they won back-to-back Cups in 1984 and 1985 with two of the best teams in league history. They were an unstoppable force with Wayne Gretzky, Mark Messier, Jari Kurri, Paul Coffey, and Grant Fuhr leading the way. And this was before Marty McSorley and rookie Esa Tikkanen joined the team. Therefore it shouldn't come as a surprise that they led the league in points.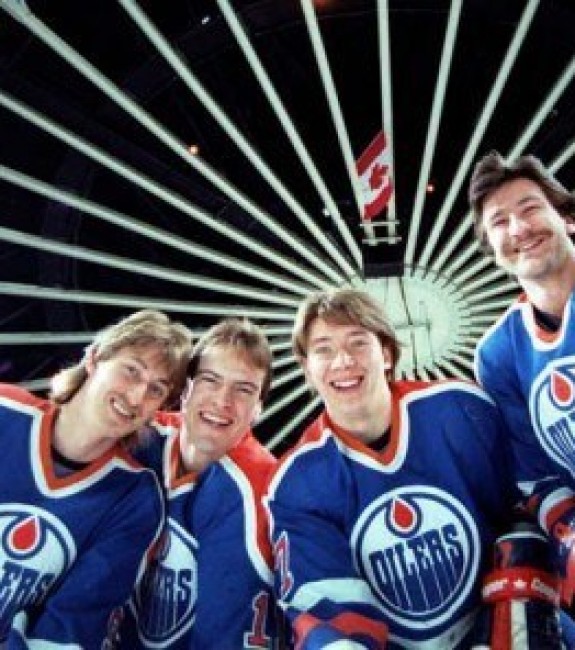 That season was Glen Sather's 10th as Edmonton's head coach, three when they were a WHA franchise and seven in the NHL. The team's 56 wins were one shy of their most with him behind the bench and their 119 points tied a franchise-best. On the ice, Gretzky set career highs with 163 assists and 215 points and led the league in both categories. He was a first team all-star for the sixth straight season and won his sixth straight Art Ross Trophy as well as his seventh consecutive Hart Trophy.
Related: The Best Oilers Team to Not Win a Cup
Other great performances included Kurri, whose 68 goals led the league for the second straight season and Coffey, who provided 48 goals and 138 points from the blue line, the most goals ever scored by a defenseman in a season. He was a first team all-star and won the Norris Trophy for the second straight year and finished fourth in Hart Trophy voting. In net, they had Fuhr, who finished with a 29-8-0 record, an .890 save percentage (SV%), a 3.93 goals against average (GAA), and a 19.98 goals saved above average (GSAA) in 40 games. He also finished third in Vezina Trophy voting.
In total, the Oilers had four players with 100 points, tied for the most on one team in history. They also scored over 400 goals and 1,100 points and remain one of five teams in history to net at least 400 goals in a season. They also had at least two players among the league's top-five in goals, assists, points, even strength goals, and point shares.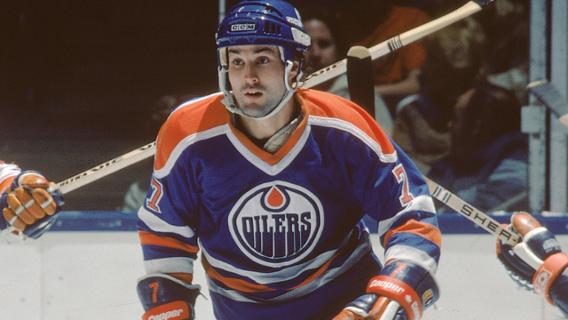 They won at least 60 percent of games every quarter of the season (80-game season), had four winning streaks of at least five games, and never lost more than two games in a row. They also went 12 straight without a loss between games 17 and 28 and lost one game between Feb. 24 and March 26.
Quebec Nordiques
The '85-86 Quebec Nordiques reached the postseason for the sixth straight year after they finished fourth in the league with 92 points. This occurred a year after they lost to the Philadelphia Flyers in the conference finals. They were led by future Hall-of-Famer Peter Stastny, who scored 41 goals and 122 points in 76 games. Michel Goulet was the only other 100-point player on the roster while Stastny's younger brother Anton finished the season with 74 points in as many games.
Related: The Quebec Nordiques Franchise Four
Another familiar name on the roster was Dale Hunter, who contributed 28 goals and 70 points in his penultimate season as a Nordique. In net, they had Clint Malarchuk, who appeared in 46 games with a 26-12-4 record, four shutouts, an .895 SV%, a 3.21 GAA, and a 28.78 GSAA. He finished top-five in the league in all but games played and record. Other Nordiques on top-five leaderboards were Goulet for goals and points per game and Stastny in assists.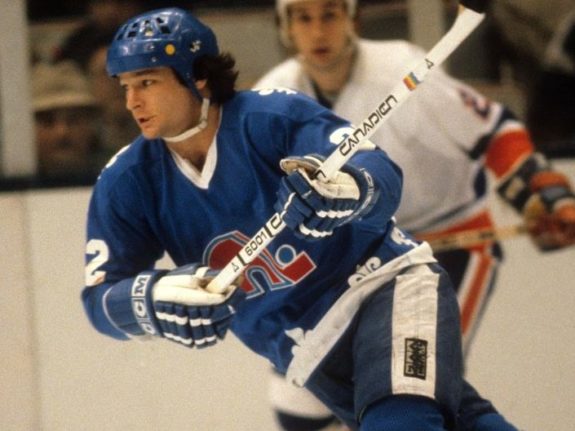 The Nordiques started the season undefeated through seven games but then went 3-9-1 in their next 13 games. They had three winning streaks of at least six games but had five losing streaks of three or more games.
Calgary Flames
The Calgary Flames were one of the best franchises of the 1980's. They made the playoffs every year, advanced at least one round six times, reached two Stanley Cup Finals, and ended the decade with a Cup win in 1989. For the '85-86 season, they were coming off a 94-point campaign the year before which ended with a first round loss in the postseason. They returned with 'Badger' Bob Johnson as head coach in his fourth of five seasons with the franchise.
They started the season off slowly by going 18-19-3 through 40 games before they turned it around and ended the season with a 40-31-9 record. Their turnaround was due in part to the acquisition of Joe Mullen from the St. Louis Blues ahead of the trade deadline. He finished the season with 16 goals and 38 points in 29 games as a Flame.
Other key contributors included Lanny McDonald and his 28 goals and 71 points and defenseman Gary Suter, who had 18 goals and 68 points in 77 games and won the Calder Trophy over Wendel Clark at season's end. Another notable Flames blueliner was future Hall-of-Famer Al MacInnis, who provided 12 goals and 68 points in 77 games and likely caused several injuries to those in the way of his legendary shot.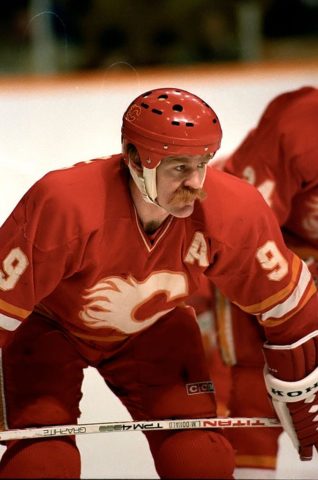 Between the pipes was Reggie Lemelin, who appeared in 60 games, accumulated a 29-24-4 record, had one shutout, an .872 SV%, a 4.09 GAA, but a minus-4.35 GSAA while facing the most shots in the league. As mentioned above, the Flames struggled to take off and never found much consistency with one winning streak of more than four games and an 11-game losing streak between Dec. 14 and Jan. 7.
Montreal Canadiens
When the Canadiens qualified for the 1986 Playoffs, they were in the midst of a 24-season playoff streak that began in 1971 and ended in 1995. The '85-86 Habs were coming off a season in which they accumulated 94 points and lost in the second round. They also broke in rookie head coach Jean Perron, who took over for Jacques Lemaire, whose only full season with the Canadiens was 1984-85.
In '85-86, Montreal had just one 100-point player, Mats Naslund, with 43 goals and 110 points in 80 games. He was named to the second all-star team and finished third in Lady Byng Trophy voting. Other Canadiens who were point-per-game players were Bobby Smith with 86 points in 79 games and Hall of Fame defenseman Larry Robinson with 82 points in 78 games. He was also a second team all-star and was a Norris Trophy finalist.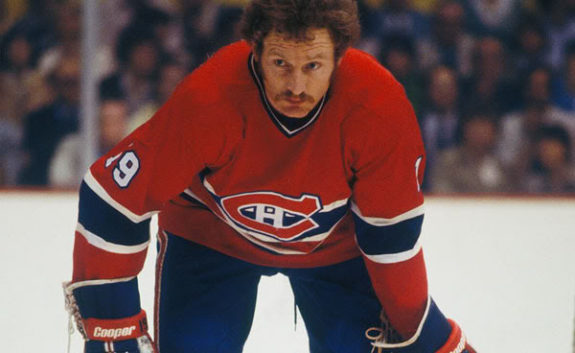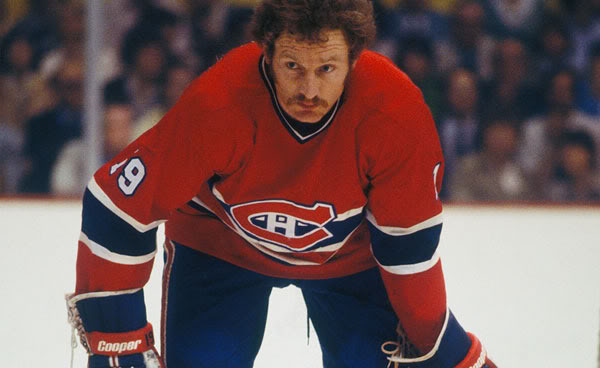 But the biggest reason for their success was rookie netminder Patrick Roy. In 47 games that season, he went 23-18-3 with one shutout and had an .875 SV%, a 3.36 GAA, and a 1.26 GSAA and finished fifth in Calder Trophy voting. Opposite of the Flames, Montreal started the season off well by going 23-13-4 through 40 games but went 17-20-3 to end the season and limped into the postseason.
Like the Flames, the Canadiens had one winning streak of five or more games but had two losing streaks of at least four games, including a six-game streak between March 14 and 26.
Winnipeg Jets
The '85-86 Jets took a step back from the previous season, regressing from 96 points to 59. It's what cost head coach Barry Long his job after Winnipeg fired him 66 games into the season. He was replaced by John Ferguson Sr., who only coached the Jets through the end of the season.
If there was one player from the seven Canadian teams that season who best defined the traits of MVP more so than even Gretzky, it was Winnipeg's Dale Hawerchuk. He was the biggest reason the Jets made the postseason as their only player to reach the century mark with 46 goals and 105 points in 80 games. His 105 points were 36 more than the next highest-scoring Jet, Laurie Boschman, with 69 points in 77 games.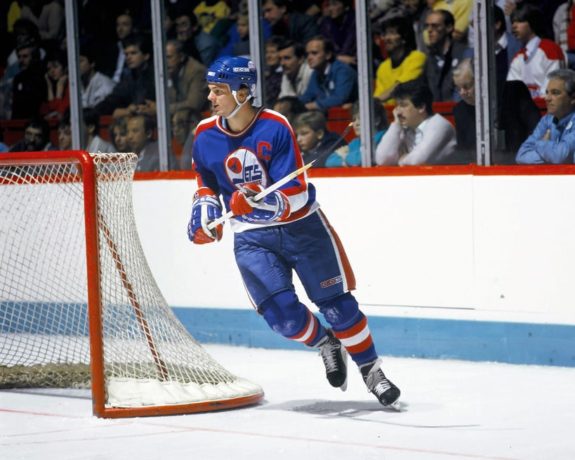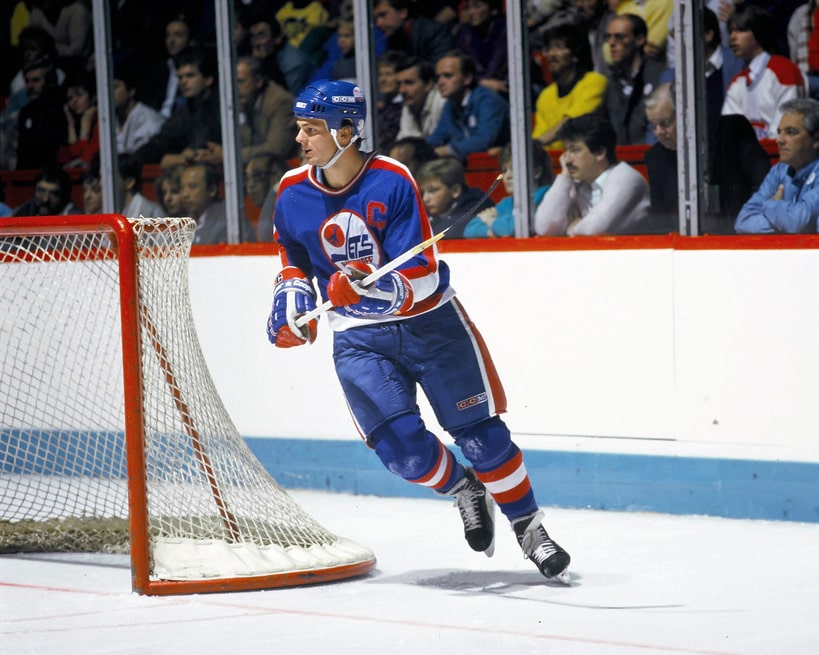 In net, Brian Hayward wasn't good with a 13-28-5 record, an .843 SV%, a 4.80 GAA, and a minus-43.45 GSAA in 52 games. He finished top-five in the league in losses. The Jets had one streak of four or more wins, which was outpaced by their five streaks of at least four losses.
Vancouver Canucks
The Canucks actually tied the Jets with 59 points, but were seeded lower due to their three fewer wins. Their 59 points in '85-86 matched their total from the year before, however they missed the postseason in 1985. They started the season with a new head coach for the second straight year. This time it was Tom Watt, who lasted two seasons in Vancouver.
The '85-86 Canucks weren't a very good team as they earned just 36.9 percent of all possible points. They struggled in several areas, including offensively as their leading scorer, Petri Skriko, had 78 points in 80 games. They had one other player, Tony Tanti, with at least 70 points and two others in the 60's.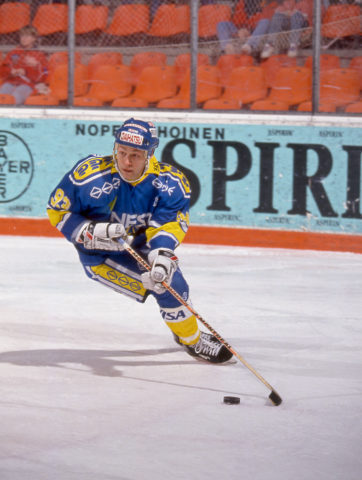 That season, Vancouver goaltender Richard Brodeur had nothing but a last name in common with Martin Brodeur as he had an .861 SV%, a 4.08 GAA, and a minus-23.40 GSAA in 64 games. He did, however, have two shutouts and led the league in games played. Unfortunately, he also led the league with 32 losses. Vancouver's longest winning streak was three games while they had four losing streaks of at least four games. They also went winless in 10 straight games and lost 13 of 14 between Nov. 13 and Dec. 12.
Toronto Maple Leafs
The Maple Leafs finished the 1985-86 season with less than half the points the Oilers had and were 29 points behind the Norris Division winners, the Chicago Black Hawks. They had just 57 points and earned 35.6 percent of all points that season, which is not even a franchise record for the lowest points percentage in a playoff-bound season. That record belongs to the 1987-88 Maple Leafs, which managed just 52 points and earned 32.5 percent of points.
Their 57 points in 1985-86 was an improvement over the previous year when they finished with 48 points and missed the postseason. The '85-86 Maple Leafs were coached by Don Maloney in his second and final season in Toronto. Their leading scorer was Miroslav Frycer with 32 goals and 75 points in 73 games. Tom Fergus was the only other Leaf with 70-plus points. A notable name on the roster was blueliner Borje Salming, the only Hall-of-Famer from that team, who only had 22 points in 41 games.
Starting goaltender Don Edwards didn't help anything with a 12-23-0 record, an .860 SV%, a 4.76 GAA, and a minus-15.78 GSAA in 38 games. He split starts with 21-year-old Ken Wregget, who appeared in 30 games and finished with a 9-13-4 record, an .874 SV%, a 4.34 GAA, and a .02 GSAA. Neither were great, but Edwards was really bad.
They had no winning streaks of more than three games, but did have losing streaks of four, seven, and nine games. They also started the season by going 4-13-3 through 20 games.
Postseason Play
First Round
The first round involved two series in which Canadian teams played each other, the Oilers versus the Canucks and the Flames against the Jets. Both series ended in three game sweeps.
The Oilers swept the Canucks by scores of 7-3, 5-1, and 5-1 in a series that wasn't close. Edmonton scored 17 goals and allowed just five. Gretzky, Messier, and Kurri each had six points while Fuhr had a .925 SV% in two games. His backup, Andy Moog, played the other game and had a .963 SV%. Meanwhile, Vancouver's leading scorer was Thomas Gradin with three points while Brodeur allowed 12 goals in two games. Again, not like his surname counterpart.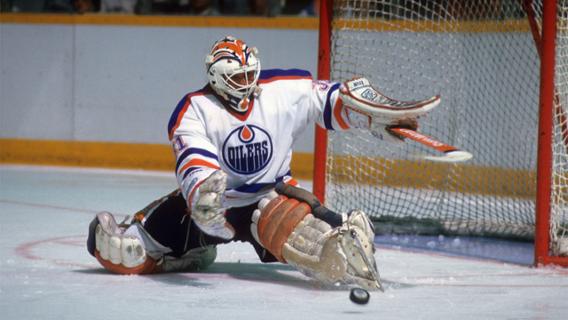 In the other all-Canadian first round series, the Flames ousted the Jets by scores of 5-1, 6-4, and 4-3 in overtime. Calgary had a plus-seven goal differential and were led by Doug Risebrough with six points. In net, Mike Vernon had a .913 SV%. For Winnipeg, defenseman Mario Marois led the Jets with five points while Hayward had an .848 SV% in two games.
Meanwhile, in other series, the Nordiques were swept by a Hartford Whalers team that had future stars Ron Francis, Kevin Dineen, and Ulf Samuelsson on it. The Canadiens swept the Boston Bruins as Roy allowed six goals in the series and had a .923 SV% while the Maple Leafs upset the Black Hawks as Wregget stole the show with a .917 SV%.
Conference Semifinals
In the second round, the Oilers and Flames faced off in the Battle of Alberta with Calgary upsetting Edmonton four games to three. The Flames held a plus-one goal differential as the series was as close as the win-loss record indicates. Hakan Loob, Suter, and the newly-acquired Mullen were all dynamic with seven points each in the series while Vernon had an .896 SV% in six games. For Edmonton, Gretzky once again led the way with 13 points, almost double the next highest-scoring Oiler, Glenn Anderson, with seven.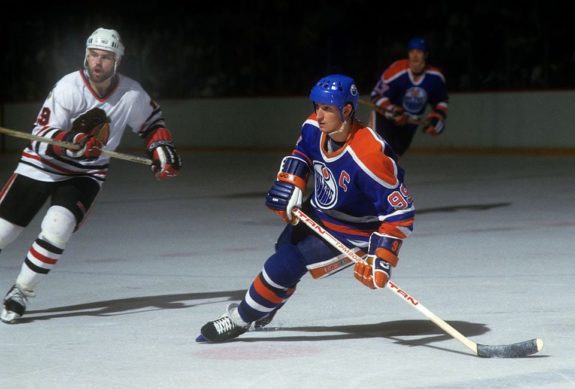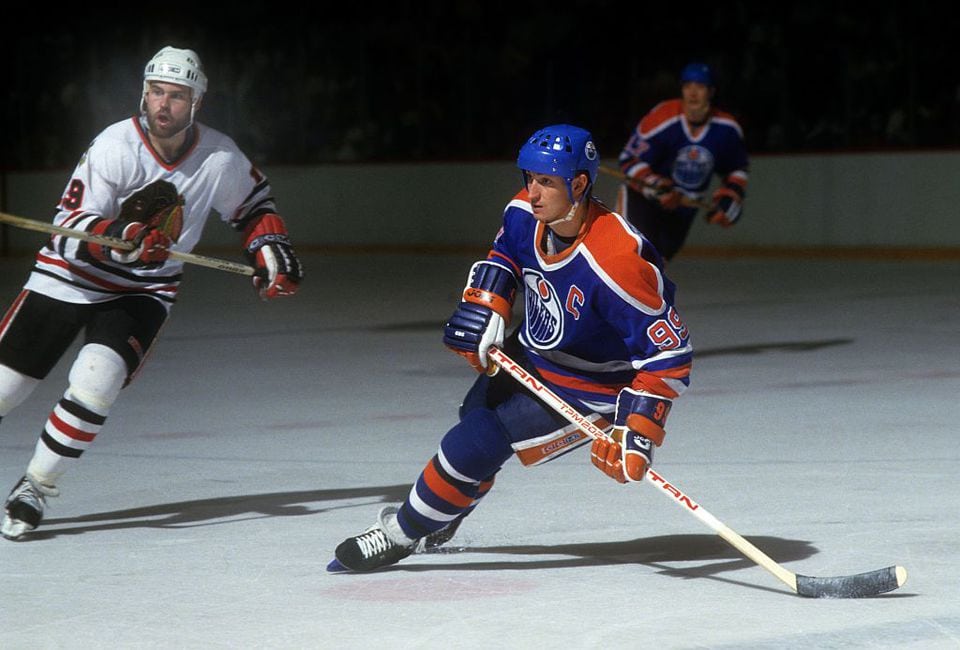 The remaining two Canadian teams, Montreal and Toronto, played seven-game series with the Canadiens defeating the Whalers and the Maple Leafs succumbing to the Blues. In the Montreal/Hartford series, Roy continued his great performance with just 13 goals allowed in the series and only gave up more than two goals twice. They finished with a plus-three goal differential.
In the other series, Wregget's strong play ended for Toronto with an .893 SV% and the Maple Leafs allowed at least three goals in four of seven games. Meanwhile, Blues netminder Greg Millen finished with a .927 SV% in six games.
Conference Finals
In opposite conferences, the Canadiens and Flames were a series away from facing each other in the Cup Final. Montreal played the New York Rangers in the Prince of Wales Conference Final and won the series in five games as Roy allowed nine goals in the series and had a .938 SV%. Offensively, Claude Lemieux's six points paced the club while blueliner Chris Chelios chipped in five.
In the Clarence Campbell Conference Final, the Flames drew the Blues and advanced to the Stanley Cup Final in seven games. Although Calgary won Game Two by six goals, the series was generally a close one as the last two games were decided by one goal. Ultimately, Calgary had a plus-six goal differential as MacInnis had 10 points from the blue line and picked up Vernon and his .891 SV%.
Stanley Cup Final
The Canadiens and Flames faced off in the 1986 Stanley Cup Final in the first all-Canadian Final since 1967. Montreal won the series in five games as Roy maintained his postseason play and won the Conn Smythe Trophy as a result, which conjured up memories of Ken Dryden in 1971.
Although the series went five games, the Canadiens only had a plus-two goal differential with 15 goals scored and 13 allowed. Roy had a .904 SV% and Naslund led the team with seven points. Opposite of Roy in net, Vernon wasn't bad with an .894 SV%, Roy was just better.
The Wrap-Up
Roy ended the postseason with a 15-5 record in 20 games, a .923 SV%, a 1.93 GAA, one shutout, and a 14.02 GSAA. He led the postseason in wins and shutouts and won his first of three Conn Smythe Trophies and his first of four Stanley Cups. Calgary teammates Mullen and MacInnis did well as Mullen led the postseason with 12 goals and MacInnis paced it with 15 assists. Meanwhile, Blues' Bernie Federko and Doug Gilmour tied for the lead in points with 21.
Canadian Teams Since 1986
Although there was a 29-year gap between 1967 and 1986 for an all-Canada Stanley Cup Final, it happened again three seasons later when the Flames and Canadiens had a rematch in 1989. However, that year ended with a different result as Calgary won in six games and MacInnis took home the Conn Smythe Trophy.
Since then, seven Finals have included a Canadian team. The Oilers won in 1990 without Gretzky and the Canadiens won the nation's most recent Cup in 1993 behind another Conn Smythe performance from Roy. A Canadian franchise reached and lost in the Final in 1994, 2004, 2006, 2007, and 2011. In four of five, the series went to seven games, including 1994 and 2004, when the final games were decided by one goal.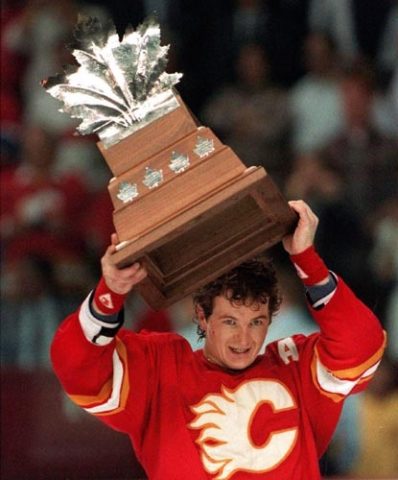 Although the country's Stanley Cup drought remains, it will disappear someday and could soon go away. The Maple Leafs and Jets are serious contenders this season, each with young cores that will remain for the foreseeable future. Meanwhile, the Oilers and Flames, two teams that missed the postseason in 2018, could be threats again with the addition of a few pieces. Even the Ottawa Senators, Canadiens, and Canucks, three franchises in different stages of a rebuild, could be borderline playoff teams in a few seasons given the talent that is typically available in the draft each year.
Other Interesting Information
Although 1986 was the last time all Canadian teams played postseason hockey, it didn't mean that all teams deserved it. The Maple Leafs, Jets, and Canucks all won less than 50 percent of possible points and shouldn't have qualified for the playoffs. So when was the last time every Canadian team earned at least 50 percent of points? That occurred more recently, in 2007-08, when the Canadiens won 63.4 percent of points and the Maple Leafs brought up the rear of the six teams at 50.6 percent.
But even that isn't a true indicator of a winning team as Toronto only achieved that high of a percentage due to the loser point as they lost 11 games in overtime or shootout that season. Taking away losses in overtime or shootout as well as ties and instead looking exclusively at wins, the last time every Canadian team won more than half their games was during the 1961-62 season when there were six NHL franchises and Montreal and Toronto were the only ones that represented Canada.
That year, the regular season consisted of just 70 games and the Maple Leafs won 37 games while the Canadiens managed 42. The season ended with Toronto winning the Stanley Cup in six games over the Black Hawks.
*All stats came from Hockey-Reference
My name is Kyle, and I'm the managing editor of The Hockey Writers. I joined THW in Oct. 2017 and am always striving to bring you the best hockey coverage possible. You can email me directly at kyle@thehockeywriters.com.