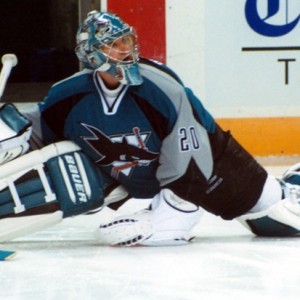 Confusion lingers in the wake of Evgeni Nabokov's return to the NHL as every passing hour brings another twist and turn.  After Nabokov signed a one-year deal with the Detroit Red Wings on Thursday, a big hurdle still stood in the way that made his ultimate arrival in Detroit a longshot.
Craig Custance at The Sporting News said "Detroit GM Ken Holland and Evgeni Nabokov's agent Don Meehan crafted a contract for the free agent goalie, but it's hard to imagine the $570,000 deal clearing waivers. We'll know at noon on Saturday."
To keep teams from loading up on European stars right before the playoffs, the CBA requires all professional players joining the NHL from another league outside North America to first clear waivers:
13.23 In the event a professional or former professional Player plays in a league outside
North America after the start of the NHL Regular Season, other than on Loan from his
Club, he may thereafter play in the NHL during that Playing Season (including Playoffs)
only if he has first either cleared or been obtained via Waivers. For the balance of the
Playing Season, any such Player who has been obtained via Waivers may be Traded or
Loaned only after again clearing Waivers or through Waiver claim.
At noon on Saturday, Custance's hunch was confirmed as the New York Islanders claimed the Russian goaltender.    The waiver process awarded him to "the claiming Club having earned the lowest percentage of possible points in the League standing at the time of the request for Waivers" – meaning the New Jersey Devils and Edmonton Oilers are the only teams to definitely pass on a claim.
The Islanders receive Nabokov at the same $570,000 contract value he signed with Detroit, but as of this writing Nabokov is avoiding comment and through his agent says he will not report to Long Island.  The standoff may drag on into the All-Star break, but why did Detroit even try in the first place?
Conspiracy theories have ranged from pre-arranged trades to loopholes to reports with no logical arguments at all.  Holland told Ansar Kahn at MLive.com on Saturday after losing Nabokov: "We've explored unique opportunities through the years. We tried something, it didn't work."
Exactly two years ago Holland exploited another CBA loophole by signing Henrik Zetterberg to a heavily front-loaded contract extension for 12 years.  The tactic became a popular way for General Managers around the league to get their star players signed at reasonable cap hits and it eventually reached a tipping point with the Ilya Kovalchuk saga last summer.
Chances are Holland and the Red Wings will never reveal the reasoning behind their chess-like move, but it'll be interesting to see if other teams are able to decipher Detroit's strategy and use it to their advantage in the future.
The always-dependable Wikipedia defines chess strategy as the following:  Chess Strategy is concerned with evaluation of chess positions and with setting up goals and long-term plans for the future play. During the evaluation, players must take into account numerous factors.
We've evaluated the factors, but what about Detroit's goals and long-term plans for future play?  Backup goaltender Chris Osgood recently underwent surgery to repair a sports hernia and is expected to miss substantial time.  Holland says he remains hopeful that Osgood can return in March, but there's no telling what the 38-year-old goaltender will have left in the tank (if anything).
Jimmy Howard started the season on fire with a 14-2-2 record through the end of November but has cooled off a bit as of late.  He also doesn't have the playoff pedigree that will allow Holland to sleep soundly knowing his team is primed to make another run to the Stanley Cup Finals.  Last year Howard was just 5-7 in the postseason and sputtered in a second round loss to the San Jose Sharks.  If Howard slips again and Osgood isn't capable of stepping in, the Red Wings are toast.  Signing Nabokov makes a lot of sense in this light.
But let's revisit Custance's remark above…"it's hard to imagine the $570,000 deal clearing waivers."  If St. Louis wasn't able to get Kyle Wellwood and Marek Svatos through waivers in similar signings, how did Detroit expect a goalie with more than 40 wins the past three seasons to clear?  Ken Holland's goal was to shore up his goaltending, wasn't it?
The Red Wings' GM won't admit that.  "We move on,'' he said. "I didn't make the move because I was concerned about our goaltending or I was concerned about (Chris) Osgood's health. I've been comfortable all along.  We're fine with where we're at.''
It's possible that Holland is just trying to say the right things about his team in light of missing out on Nabokov, but it's also possible the Red Wings never really expected him to clear in the first place.
Knowing a team at the bottom of the standings with goaltending issues or one at risk of missing out on the playoffs would jump at the opportunity to grab Nabokov on the cheap, Holland effectively blocked any serious Western Conference contender from working out a more lucrative contract with the goalie in the future.
The ultimate defensive chess move.
________________________________
What's next for Nabakov?  If he doesn't report to Long Island, the Islanders can suspend him without pay for the remainder of the season.
If they decide to trade him (and can convince him to waive his no-movement clause), he would first be offered to any other teams that submitted waiver claims on Saturday morning and the same reverse-standings rule outlined above would apply.  In the unlikely event that the Islanders were the only team to put in a claim OR all other claimant teams declined the option to grab Nabokov, the final sentence in 13.23 above explains that he would actually need to clear normal waivers again.  Only after jumping through all of those hoops would the Islanders be able to trade him to another team.
Round and round the saga goes and like the Kovalchuk drama, it'll be interesting to look back at the ultimate fallout a year or two from now.