Heading into the 2015-16 season, the Detroit Red Wings appear to have one of their deepest groups of forwards in recent memory. With the signing of Brad Richards on July 1st, Ken Holland added another offensive weapon to the Wings' arsenal. The team hopes that Richards is the answer to their search for a viable second-line centerman. On the flipside, there are also some question marks surrounding certain players. Pavel Datsyuk is still recovering from ankle surgery. At the earliest, the Russian-born center will be available sometime around late October to early November.
There is also the matter of the oft-injured Johan Franzen. While a determined Mule is ready to play hockey this season, he still has to prove that he can participate in contact drills and pass a physical exam. Instead of leaving those players out, I would prefer to include them in my projected lineup, as it is a better reflection of the options the Red Wings will have available during the season.
[Related – Montreal Canadiens: Potential Forward Line Combinations]
1st Line: Henrik Zetterberg – Pavel Datsyuk – Justin Abdelkader
While I described the Richards signing as "unnecessary" last month, the move gives Jeff Blashill more flexibility within his top-six. Both Blashill and Holland have discussed reuniting Datsyuk and Zetterberg on the Wings' top line.
Ken Holland & Jeff Blashill visited Pavel Datsyuk Tuesday. When told team would make move so he & Zetterberg play together, very happy.

— Helene St. James (@HeleneStJames) July 1, 2015
The two played on separate lines for most of last season. Datsyuk spent the majority of his time skating on a line with Tatar and Helm, while Zetterberg played with Nyquist and Abdelkader. While those lines produced some solid numbers, it's difficult to not get excited at the prospect of seeing some Eurotwin Magic at the Joe again. Abdelkader playing the role of net-front presence and puck retriever is the perfect complement to the pair. Should he spend considerable time with Datsyuk and Zetterberg, I fully expect him to meet and exceed the 44 points he scored last season.
2nd Line: Tomas Tatar – Brad Richards – Gustav Nyquist
Detroit's second line has the potential to put up some solid, offensive numbers as well. It's possible the Wings' top goal-scoring threats will flank Brad Richards this season. Tatar and Nyquist set career-highs in points last season (56 and 54, respectively) and could push those totals into the 60-point range. While I don't expect Richards to hit that mark, I believe he can post anywhere from 45-50 points while centering the two wingers. However, if Richards falters during the season, I would not be surprised to see Sheahan take over his spot on the second line.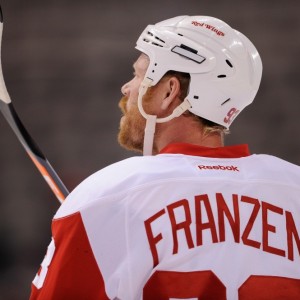 3rd Line: Darren Helm – Riley Sheahan – Johan Franzen
The picture is not quite as clear for Detroit's third line. Blashill has hinted at using Helm as a winger on a line with Glendening (presumably, while Datsyuk is recovering), but he has also mentioned using Sheahan on the wing. Helm found success on Datyuk's wing last season, so I anticipate Sheahan will work as the line's center, at least initially. Franzen on the third line is a good fit, in my opinion. It gives him the chance to ease back into playing hockey and takes away some of the attention he would get in the team's top-six group. While the line has the speed and skill necessary to put up some points, they also have forwards capable of playing some solid two-way hockey.
4th Line: Drew Miller – Luke Glendening – Landon Ferraro/Tomas Jurco/Teemu Pulkkinen
There is also some uncertainty surrounding Detroit's fourth line. I see Miller and Glendening as "locks" on the line, but I am curious about that right-wing slot. Jurco and Pulkkinen have potential, but it is difficult to see them meeting it on the fourth line. Ferraro is probably best suited for the role, utilizing his speed and grit on a checking line. While Joakim Andersson will likely see some time on the fourth line to start the season, I feel as if the aforementioned players are better options on the line.
I am a writer from Windsor, Ontario who has covered the Detroit Red Wings for The Hockey Writers. I have had the pleasure of doing so since February of 2015. Previously, I have written about Red Wings prospects for Hockey's Future. I am always up for chatting about the Red Wings and hockey in general, so leave me your comment and/or tweets. Follow me on Twitter at @BrandonPeleshok.