Before I get into why I feel the Brad Richards signing was unnecessary, I would like to commend Ken Holland for going out and getting the Detroit Red Wings an insurance policy. His method has always been to create competition for spots within the Red Wings' lineup, and this move certainly does that.
Fellow THW writer Anthony Pucik wrote an article earlier this month, citing why Richards was a key signing for the Wings on July 1st. I agree with Pucik's assertion that Richards will ease the blow of losing Pavel Datsyuk until (possibly) November. The 35-year-old center showed last season that he is capable of putting up 35-40 points at this stage of his career. However, I feel as if the growth and improved play from players such as Riley Sheahan, Jurco and Pulkkinen would suffice during Datsyuk's absence. Upon his return (and with the possible return of Johan Franzen) the Red Wings will find themselves with quite the logjam of players up front. By not signing Richards, the Red Wings could have saved themselves some cap space, found more ice time for young players and even tested out some prospects from Grand Rapids at the start of the year.
I Find Your Lack of Faith (in Riley Sheahan) Disturbing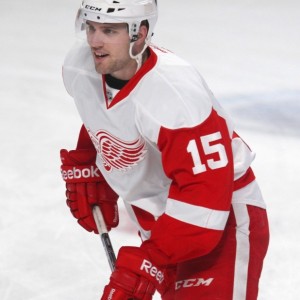 I'll be the first to admit that I haven't always been the world's biggest Sheahan fan. In fact, when they drafted him in 2010, I was pulling for Detroit to draft Dylan McIlrath instead (shows what I know, right?) During his time with the Red Wings, Sheahan has proven himself a capable, second/third-line forward, able to play a two-way game and chip in offensively. In particular, his offensive game is improving as his career in Detroit progresses.
Despite playing roughly 45 seconds less per game, Richards (37) finished with more points than Sheahan (36) at the end of the 2014-15 season. When you take a closer look, Richards (1.96 P/60) also has the edge on Sheahan (1.75 P/60) in terms of points scored per 60 minutes. I would argue, though, that Richards played with superior linemates. At even strength, he spent 23.82% of his season on a line with Patrick Kane and Kris Versteeg. His next highest percentage was 16.69% with Kane and Patrick Sharp. Conversely, Sheahan spent 14.07% of his season between Gustav Nyquist and Tomas Tatar and 9.87% with Tatar and Jurco.
One criticism of Sheahan that I have seen quite often is that he does not shoot the puck enough. Certainly, Richards' 199 shots on goal dwarf Sheahan's 123 shots on goal, but I think you also have to consider how often each player started in the offensive zone last season. Sheahan had a 58.25 ZS%, which means he that he took roughly 58% more offensive zone faceoffs than defensive zone ones. Richards, on the other hand, had a 69.83 ZS%. I'm not entirely sold on the idea that Richards will be a better option than moving Sheahan up in the lineup, and shifting some younger players on the team into bigger roles.
The Kids Are Alright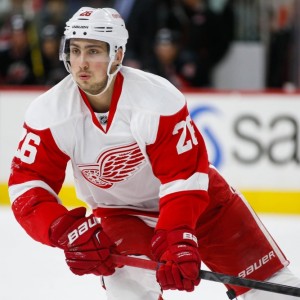 Similar to Sheahan, I believe that Jurco and Pulkkinen can take steps forward this season and increase their offensive production. Neither had a particularly impressive 2014-15 season (at the NHL level), and both men will be hungry to prove they deserved their new contracts. Of course, their progress is contingent on how Red Wings' coach Jeff Blashill chooses to use the young forwards. Fourth-line duty on a regular basis (as Jurco was last season) means both men will find it difficult to improve their numbers. With a full lineup in Detroit, this is the likely scenario.
[Related: Teemu Pulkkinen Signs 1-Year Deal With Wings]
[Related: Red Wings Sign Tomas Jurco]
While forwards like Dylan Larkin and Andreas Athanasiou are not likely ready for full-time NHL duty just yet, I believe they would be sufficient until November. Working in as the third-line center in Detroit could give each player a taste of the NHL until Datsyuk's return. Heck, the team could even use Joakim Andersson as their third-line center if necessary. *ducks under a flying shoe* In the short-term, I believe that Richards gives Detroit the depth necessary to succeed at the beginning of the 2015-16 season. However, growth from Sheahan, Jurco and Pulkkinen, in addition to some of the longer-term impacts of the signing makes it one that was unnecessary for Holland.