Facing Off is a weekly column debating five of hockey's hottest topics each and every Monday. From current events like trades and hat tricks, to bigger-picture stuff like scandals and expansion — you name it, we're debating it. Albeit, not always with a serious tone. We're keeping this column light, so keep that in mind when reading, and feel free to join in on the fun by leaving a comment.

Nobody is safe at the trade deadline — not even P.K. Subban apparently.
Reports recently surfaced that the Montreal Canadiens have put his name out there as potentially available to gauge the interest. That's shocking, if true, and no doubt 29 other teams would be interested — or should be interested.
Report: Team executive says P.K. Subban's 'name has come up' on trade market. https://t.co/NN7f9LDy8F pic.twitter.com/g6Uwn4uwZZ

— theScore (@theScore) February 19, 2016
It's hard to fathom what a return might look like or what Montreal might want for Subban, but most of the other Canadian teams would throw something together for Marc Bergevin to consider.
Out of Edmonton, I've seen people suggesting Darnell Nurse and the Canadiens' choosing of Ryan Nugent-Hopkins or Nail Yakupov, who is Alex Galchenyuk's good buddy and former junior teammate. Either way, that would be a smart move for the Oilers to make. I'm pretty sure Montreal would prefer Nugent-Hopkins over Yakupov. If the Habs wanted Yakupov, then Edmonton would need to add more to the package — perhaps this year's first-rounder?
Ultimately, I don't see Subban leaving Montreal — not unless he wants out — but reports like these give us plenty to talk about with the trade deadline now only a week away.
"I think I'm part of the answer, not the problem" – P.K. Subban.

— Аrpon Basu (@ArponBasu) February 19, 2016
I wonder what Félix Sicard thinks of these Subban rumours? Félix is our Anaheim Ducks beat writer who grew up a Habs fans. He's also a regular contributor to Facing Off and joins me this week to debate all kinds of potential deals for the Ducks.
I'm having a lot of fun with my trade deadline predictions this year . . . and I've managed to come up with another crazy idea: Patrick Marleau to the Ducks for Frederik Andersen? Would you do it? Would the Sharks?
FISHER: Hear me out — before you call me an idiot (like everybody else). If Dion Phaneuf can get dealt to the Senators — in a nine-player trade, no less — then anything is possible. The Ducks have the cap space to add Marleau, or basically anyone — even if that player has term on his contract past this season (Marleau has one year left with a cap hit of $6.66 million). Anaheim is believed to be on Marleau's short-list of places that he'd waive his no-trade clause for, so it's possible from a logistics standpoint — the Ducks can afford him and he's willing to play for them.
According to CSN Bay Area, Marleau would accept a trade to the Anaheim Ducks, LA Kings or the NY Rangers. Marleau has a no trade clause.

— MD (@m_drinnenberg) November 11, 2015
The Ducks were probably already in the market for an offensive boost even before Chris Stewart suffered a broken jaw in a fight (out at least a month, potentially two). With Anaheim overcoming its awful start and finally looking like the Cup contender everybody anticipated this season — the Ducks were my pick to win it, beating the Lightning in the final — Bob Murray should have the green light to be a buyer and burn up some of that precious cap space.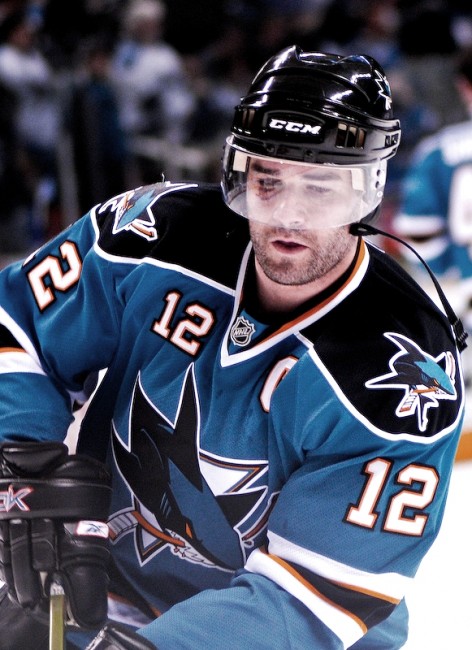 So why Marleau? He's very familiar with Ducks captain Ryan Getzlaf and sniper Corey Perry from Hockey Canada teams in years past — they have twice won gold together, in Vancouver in 2010 and again in Sochi in 2014 — so that bond would, presumably, overtake any awkwardness from the interstate rivalry. Marleau isn't the same player as Stewart, but they have their similarities, with Marleau bringing good size, strong skating and finishing ability, and playing a "heavier" game in general, albeit not as physical as Stewart.
Why in the world would the Sharks do it? Well, it's pretty obvious San Jose needs an upgrade in goal, not necessarily on Martin Jones but absolutely on Alex Stalock. The backup isn't getting the job done and, heaven forbid, something happen to Jones. There will be veterans with playoff experience available who could come in and support Jones — guys like Jimmy Howard or Jonas Hiller. Playoff experience is a key element here, with Andersen backstopping the Ducks all the way to Game 7 of the Western Conference final against the eventual champion Blackhawks last spring. Jones, for as good as he's been in the regular season and lately, is a first-year starter who has only made a grand total of two NHL playoff appearances — twice relieving Jonathan Quick in Los Angeles losses, ironically to San Jose and Anaheim, during the Kings' 2014 Cup run. He does have a Cup ring and has seen playoff hockey from the bench as Quick's understudy, but it is a different beast being between the pipes. Jones would likely get the opportunity to start his first playoff game this spring even if the Sharks acquired Andersen, but that's a solid insurance policy in case things don't go so smooth for Jones.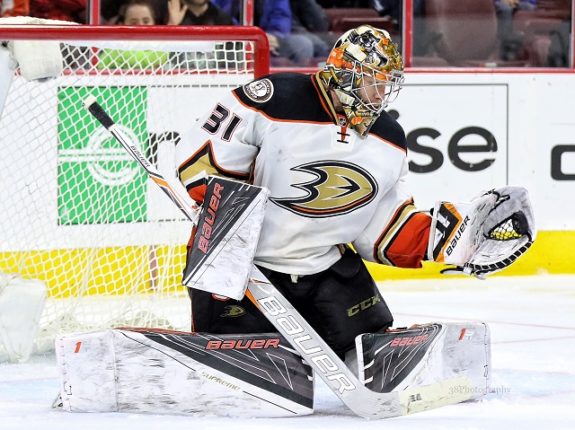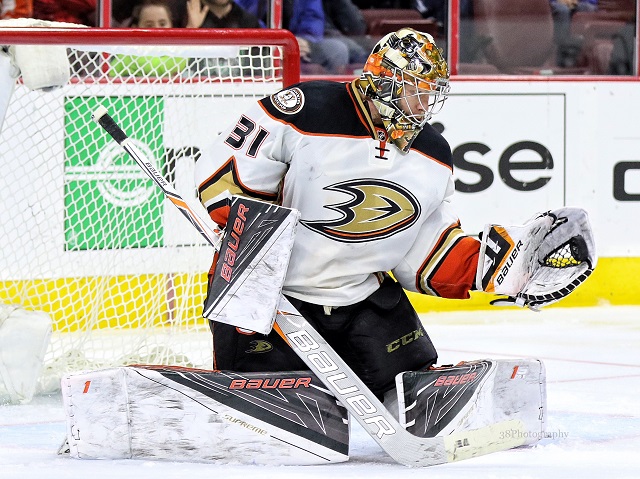 Going forward, Andersen is due a big raise as a restricted free agent this summer — from $1.15 million to the $5-million range, with the term likely exceeding three years — but the Sharks would have a chance to lock up one of the league's best tandems. Jones is already signed for two more years at a very reasonable $3-million cap hit. Spending $8 million on goaltending isn't unprecedented and seems to be working rather well for the Dallas Stars, with Kari Lehtonen and Antti Niemi's contracts totaling $10.4 million ($5.9 and $4.5, respectively). It's an idea that deserves serious consideration.
The drawbacks are obvious, though. From the Sharks' standpoint, now is not the time to be starting a goalie controversy. Yet, that would be inevitable based on Andersen's experience and credentials. Andersen and Jones have near identical stat-lines to this point in the season — Andersen's save percentage is slightly better (.917 to .916), but Jones has the edge in goals-against average (2.34 to 2.39). The rivalry is the other big thing at play here, and the likelihood of a first-round playoff clash. The Sharks wouldn't want to get burned by Marleau, nor would the Ducks want to be beaten by Andersen. Imagine if Marleau scored the winning goal in overtime of Game 7, or any winner for that matter? From the other side, imagine if the Sharks went with Andersen over Jones and he outdueled young John Gibson?
Those "what-ifs" might be too daunting to make this deal a reality, or for Murray and Doug Wilson to even engage in such discussions. Your thoughts?
If Patrick Marleau's approved list of teams is really L.A., Anaheim, and N.Y., isn't NYR the only option for SJ? Can't see him on a rival

— Alex Kozovski (@A_Kozovski) November 11, 2015
I will start a riot if Marleau gets traded to Anaheim or LA

— Daniel (@VaultBoyDanny) November 11, 2015
SICARD: Larry, you know I love you, but this trade is straight out of left field. Hear me out — the Sharks are set in goal with Martin Jones, and goaltending simply isn't an area of need for them right now. Depth at both defense and forward are things that San Jose could really use. While their top-line talent is nice, the Sharks' depth isn't of the same caliber as a Chicago or Los Angeles.
As for the Anaheim side of things, I think that they'd like to flip Andersen for an asset that can serve them now and in the long-term. I understand that Marleau is still a very useful player, but it'd be tough to envision general manager Bob Murray letting go of a quality starting netminder for a winger who may have only one or two productive seasons ahead of him. Sorry buddy, but stamp this one with a big fat "NOT HAPPENING" label.
Can we at least agree that replacing Stewart should be the Ducks' top priority? Maybe they could just clone David Perron?
FISHER: From the outside looking in, Stewart seems like a big loss. The Ducks finally seemed to have more than one line going, thanks to Perron's arrival and Stewart's resurgence on the wings for Getzlaf. That was an effective trio and Stewart's presence will be missed for as long as he's out. Damn you, Dalton Prout!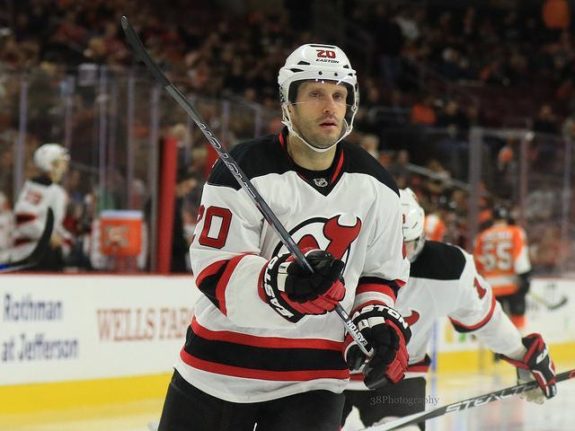 So who's available? If the Ducks are thinking rentals and short-term solutions, then I threw out Lee Stempniak's name as a pending unrestricted free agent who could be dangled by the Devils. I had the Ducks giving up forward prospects Nic Kerdiles and Stefan Noesen in a 2-for-1 for Stempniak. Would you welcome that trade, Félix?
Or would you go after a bigger name, like Andrew Ladd (Winnipeg) or Kris Versteeg (Carolina)? They are both UFAs with two Cup rings each, but you'd have to throw in a pick or better prospect to land either of them in the bidding wars. Shane Doan and Mikkel Boedker could be available if the Coyotes are throwing in the towel. Kyle Okposo (Islanders) and Jamie McGinn (Buffalo) might be the two rentals who best replicate Stewart's skill-set. Scott Hartnell (Columbus) is another guy who fits that mould, but he comes with a lengthy contract. Sticking to one-and-done options, there's also Loui Eriksson (Boston), Jiri Hudler (Calgary), Radim Vrbata (Vancouver) and a few Leafs like Pierre-Alexander Parenteau, Brad Boyes and Michael Grabner.
Any of those guys jump out at you? How would you rank them in terms of being the right fits for Anaheim? Obviously, there are some younger, longer-term options out there too, but let's save them for later. No name-dropping!
SICARD: No, we can't agree. Stewart is having a fine season and proving to be an extremely shrewd value signing by Murray. However, it's tough to argue that he's a player that really moves the proverbial needle, or that the Ducks are missing him right now. Sure, the western Canadian teams are all abysmal on the ice, but Anaheim did just rattle off 21 goals in the last five games — all against Vancouver, Calgary and Edmonton. The way they're generating offense and shutting other teams down defensively, the Ducks can essentially shoehorn anyone into the top-six and get good results. It's unfortunate that Stewart is out for a good chunk of time, but the Ducks will be just fine.
Going back to Andersen, would you consider moving him at the deadline? Or is it just too risky to ride a rookie like John Gibson into the playoffs, backed up by a journeyman like Anton Khudobin?
FISHER: The more I think about it, the more I think this is a bad idea. Like a really, really bad idea. If the Sharks can go with a Jones-Andersen tandem long-term, as I suggested above, then the Ducks can definitely go with a Gibson-Andersen tandem as well. It makes sense, to me, to hang onto Andersen — at least for this playoff run. Goalie controversy, be damned!
I get it, Andersen's value might never be higher than it is right now. He's on a great run again and he did backstop the Ducks to within a game of the Stanley Cup final last year. That's the kind of netminder a lot of teams will be lining up for, and the Ducks could get a key player in return who won't be warming the bench for a rookie come the post-season.
If Andersen sticks around and doesn't have a strong showing in these playoffs, he's a diminished asset come the off-season. But — and it's a big BUT — if Murray trades Andersen away at the deadline and Gibson falters, that could spell the end for Murray in Anaheim. It could be a career-defining move for the GM. Does he make it? I don't think so.
Knowing the trade deadline is approaching, Frederik Andersen is focused on the Ducks and keeping his game in order. https://t.co/AccuhM5grx

— Eric Stephens (@icemancometh) February 15, 2016
SICARD: I would absolutely consider trading him. As good as he is and as much as I think he has a future in the NHL, the Ducks have nothing to gain from having a quality goaltender sitting on the bench every night. Gibson has already proven that he's more than capable of playing at the NHL level, so there's not much of a risk of riding him into the playoffs. To boot, the Ducks could lose Andersen for nothing this summer should they choose not to re-sign him or should he receive an offer sheet from another team. The choice seems pretty clear here.
Assuming it's offence that the Ducks are after, would you prefer to trade a young defenceman instead of Andersen? Here's a handful of forwards who could be available, in no particular order — Jeff Skinner, Brayden Schenn, Alex Galchenyuk, Jonathan Drouin and Nail Yakupov. How would you rank them? Do you have a preference for the Ducks? Do you see a fit there? If so, who would you rather move — Sami Vatanen or Cam Fowler?
FISHER: Hey look, we're playing 20 questions! These are good question, though, right? Questions that need to be asked — and that Murray must be asking himself as we speak?
I think all five of these guys could should be of interest to the Ducks. Galchenyuk to a lesser degree, just because his preference is to play centre and Anaheim already has Getzlaf, Ryan Kesler and Rickard Rakell down the middle. Galchenyuk has played more wing than centre in Montreal, though, so I wouldn't discount him completely.
http://gty.im/468859628
Skinner and Schenn seem like the best fits for me, with the Ducks in win-now mode and trying to capitalize on their current window before Getzlaf, Perry and Kesler get over the hill. Either of those guys could come in and hit the ground running just like Perron has done. They wouldn't come cheap, but they would likely be able to make an immediate impact, which is what the Ducks would want (I assume). Only problem with these two is that both Carolina and Philadelphia already have promising young defencemen on their roster and in their system, so the idea of swapping Fowler or Vatanen for Skinner or Schenn might be a non-starter.
"I think there's a possibility Nail Yakupov gets moved at the deadline" – Rishaug

— Tye Kalyn (@akaRCN) February 22, 2016
Yakupov is such an enigma. He looked like a legitimate threat on Connor McDavid's wing to start the season — shades of Kurri-Gretzky, they started to say. But that was short-lived and Yakupov has since lost that prime gig to Jordan Eberle. He's struggling to produce and becoming more hindrance than help on the third line — did you see his brutal turnover and weak backcheck on that Ducks' goal from Tuesday's game? Not a ringing endorsement of a guy you'd want to acquire for the here and now, but Yakupov was still a first overall pick — ahead of Galchenyuk and others — for a reason, and there's no denying he's got the talent and the tools to be an impact player in the league. The tool box is iffy, and it's becoming apparent that he'll need a change of scenery to realize his potential. Should Anaheim take a chance on Yakupov? Yeah, I'd definitely trade Vatanen straight up for him, probably Fowler too — or perhaps even Shea Theodore if that was Edmonton's asking price. The Oilers would want one of those three blue-liners, and I do think Yakupov could be worth it for the Ducks, who would be dealing from a position of strength. Edmonton would likely want Fowler, a former junior teammate of Taylor Hall, but I'd push for Vatanen instead if I was Murray, knowing that Yakupov should be a buy-low option based on his body of work so far.
https://twitter.com/NicholsOnHockey/status/701788793905348608
Drouin is another intriguing option, sort of in that same boat as Yakupov. He hasn't done much in the league, but he was a junior star and the scouts are still really high on him. Knowing that, the Lightning aren't interested in selling low. Tampa is asking top dollar for a guy who currently isn't getting paid, sitting at home in Quebec as a suspended player for sitting out an AHL game. There could be some character issues with Drouin and some baggage with his agent, but his skills are bordering on elite. He could be a huge steal for whatever team gets him, but it's probably going to cost Anaheim one of those defencemen and Steve Yzerman is probably pulling for Fowler too. Should Murray pull the trigger on that trade? Maybe, but I'd be reluctant to part with Fowler for either Drouin or Yakupuv.
The Anaheim Ducks Face Pivotal Decision At Trade Deadline: https://t.co/gHUxUtuDJM #NHLDucks #NHL

— Felix Sicard (@Felix_Sicard) January 27, 2016
SICARD: Alex Galchenyuk is probably not on the market considering he's the future of Montreal's offense, and Bob Murray has already expressed his doubts about Jonathan Drouin, so scratch those two from the list. Any one of those guys could be an asset for Anaheim, which needs to start thinking about the post Ryan Getzlaf/Corey Perry-era at some point.
Fowler seems the most expendable to me here — he's locked up for the foreseeable future, and teams around the league still seem to think that he's really good. With the right defensive partner, Fowler can shine, but that aspect of his game is extremely limited. He does add value offensively, but not anywhere close to what Vatanen can do.
Speaking of young defencemen — in a non-Ducks topic — Shayne Gostisbehere has to be getting some Calder consideration thanks to his record-setting 15-game point streak. Is he a finalist in your eyes as of today? Or do you see it as an all-forward ballot? Perhaps you have Gibson in the running too?
FISHER: Streak aside, he's a finalist for me. I've been a big fan of Gostisbehere as a sleeper prospect for a few years now, but the bear is no longer in hibernation. He's the real deal, a point-producing machine putting up numbers at a better clip than John Klingberg did last season. Gostisbehere has actually made Mark Streit expendable at the trade deadline, which is telling of his impact on that Flyers team. When Streit went down to injury, this kid stepped up and hasn't slowed up since. Gostisbehere's consistency has been extremely impressive and if he can keep it up down the stretch — keep factoring into roughly a third of Philadelphia's total offence — he might just steal the Calder from Artemi Panarin.
.@s_ghost14 scored in #NHLOT to push his point streak to 15 games (5-13—18), the longest by a d-man since 1995-96 (Chelios: 4-16–20,15 GP).

— NHL Public Relations (@PR_NHL) February 21, 2016
Shayne Gostisbehere first rookie since 1987-88 with 4 OT goals in 1 season. Only other defenseman to do it was Scott Niedermayer in 2001-02

— Adam Kimelman (@NHLAdamK) February 21, 2016
They are both "older" prospects and Panarin returned from illness to net his first career hat trick this past week, so he's not about to hand that trophy over any time soon — to Gostisbehere, to Connor McDavid, or to anyone else. That third finalist is likely going to be a younger, higher-profile forward, but a handful of them are still in the running and it'll be interesting to see who separates themselves from the pack. McDavid has a lot of catching up to do, with Detroit's Dylan Larkin, already an All-Star, and Buffalo's Jack Eichel, who went second overall to McDavid in last year's draft, my frontrunners to round out the ballot as of today.
Arizona's Max Domi has an outside shot too but — like McDavid — would need a real strong finishing kick to overtake any of the aforementioned four. Gibson and fellow goaltender Connor Hellebuyck of Winnipeg (now back in the minors) have been mentioned at times this season, along with Blues blue-liner Colton Parayko. In any other year, they would have been worthy candidates. However, this rookie class is too stacked to give them serious consideration, especially with Gostisbehere's emergence as a dark-horse.
Shayne Gostisbehere keeps up amazing pts/GP pace with these rookie Dmen- most who played in much higher scoring era pic.twitter.com/YR3NaAqPJk

— StatsCentre (@StatsCentre) February 21, 2016
SICARD: Artemi Panarin's explosion onto the NHL scene has captivated me all season long. For him to be playing at such a high level on one of the NHL's very best teams is absolutely remarkable. Gostisbehere has been outstanding without a doubt, as has Dylan Larkin, but Panarin's game is simply on another level right now. Although Gibson has had a solid season, a lot of that has to do with Anaheim clamping down defensively and becoming a trap-heavy team. He's shone individually to some degree, but not anywhere near the three names I've listed.
BONUS TOPICS
Sticking with this month's theme — and following in the footsteps of Kristi Loucks and Dan Mount — here's your chance to step into Bob Murray's shoes. What moves would you make as GM of the Ducks? Who would you target at the trade deadline? And what would you be willing to give up?
SICARD: My No. 1 priority would be to find a new home for Andersen. Gibson is the future and now the present in net, and it simply wouldn't make sense to keep Andersen on board when he could be traded for added depth up front. That being said, there's no rush to trade him either. If the right deal doesn't present itself at the deadline, there's always the summer and draft day to get a deal done. By doing that, he remains an insurance policy as Anaheim embarks on its playoff run.
I don't think I'd be desperate to add anything, as the Ducks' roster as presently constituted is extremely well constructed. That may sound overconfident, but this team is absolutely rolling right now. It's like the old saying goes — if it ain't broke, don't fix it.
Knowing you're a Habs fan at heart, go ahead and be Marc Bergevin too. Are you buying or selling? You can't be sitting on your hands, right? Would you consider moving Subban? What would it take? Maybe you take a swing for the fences and make that blockbuster trade that I predicted — to land Eric Staal and Cam Ward for a playoff push? Yes/no/maybe?
SICARD: I like these questions! My first order of business would be to cash in on Dale Weise's career year and flip him for perhaps a quality prospect and a draft pick. I'd also try to rid myself of either David Desharnais's or Alexei Emelin's contracts. Both players are perceived to be important contributors, yet are objectively some of the least impactful players on the team. If I'm Bergevin, I take advantage of that market inefficiency and turn those guys into young, affordable talent.
If you haven't caught on yet, I'm absolutely selling. It's pretty much a lost season for the Canadiens, so why not dump players that are perceived to be much better than they actually are and reboot for 2016-17.
There's absolutely zero chance that I would even remotely consider trading P.K Subban. He's one of the three best defensemen in the entire league, the Canadiens' best skater, and one of the faces of the franchise. Players of Subban's ilk are once in a generation, the smart teams find ways to build around them.
---
Who won this round of Facing Off? Feel free to weigh-in with your opinions in the comments below. We will be checking in periodically to both defend and expand on our initial answers. If you want to see us face-off over a topic, we're open to suggestions as well.
Félix Sicard has been covering the Anaheim Ducks for THW since September 2014. Follow him on Twitter: @Felix_Sicard.
Larry Fisher is a sports reporter for The Daily Courier in Kelowna, British Columbia, Canada, and has been an at-large contributor for THW since August 2014. Follow him on Twitter: @LarryFisher_KDC.
Featured Image provided by Amy Irvin / The Hockey Writers
Larry Fisher is a senior writer and head scout for The Hockey Writers, having been an at-large contributor for THW since August 2014. Fisher covers both the NHL and the WHL, specializing in prospects and NHL draft content, including his annual mock drafts that date back to 2012. Fisher has also been a beat writer for the WHL's Kelowna Rockets since 2008, formerly working as a sports reporter/editor for The Daily Courier in Kelowna, British Columbia, Canada from 2008-2019. Follow him on Twitter: @LarryFisher_KDC.