Hockey Weekend in America began in 2011 as the NHL, NBC, and USA Hockey joined forces to recognize the roots of hockey that have been planted in the United States and the American born players across the NHL and other professional hockey leagues. This year, the weekend of Feb. 19-21 was considered Hockey Weekend Across America with Sunday being National Hockey Day.
Every NHL team has had at least one American-born player play at least 10 games for them this season. In an image presented by Robb Tufts of St. Louis Game Time, it explains that the New Jersey Devils have the most American-born players on their roster with the Pittsburgh Penguins having the second most.
The Los Angeles Kings currently have nine players that have played for them this season who have been born in the United States including the team's captain and a Conn Smythe winning goalie.
Kings Forwards Born in the United States
Dustin Brown: Kings' captain Dustin Brown was born in Ithaca, New York and became the second American-born captain (behind former Dallas Stars' captain Derien Hatcher who hoisted the cup in 1999 after the stars beat the Buffalo Sabres) to raise the Stanley Cup for his team. Brown did it twice, once in 2011-12 and again in 2013-14. Brown has won both the Stanley Cup and a silver medal as member of Team USA in the 2010 Winter Olympics.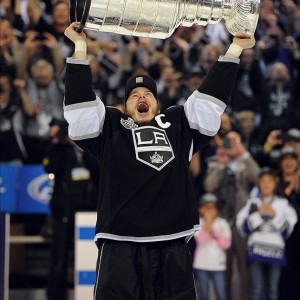 Brown is currently on the second year of his most recent eight-year/$47 million deal signed in the summer of 2013. He has a cap-hit of $5.875 million, however is earning $7.25 million based on the contract being front-loaded. In the 58 games Brown has played, he has eight goals and 15 assists with a minus-1 rating.
Trevor Lewis: Along with Brown, Lewis is another American-born Kings player that has hoisted the Stanley Cup twice. Lewis was a first-round draft pick by the Kings in 2006 and is from Salt Lake City, Utah.
This season, Lewis has played in 51 games with six goals, six assists and a minus-1 rating. Lewis is on the last year of his contract worth $1.525 and is set to become an unrestricted free agent come July 1 according to CapFriendly.
Nick Shore: Shore was a third-round draft pick in 2011 and picked No. 82 overall. Shore played 34 games with the Kings last season scoring one goal and seven points. This season, Shore has appeared in 52 games with nine points and a minus-9 rating.
The Denver, Colorado native is second in team face-offs on the Kings behind Anze Kopitar with a 51.34 stabilized winning percentage according to war-on-ice. His face-off winning abilities proved to be handy in the recent game against the Nashville Predators.
Michael Mersh: Mersch has been called up to the Kings three times this season playing a total of 16 games. In those 16 games, Mersch has one goal, two assists and a plus-1 rating. The University of Wisconsin Badger from Park Ridge, Illinois was a fourth-round draft pick by the Kings in 2011.
Before recently being called up, Mersch was playing in the AHL with the Kings' affiliate Ontario Reign. Mersch has played 34 games with the Reign scoring 19 goals and 28 points. He signed an entry-level contract with the Kings in April 2014 and will be a restricted free agent in 2017-18.
Kings Defensemen Born in the United States
Alec Martinez: Born in Rochester Hills, Michigan, Martinez played his college career at Miami University in Ohio. The Kings chose Martinez with the No. 95 overall pick in the fourth-round of 2007 and he, like Brown and Lewis, has won two Stanley Cups with the Kings. Martinez signed a six-year/$24 million deal in the off-season following his cup-winning goal in game five against the New York Rangers in 2014.
Martinez leads the Kings defense with 132 blocked shots. Martinez has played in all of the Kings 58 games this season and has seven goals, 15 assists and a plus-15 rating.
Jamie McBain: A former second-round draft pick by the Carolina Hurricanes, McBain was first swooped up by the Kings last season as the team signed him on a one-year deal on Nov. 10, 2014. The Kings extended McBain this last summer on a two-way/one-year deal worth $600,000 (worth $300,000 when playing in the AHL).
McBain has played 38 games with the Kings this season scoring two goals and eight points. McBain has been in-and-out of the line-up as a healthy scratch this season, but has suited up the last two games logging in less than eight minutes of ice time in each game.
Kevin Gravel: Gravel was called up from the Ontario Reign on Feb. 11 along with goalie Peter Budaj after Christian Ehrhoff was waived and assigned to the AHL the day before. Gravel played four games on the Kings recent road trip with zero points and a minus-1 rating and has been a healthy scratch the last two games while remaining with the team.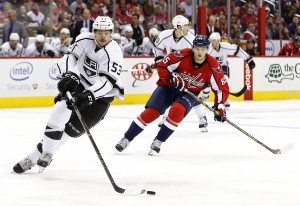 Gravel was born in Kingsford, Michigan and was drafted by the Kings in 2010 No. 148 overall. He played college hockey for the St. Cloud State Huskies and signed a two-year deal on July 1, 2015 with the Kings. In 42 games with the Ontario Reign in the AHL this season, Gravel has five goals, 16 points and a plus-5 rating with 28 penalty minutes.
Matt Greene: Greene was born in Grand Ledge, Michigan and originally drafted by the Edmonton Oilers in 2002 and was traded to the Kings in the summer of 2008 with Jarret Stoll for defenseman Lubomir Visnovsky. Greene played an integral part in both of the Kings' championship runs serving as the alternative captain and providing stay-at-home defense.
Greene's availability has been limited the last few seasons due to injury and is currently on long-term injured reserve after having to receive shoulder surgery. Greene played three games with the Kings at the beginning of the season and has two more years remaining on his four-year/$10 million contract after this season.
An All-Star American Goalie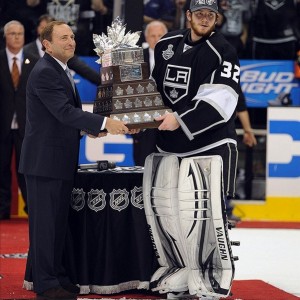 Jonathan Quick: Quick was born in Milford, Connecticut and was drafted by former general manager Dave Taylor in 2005. The third-round draft pick played for the University of Massachusetts before making his debut with the Kings on Dec. 6, 2007.
Since then, Quick has helped the Kings win two Stanley Cups and won a Conn Smythe Trophy as the playoffs most valuable player in 2012. Quick was a Vezina Trophy finalist in 2012, played in the 2014 Olympics in Sochi for the United States Men's Hockey Team and represented the Kings in this year's All-Star Game in Nashville along with defenseman Drew Doughty.
This season, Quick has appeared in 47 games with the Kings and has a 0.920 save percentage and 2.19 goals against average. Quick is signed through the 2022-23 season with a cap-hit of $5.8 million.
Cole R. Querry resides in Southern California. Having played hockey through college and a background in science and math, he promises to bring an objective analysis to the team and sport he loves.