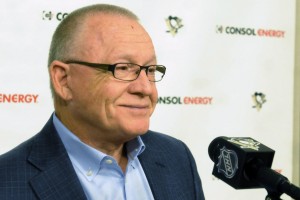 With the NHL's annual trading deadline just one week away, buying general managers around the league are scrambling to put together their best offers for the one or two players that could put their team over the top.
This isn't a problem that Pittsburgh Penguins GM Jim Rutherford currently has.
Don't misunderstand me; GMJR will certainly be active at the deadline. He will seek to upgrade the Pens as best he can with what will be available on the market.
The best "acquisitions" however, will be internal.
Evgeni Malkin, Beau Bennett, Nick Bonino and Eric Fehr are all expected back before the playoffs begin in mid-April. Some sooner than others.
Malkin is expected to return some time within the next week. Head coach Mike Sullivan was quoted last week as saying that he (Malkin) was "getting closer to being day-to-day."
Bennett and Bonino have begun skating on their own before or just after team practices and morning skates before games. Their timetable for a specific return date is still unclear.
Eric Fehr was sidelined with a lower-body injury and placed on IR back on February 3rd. He was expected to miss about month at that point; with no further updates currently available on his condition.
Adding Without Subtracting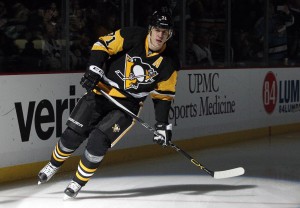 Getting those four bodies back in the lineup and healthy will be a huge lift to the Pens and their offense. The importance of Malkin and his return goes without saying. He and captain Sidney Crosby split time as being the Penguins' best player. Prior to his injury the Pens had scored six goals in each of back-to-back games. Suffice it to say the Penguins are a much better team with Geno in the lineup.
Nick Bonino has had a down year to this point. His production thus far (3G-7A-10P) has been nothing short of a disappointment after being acquired over the summer for Brandon Sutter. He is however a plus-4 and has been invaluable on the penalty kill.
Eric Fehr missed roughly the first month of the season after undergoing shoulder surgery back in June. He started off on fire, scoring in his first three games (two of those goals came shorthanded), but has since cooled substantially. Fehr tallied 19 goals last season for the Capitals and was counted on to do the same in Pittsburgh, along with his abilities on the PK and his prowess in the face-off circles. So far this season Fehr has just five goals and two assists, but prior to sustaining the lower-body injury Coach Sullivan had this to say regarding the big forward's minutes-per-game:
"I think he's fine. I've been reading a lot about that and listening to a lot about that with Eric being on the fourth line. When you look at the makeup of our team and how it's built, there's not a big difference in the back-six forwards," coach Mike Sullivan said. "He's playing critical minutes. That's the way I look at it." – Pittsburgh Penguins head coach Mike Sullivan
The best part about the return of these three from injury is that Pittsburgh won't be surrendering any prospects or draft picks to add them into the mix. Each of these three players is arguably better than anyone who will be available on the trade market.
Bennett's Return Could be Huge
Stop laughing long enough to actually read my explanation.
Beau Bennett is a talented kid. Not many will dispute that. Prior to his most recent injury (listed as upper-body) and subsequent injured-reserve placement back on January the 25th, it can be argued that Bennett was playing as well as any of the Penguins' forwards at the time.
There is no denying that Bennett has been snakebite by injuries since his career in the NHL began (he was injured during his time at Denver University also). I assure you though, it's not from lack of conditioning. By all accounts from those within the Penguins' organization who will actually talk about it, Bennett works his tail off in the training room. He is in great shape and condition; sadly it's just plain bad luck that is to blame for his string of ailments.
This kid has a ton of upside. As currently constructed, the Pens' bottom-six forward group doesn't boast anyone with near the talent and playmaking ability of Beau Bennett. Coming out of DU Bennett was classified as a playmaker. A guy who – in his best seasons – would chip in with about 20 goals. It would be his ability to see the ice, anticipate plays and assist on goals that would be his calling card. Unfortunately for Bennett and the Penguins, injuries have hindered the realization of most of that talent.
If he can stay healthy this time back (I know that's a BIG IF), then Bennett could very well be one of the key cogs in the Penguins' lineup come the spring. He'll slot back in on the third line, hopefully in his natural right wing position and not the left. For so long when he was healthy, Bennett was played out of position on the left wing and it didn't work out well for he or the Penguins. With the likes of Bryan Rust, Connor Sheary and Scott Wilson gaining confidence now having played consistent minutes, adding a talent like Bennet to a line with two of the three aforementioned call-ups from Wilkes Barre/Scranton could yield some very positive results.
Being able to add four players the caliber of Malkin, Bennett, Bonino and Fehr without having to give up prospects or draft picks should allow Rutherford the ability to focus on adding a top-4 defenseman. Not to mention it should improve the Penguins' ability to land said top-4 defenseman considering the way the call-ups from WB/S have played lately. Pittsburgh should be able to market one or two of those guys as trade pieces.
Addition without subtraction is always nice at this time of year.
Thanks for reading. Please leave a comment below and be sure to follow me @TorraoOnPucks