Hockey and Economics
As someone who studies economics, I am concerned with the concept of 'opportunity cost' . That is, what is the cost of the action forgone, for the action taken? In economics, it's a fundamental concept that attempts to assign value to alternative choices. What does this have to do with hockey? Well, the Leafs' recent trade made me think of it.
Like many of my posts, this is another that questions the actions (or inactions) of Dave Nonis. This isn't anything personal, I just believe that Nonis' choices are ultimately detrimental to the Leafs' success, both present and future. That's not to say that trading Cody Franson was a bad idea. I'll give Nonis the benefit of the doubt and agree that he needed to be traded. Although, it's quite possibly due to the fact that there was no cap room left with some of the inflated contracts Nonis has agreed to previously. But let's not stray, let's go from this simple statement: Franson had to be traded.
Cody Franson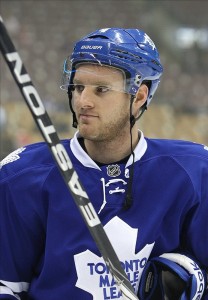 Cody Franson is  a 6'5, 200+ pound fairly agile defenseman. Sounds pretty good to me. As a GM in the NHL, Franson would definitely make my ears perk up. Then we have the Nashville Predators, are having a pretty good year and, obviously, have a pretty good roster. Looking at this roster, as a Leafs' fan (or just an armchair GM) who would you want? There's the obvious: Shea Weber, Pikke Rinne, and Filip Forsberg are great players that I'm sure Leafs fans would welcome. But, no disrespect to Franson, they're probably out of his league.
Let's go back to the idea of opportunity cost. We're working from the assumption that Franson had to be traded. If I'm Nonis, getting rid of one defenseman would logically mean I'd try to replace him. Presumably this happened. It's really unfortunate that we aren't privy to all GM to GM conversations. It'd be amazing if they were released someday, kind of like the Freedom of Information act. But I digress. Although I'm sure Nonis wanted Weber, that trade is obviously not going to happen. Volchenkov is alright, but he's old, but he's also cheap. So there isn't really a very clearly made swap.
As mentioned, Franson is good, and he'd be tricky to give up. The Leafs are "rebuilding" (a term I hate), so they're attracted to youth, enter the draft pick (albeit, not a great one, but still a 1st rounder). Then, because Franson is better than the unknown, Leipsic  is the kicker (maybe this is the other way around but whatever). I'll be honest, I don't know much about the kid but he's got good junior numbers and I've heard him described as a Brad Marchand or Brendan Gallagher – i.e. an agitator with scoring ability. Sounds good to me. Right about now, I'm into anyone that might bring some intensity to the Leafs' play.
Missing Logic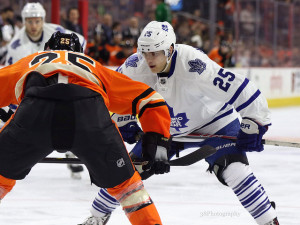 Here's where it gets tricky for me to understand Nonis' logic: Santorelli for Jokinen. Santorelli, dollar for dollar, might have been the best Leaf this season. If you look at his output versus his salary, Santorelli was paid 190K per goal – compare this to Clarkson (580K per goal or Kessel at 400K per goal). He was good in the FO circle and he was also pretty decent in shootout situations . He isn't young but he's practically a baby at 29 compared to Jokinen (36). So why bother? Or if for some reason you want to get rid of him, maybe because he's going to want a new contract and some more money, why not go after Ribeiro or Fisher? Neither of which are young guys but both will likely be better than Olli-I've-played-on-every-team-in-the-NHL-Jokinen at 2.5 million! So, the action forgone? The Leafs got rid of a center that was playing well for $1.5 million a year, and replaced him with a center that's arguably worse, for $2.5 million a year. In this case, 'opportunity cost' is may be easily quantifiable, it may work out to be simply $1 million.
So once again Nonis' decisions are baffling. We've given up a good player that didn't need to go, and got nothing great in return. Whether he's not smart enough to realize that his decisions are poor, or his previous actions have painted him into a corner, the result is the same, the Leafs are poor, and there isn't a lot of light at the end of the tunnel.
Thanks for reading. Please do comment, I love to hear your thoughts on my ramblings.