The Detroit Red Wings and Nashville Predators may have been the most underrated rivalry in the NHL. Prior to the conference realignment set in the 2013-14 season, there was not a bigger game on the schedule for the Predators than when the mighty Red Wings came to town.
Inside the confines of Bridgestone Arena, which holds 17,133, there were just as many — if not more — red and white in the seats than navy and gold. With a General Motors plant an hour south from the arena, Detroit natives would pay top dollar to see their team a few times every season.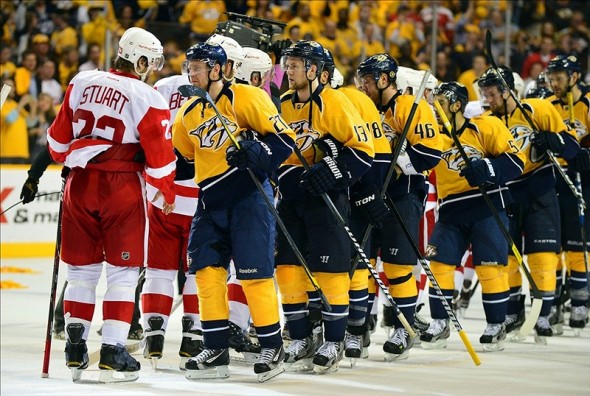 The Predators called the Red Wings rivals, but it took a while for the 'Original 6' franchise to acknowledge it. Detroit and Nashville played each other three times in the first round of the playoffs in 2004, 2008 and 2012. After falling 4-2 in a best-of-seven series the first two years, Nashville exacted their revenge by winning in five games in the third year. Only then did the Red Wings fully acknowledge the rivalry.
The Red Wings lead the all-time series with a 59-42-4 record, according to DetroitHockey.net.
Unfortunately, after Detroit was realigned away from Nashville to the Eastern Conference, the rivalry is fading away.
In efforts to relive the rivalry's glory days, an alumni game will be played on Saturday, February 28 at 5 pm CT after the Predators and Red Wings' 2 pm CT match.
Predators Alumni
Tomas Vokoun will make his return to Nashville for the first time since retiring in December as goaltender for the Predators' alumni. As one of the original Predators in their inaugural season, Vokoun played eight seasons in Nashville posting a 161-159-46 record, 2.54 goals against average and .913 save percentage.
Full Predators roster: Stu Grimson, Jim McKenzie, Blake Geoffrion, Dan Keczmer, Jay More, Phil Housley, Scott Nichol, Troy Vollhoffer, J-P Dumont, Cliff Ronning, Vokoun, Terry Crisp (coach) and Brent Peterson (coach)
Red Wings Alumni
Igor Larionov highlights the Red Wings' alumni roster. In 539 games in eight seasons with Detroit, Larionov posted 89 goals, 308 assists. The former center won three Stanley Cups with the Red Wings in 1997, 1998, and 2002, and he was inducted into the Hockey Hall of Fame in 2008. If the NHL accolades do not suffice, Larionov won two Olympic gold medals in 1984 and 1988 for the Soviet Union.
Larionov and ex-USSR teammate Viacheslav Fetisov led the Soviet integration into the NHL. It was not until Larionov was 29 before he played his first season in the NHL with the Vancouver Canucks. In 457 career games for the USSR, Larionov totaled 204 goals, 230 assists.
Full Red Wings roster: Eddie Mio, Dallas Drake, Petr Klima, Joey Kocur, Mike Krushelnyski, Larionov, Kirk Maltby, John Ogrodnick, Mickey Redmond, Tim Taylor, Sergei Samsonov, Jiri Fischer, Jason Woolley and George Bowman
Subscribe to our Predators stories to get email updates every time a new story is published. Subscribe to our Red Wings stories to get email updates every time a new story is published.
Colin Fitts is a Nashville Predators staff writer for The Hockey Writers. You can follow him on Twitter, @FittsTHW.
Colin Fitts is a Nashville Predators staff writer and is a credentialed media member of the Chicago Wolves. From Nashville, Tennessee, Colin majors in journalism and public relations at Columbia College Chicago. Follow him on Twitter, @FittsTHW. Email: 22fitts [at] gmail [dot] com.