When the Calgary Flames returned from the All-Star Break, head coach Bob Hartley decided to do a little line shuffling. Having had some success together in the previous game against the Anaheim Ducks, Hartley decided to keep Sean Monahan with Johnny Gaudreau and Jiri Hudler on the team top line.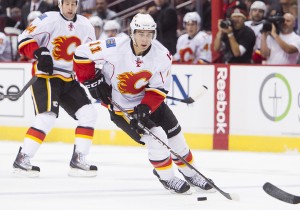 In an effort to anchor the rest of the forward ranks, Hartley placed two-way center Mikael Backlund between grinders Lance Bouma and David Jones.
Eleven games later, with the team going 7-3-1 in that time-span, Hartley's move appears to have been quite smart.
The Best Line On The Team
The Bouma/Backlund/Jones line is getting what are termed the game's "tough minutes." They primarily start their shifts in the defensive zone. They primarily play against the other team's best players. The hope is that a tough minutes line keeps about even; in terms of goals, in terms of scoring chances and in terms of shots, ideally negating the offensive powers on the other team.
The trio bring a lot of attributes to the table that have helped fuel their success. This new line has actually out-scored their opposition, and sit as the best possession line on the team over the 11 games they've been together. Bouma and Jones lead the Flames with 6 even-strength points apiece in that span, and Backlund has 4 even-strength points and a 53.5% face-off winning percentage. In addition, Bouma and Jones have out-hit opposition by fair amount, which has opened up time and space for both them and Backlund.
Flames head coach Bob Hartley elaborated on how valuable the line has been for his club.
"They've been unbelievable for us," said Hartley. "They're playing good minutes, they're playing hard. They're not fun to play against. They're giving us some big goals. Playing against the other team's top line so, I think that Jonesey, along with Backs and Booms, I look when I evaluate performances, I put the three on the same line. They're not fun to play against and they play the right way."
Lightening The Load
One of the nice side-effects of the success of the Bouma/Backlund/Jones line is that they've opened up match-ups for the team's top line of Jiri Hudler, Sean Monahan and Johnny Gaudreau. That was the hope when Mikael Backlund returned from injury – that his defensive prowess would allow his line to neutralize opposition snipers, allowing the top line easier match-ups against the other team's lesser lights.
Not only has that happened, but the Backlund line has actually out-scored the Monahan trio on a few occasions.
"[Backlund is] such a good two-way center, understands the game, understands what needs to be done to give us a chance to win," said Hartley. "I think that those three, they work every well together. Their chemistry is great. They're three guys that when they're skating, they're at the top of their games."
Better Together
The oddest thing about the tandem is this: only Mikael Backlund, of the three, has been considered an offensively-oriented player. However, the chemistry between the three men has seemingly opened up elements in both Jones and Bouma that were previously not considered – primarily offensive.
Here's a quick glance at the possession (Corsi For: shots, blocked shots and missed shots) stats for the three players, since they've been placed together and their numbers before that time.

In essence, while sacrificing a bit of Backlund's offensive edge – his points scored per 60 minutes rate has dropped slightly – the new tough minutes trio has allowed the Flames to generate offense out of two players that had previously not been strong offensive contributors previously. Both Bouma and Jones had spent time on the fourth line earlier this season.
The Calgary Flames entered the season with a lot of question marks, possessing a group of raw young players along with a very top-heavy defensive group (anchored by an excellent top pairing in Mark Giordano and T.J. Brodie). The past few months have seen the forward group produce two very solid trios – Gaudreau/Monahan/Hudler and Bouma/Backlund/Jones. There is still a lot of work to do in the Stampede City before this club is a contender, but progress shown thus far has given them a foundation to build upon.
(A previous version of this article didn't specify even-strength points were being discussed rather than total points.)