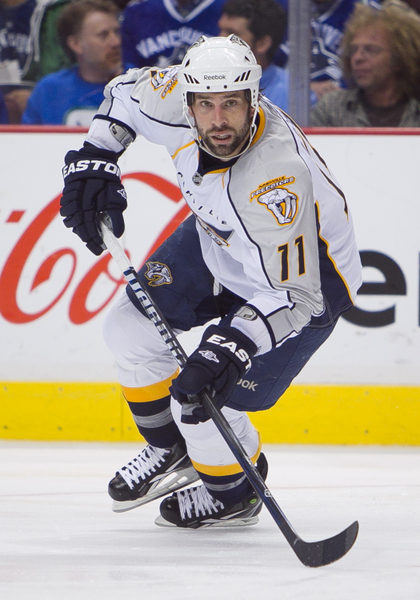 With some fantasy hockey leagues already in the first leg of their playoff rounds, many fantasy managers have their lineups set in stone. However, there is a flip side to that coin as other managers might be dealing with injury-depleted teams that could use some help from the waiver wire. For those that have lost countless man games to injury, snagging a decent option from free agency might not be such a bad idea.
Here's a list of some forwards, defensemen, and goalies (ordered by percent owned in Yahoo! leagues) that could be useful to managers in the playoffs:
Forward Thinking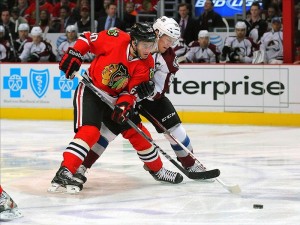 Brandon Saad (Chicago Blackhawks – W – 34% Owned) – Back in March, Brandon Saad was racking up assists.  Once April rolled around, the winger decided he wanted to score some more goals to even out his totals. Saad has recorded four points (3 Goals, 1 Assist) in four April games and seems to be developing into the highly touted player he was supposed to be.  Saad doesn't look like he will go into a pointless streak anytime soon, especially since the winger is playing alongside talented forwards like Patrick Kane and Jonathan Toews.
Tomas Kopecky (Florida Panthers – W – 18% Owned) – Kopecky has some pretty even point totals in terms of goals and assists, but the winger has certainly been putting in a fair amount of work in April. Kopecky has recorded four points (3 Goals, 1 Assist) in three games this month.  With the Panthers playing the role of spoiler, Kopecky could be a solid pickup for the last several days of the regular season.
David Legwand (Nashville Predators – C – 16% Owned) – I recently featured Legwand in a post that suggested some centers for addition to a fantasy lineup. Over the last five games, Legwand has managed to record six points (2 Goals, 4 Assists) and is doing everything to warrant attention from fantasy managers. Since Legwand is only 16% owned in Yahoo! formats, fantasy managers might want to pick up the pivot before the pickings become even slimmer.
Patric Hornqvist (Nashville Predators – W – 16% Owned) – Hornqvist missed a bit of time in March due to injury, but it looks as though the winger is getting back to his old form as he has tallied four points (1 Goal, 3 Assists) in four April contests. Not only is Hornqvist getting on the scoreboard, he is also shooting the puck a lot more and could be useful in every fantasy format. Fantasy managers should expect Hornqvist's stock to increase over the next several days if he keeps up his offensive production as the forward provides the Predators with a steady source of offense – something that the team has been sorely lacking all season.
Marcus Johansson (Washington Capitals – C – 10% Owned) – Johansson returned to the Washington lineup with a force back in March, and the pivot hasn't let up in the month of April. So far this month, Johansson has tallied five assists in four games played and he isn't showing any signs of cooling down. If Johansson hasn't been snagged in your fantasy league, make sure to make the addition of the center a number one priority as the Capitals will need all of the forward's production to make the playoffs.
Blueliners That Can Help
James Wisniewski (Columbus Blue Jackets – D – 35% Owned) – Wisniewski hasn't been putting up his usual numbers this season, but the rearguard recently returned from a month-long absence. He scored a goal this month and fantasy managers should expect the Jackets' d-man to start putting up more points as he rounds into better form.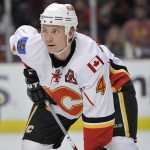 Jay Bouwmeester (St. Louis Blues – D – 34% Owned) – Bouwmeester has certainly continued his point production as a member of the St. Louis Blues and fantasy managers should take note. Even though Alex Pietrangelo and Kevin Shattenkirk might wind up producing more points than Jay Bouwmeester down the line, Jay-Bo has been holding his own for the Blues as he has tallied three assists for the team and has logged some serious defensive minutes.
It might be reasonable to expect Bouwmeester's production to taper off somewhat, but those that put their confidence in the veteran defenseman might be pleasantly surprised as he will be extremely useful for the Blues' playoff push.
Michal Rozsival (Chicago Blackhawks – D – 2% Owned) – Rozsival is an absolute depth pickup for managers in the deepest of fantasy pools/leagues. Rozsival has not recorded a goal this season, but he has eleven assists to his name and has been playing steady defensive minutes as of late. Fantasy managers that take a flier on Rozsival shouldn't expect to be handsomely rewarded, but they could be pleasantly surprised as the blueliner could potentially help out in the assists and hits department.
**Erik Karlsson (Ottawa Senators – D – 37% Owned) – Erik Karlsson has resumed skating and didn't look too bad on his feet while practicing for the Senators, but fantasy managers should be cautious when looking at Karlsson. It might be enticing to add the defenseman this late in the season in the hopes that he returns with a few games left on the schedule – especially with the d-man's ownership dropping to 37% – but it is not yet known whether Karlsson will be able to return or how well he will be able to play if he does return. Fantasy managers that can afford to pick up and stash Karlsson should do so, but at this point of the season it might be a safe bet to say that many managers cannot and will not afford themselves such a luxury.
Get Your Goalies!
Jacob Markstrom (Florida Panthers – G – 25% Owned) – With Jose Theodore on injured reserve, Jacob Markstrom will finish out the season as the Cats' number one starting goalie. There is absolutely no pressure on Florida at this point of the season, but a loose style of a play could benefit the Panthers as a whole. Markstrom is the heir apparent to goaltending duties in Florida and fantasy managers that pick him up for the playoffs could stand to gain the most in the coming weeks as the goalie has compiled some impressive numbers (6-8-1, 2.68 GAA, .918 Save Percentage) so far this season.
Jake Allen (St. Louis Blues – G – 20% Owned) – With Jaroslav Halak (injured) and Brian Elliot under-performing this year,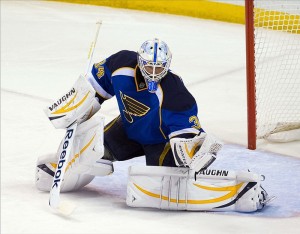 Jake Allen has taken over the goaltending reins for the Blues – and boy has he done a spectacular job. Allen has compiled a 9-3-0 record while posting a 2.33 GAA and .911 Save Percentage.
Since the Blues are pushing for a playoff spot, Allen might be the beneficiary of some regular starts as the goalie has performed admirably when his number has been called this season. Fantasy managers should definitely give Allen some consideration for pickup as the goalie will be essential to his team's success, or lack thereof, in the next couple of weeks.
Robin Lehner (Ottawa Senators – G – 13% Owned) – Fantasy managers shouldn't let Robin Lehner's 3-3-4 record fool them. Lehner has been doing a terrific job for the Senators while Chris Anderson has been sidelined with an injury as he has played to the tune of a 2.34 GAA and a .934 Save Percentage. Since Chris Anderson is nearing a return, Lehner might see more bench time, but fantasy managers should certainly give the goalie a look for the remaining weeks as he could steal some crucial wins when he starts.