When preparing for a fresh hockey season, it's typical for most fantasy owners to first focus on which players might be on the verge of a breakout season or a sharp increase in production. After all, that is essentially the most exciting aspect of all fantasy sports – finding value in sleepers that other people in your league passed over. But it's just as important to do your homework on players who may seem like surer bets than they actually are. Age, changing teammates and roles, and statistical trends are all important things to look at when deciding which players you might be inclined to avoid in your fantasy drafts.
Now, I want to be very clear – I've never been a fan of bandying about the term "fantasy bust". It implies that the given player will basically give you nothing, and I'm not making the case for that here with the following group. Instead, it's always important to look at players in terms of value. The following is a group of players who, given their spots in offseason rankings and cheat sheets, may have declining production in the upcoming season. They may be perfectly adequate fantasy producers, but I'd bet against them achieving their pre-draft value.
The way I like to use a "buyer beware" or "fantasy busts" article as a draft tool is to take note of certain players and bump them down on my big board, assuming I agree with the author's conclusions. When the time comes to pull the trigger on a draft pick, it can be a useful deciding factor in who you ultimately select. So with that, let's get to the list.
Evgeni Malkin
Malkin is a player who it seems has become somewhat easy to project from a fantasy standpoint. When he's in the lineup, he'll typically produce, and sometimes at a red-hot clip. The problem is the "when he's in the lineup" part. Malkin's myriad of injury troubles in recent years has prevented him from eclipsing 70 games played in six of the past seven seasons.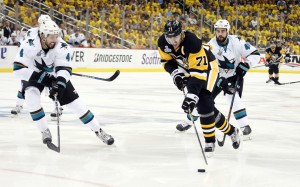 From a point per game standpoint, Malkin is still a beast. But consider the risk for where Malkin will typically go in most fantasy draft formats, which is the first or second round. At 30-years-old and entering his 11th season, it's just hard to imagine his durability will get any better. One other important factor for Malkin? It's unlikely that the Penguins will break up the extremely successful Hagelin-Bonino-Kessel line that lit up the postseason. This leaves Malkin in a situation where he might be skating with fairly average wingers on a nightly basis. Consider the youth and depth at the Center position this season, and it's easy to look elsewhere for your early round pick.
Daniel Sedin
I imagine this name popping up on a buyer beware list could surprise some people. After all, the Canucks went out and added Loui Eriksson, who is both a proven scorer and familiar countryman of the Sedin twins. But I think the negatives outweigh the positives for the Sedins heading into the 2016-17 season. I chose to focus in on Daniel Sedin in particular because he is regarded as the better fantasy asset.
For starters, it's far from a lock that Eriksson will be attached to the Sedins at the hip. The trio should be very effective on the power play, but the Canucks may decide to the spread the wealth a bit more at even strength, given their lack of depth at the winger spot. When you combine that uncertainty with the fact that after six straight 70+ point seasons from 2005-2011, Sedin has surpassed that mark only once in the past five years, you might see why there's some cause for concern. Add in his age (35-years-old) and it might be more than reasonable to consider other wingers at Daniel Sedin's average draft slot.
David Krejci
Krejci finds himself ranked in the top 80 or so players of most preseason cheat sheets, and I'm not sure the risk is worth the reward. We'll start with the obvious red flag – offseason hip surgery on a nagging injury that surely slowed him down for long stretches last year. And when you consider that this is the second hip surgery of his career, concerns for his future are very valid. Also remember, Krejci had a knee injury the year before that cost him about half the season. A 30-year-old with ongoing injury concerns is always someone to think twice about before drafting.
The other important factor here is who he'll be playing with. Loui Eriksson is gone, and although Krejci has never really had a true superstar goal scorer on his wing, he did have names like Nathan Horton, Milan Lucic and Loui Eriksson. The Bruins enter this season with Brad Marchand as essentially their only proven goal scorer, and he's Patrice Bergeron's stalwart. Krejci will likely find himself centering wingers with either a lack of offensive talent or a lack of experience. There is some potential there (David Pastrnak, for example) but the situation is a little too uncertain for comfort.
Frans Nielsen
I'd like to state for the record that I like Frans Nielsen as a hockey player. He's a very good two-way forward who makes for a reliable middle six center on a good team. But as a fantasy player going from the Islanders to the Red Wings? I'd be inclined to look elsewhere.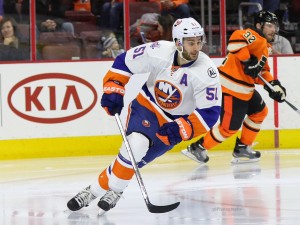 The fact is, Nielsen surpassed 50 points for only the second time in his 10-year career last season, and much of that is in part to his spot as a mainstay on the Islanders top power play unit. The Red Wings typically employ a lot more variety in their power play units, and although Nielsen should get a good chunk of that ice time, I don't really see him putting up the same kind of production on the man advantage in Detroit as he did playing with John Tavares in New York (Nielsen tallied 58 points on the power play over the last three seasons.) He's still only a mid to late round commitment depending on your league, but don't be surprised by a somewhat lackluster point total.
Bobby Ryan
I'm not very high on the Senators, in general, this season and think a handful of their players might be overvalued from a fantasy standpoint. There is a perception that they are an offensively gifted team that plays at a high pace, but they were actually ranked 24th in the NHL last year in shots per 60 minutes. Most of the advanced metrics suggest their opponents take the play to them more often than not.
Given that, I could have put a few different Senators players here, but I ultimately went with Ryan because I think fantasy owners see him as more of known commodity. He's a player who put up four straight 30+ goal seasons in Anaheim but has failed to reach that mark in three seasons with the Senators. I think the swap of Mika Zibanejad (Ryan's most common linemate last season) to Derick Brassard is a downgrade that will hurt Ryan's even strength effectiveness. He's still a gifted power play producer, and it's hard to knock his consistency, but I think there are more rewarding options at wing.
Ryan Suter
Suter plays a ton of minutes, in all situations, so he's always going to give you some pretty good fantasy production. But it's important to realize what Suter is when you decide whether to pull the trigger on him as one of your top fantasy defensemen. He's a player who reached a potentially anomalous career-high point total last season.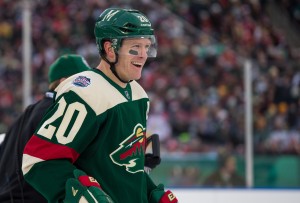 After averaging about 38 points per season in his first three years with Minnesota, Suter tallied 51 points in 2015-16. A huge portion of that production came on the man advantage, and the Wild might end up cutting into his power play time a bit for some of their younger, more offensively gifted defensemen. You factor in that Suter has logged an obscene amount of minutes over the past few years as he enters his 12th season, and you're almost assuredly looking at a drop back to earth for him as a fantasy producer.
Roberto Luongo
Luongo is actually one player I might be comfortable applying the "bust" tag to.  He's not expected to start the season after offseason surgery, and Florida made a five-year, $17 million commitment to 28-year-old goaltender James Reimer. It's pretty clear that the Panthers see Reimer has their future in net, and that future could come sooner rather than later.
Luongo's 2015-16 production makes him a tempting mid-tier goalie pick, as he ranked in the top 10 in both save percentage and wins. But with Reimer looming, and the injury concern for a 37-year-old coming off back-to-back 60+ start seasons, the risk simply isn't worth it, and I'd look elsewhere at goalie.
Some Final Thoughts
Assembling a list of "buyer beware" players is never a simple task. I made an effort to pick a group of players who, by all accounts, are still viable fantasy producers. After all, there's no challenge in projecting a lack of production in players who have already reached the declining stage of their career. But it's a tricky proposition when it comes to potentially devaluing players who are still essentially in their prime. I'm sure some people could make the case for some of these players just as much as I made the case against them.
But as I revisit what I said in my opening, these lists should serve as a tool for your draft consideration, not a list of players to cross off your boards altogether. You'll probably agree with some conclusions and disagree with others, and that's good. It allows you to ultimately hone in on a more accurate valuing of these players as you prepare for when you're actually on the clock.
I'll examine some players on the other side of this spectrum – the "buy low" side – later this week.
Writer and fantasy hockey enthusiast contributing content for THW's fantasy section.