The Detroit Red Wings brought in a number of new faces this summer via free agency, including Frans Nielsen, Tomas Vanek and Steve Ott. While those players will look to make an immediate impact in Detroit this season, there are also several budding NHL'ers within the organization to get excited about heading into the 2016-17 season.
In a little over a month, the Red Wings organization will begin preparing for their upcoming campaign. The annual NHL prospects tournament in Traverse City will run September 16-20, followed by their main training camp shortly thereafter.
In this week's edition of The Grind Line, the THW writers each select one prospect they believe will make some noise this year. While the definition of the term prospect varies, it's usually used to describe a player with little to no NHL experience. For the purposes of this article, we will limit our selections to players who have yet to participate in a single NHL game.
Jacob Messing: Evgeny Svechnikov
Evgeny Svechnikov has established himself as an offensive threat wherever he has played. Drafted 19th overall in 2015, Svechnikov is listed 6-foot-2, 198-pounds. Turning 20 this Halloween, Svechnikov will enter his first full season with the Grand Rapids Griffins this fall.
During his junior years, Svechnikov played to his size, used his shot, showed great hockey sense and displayed terrific hands that helped him contribute in the offensive zone.
Upon finishing up his junior career with Cape Breton, where he scored 64 goals and 157 points in 105 games, Svechnikov joined the Griffins for the end of the season. He eventually cracked the lineup under coach Todd Nelson for two games, chipping in an assist during his debut and learning a lot on the fly.
"It was exciting; first game as a pro and good win for the team and I thought personally I played well," Svechnikov said.
Nelson had a lot to say following the Russian's debut.
"He's a big body, he protects the puck well and, I think, as he matures, he's gonna be a fantastic hockey player."
Overall, Svechnikov is possibly the best prospect to have played an NHL game yet in Detroit's system. If he has a great start to the season, he could find himself with an NHL stint sooner rather than later, even with Detroit's current plethora of forwards.
Tony Wolak: Jared Coreau
Of the Red Wings' prospects who have yet to play an NHL game, I'm most looking forward to seeing goaltender Jared Coreau start a game in Hockeytown. Though the Red Wings have recalled Coreau on a number of occasions, he has yet to see time between the pipes for Detroit.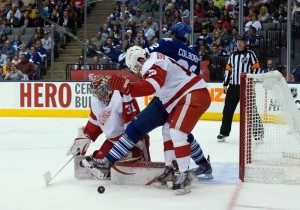 Originally, an undrafted free agent from Northern Michigan University, the six-foot-six netminder has put up a couple of solid seasons with the Grand Rapids Griffins. After splitting time with both Petr Mrazek and Tom McCollum over the past two years, Coreau will likely shoulder the majority of starts for the Griffins this season.
In the past, the Red Wings have had the luxury of great records, giving them the opportunity to start prospect goaltenders without worrying about dropping in the standings. Because of this, Jimmy Howard and Mrazek have been able to get a few games of NHL experience before they were due for a promotion. It'll be nice to see the Red Wings start out strong and give Coreau a chance at a convenient time.
Though Coreau signed a two-way contract for the upcoming season, he'll require waivers when moving back and forth from Grand Rapids and Detroit. Additionally, he is signed to an NHL contract for the 2017-18 season, meaning he'll make $650,000 regardless of where he plays (Coreau's 2016-17 two-way contract pays him $150,000 at the AHL level and $575,000 when on the NHL roster). Getting Coreau some playing time this year will help the Red Wings decide if they need to spend for a new backup when they ultimately move Jimmy Howard and his $5.3 million cap hit. Given a few solid outings by Coreau, the Red Wings may just opt for him to become Mrazek's backup at a discounted rate.
Craig Peterson: Joe Hicketts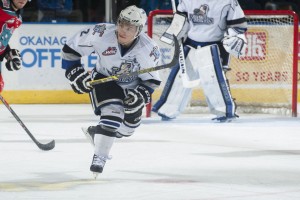 Entering his first season at the pro level, Joe Hicketts could provide an offensive boost to the Griffins' blueline.
The Wings' defensive corps is aging quickly, as Niklas Kronwall, Mike Green and Jonathan Ericsson fall on the wrong side of 30 years old. As they continue down the backstretch of their careers, the organization will have to groom young prospects like Joe Hicketts to replace those veteran defensemen when the time comes.
Hicketts is just 20-years-old after finishing his fourth season with the Victoria Royals in the Western Hockey League. Entering the 2016-17 season, he will need to contribute offensively on the Grand Rapids Griffins' back end in order to stay in the lineup.
At 5-foot-8 and 175 lbs., size will forever be a factor for Hicketts. However, smaller players have found tremendous success at various positions in the NHL and Hicketts, from a size standpoint, is comparable to the Boston Bruins D-man Torey Krug.
Hicketts was an undrafted invite to Wings training camp in 2014 and impressed so much that he left with a contract offer from Ken Holland. He has a strong first pass out of the defensive zone and has improved his offensive skillset during his time in the WHL, resulting in back-to-back 60-point seasons with the Royals.
Brandon Peleshok: Tyler Bertuzzi
While it's tough to determine Tyler Bertuzzi's ceiling, there's little doubt that he will offer plenty of energy and sandpaper once he establishes himself as a regular in the NHL. When the Red Wings selected the 6'1, 190lbs winger with their 2nd round pick (58th overall) in 2013, it raised a few eyebrows.
Projected to go later in the draft, Bertuzzi posted just 22 points in 43 games during the 2012-13 season. After his selection, he struggled with concussion-like symptoms during the 2013-14 season but was able to score at a point-per-game pace. Bertuzzi followed that up by scoring 17 points in 18 games during the Guelph Storm's impressive playoff run. Although the team fell short against the Edmonton Oil Kings in Memorial Cup final, Bertuzzi's performance helped to establish him as more than just a gritty winger. He would continue to assuage the concerns of Red Wings fans the next season, notching 98 points through 68 games.
Bertuzzi participated in the Red Wings prospect camp in early July, showing plenty of confidence and taking on a leadership role during his fourth summer in Traverse City. It's a far different look from the player who decided to fight Nick Jensen (who sustained an injury as a result) during his first camp in 2013. While he still rides a fine line with his abrasive play, he has found better ways to channel his energy during his exchanges with his teammates.
The 2016-17 season is an important one for the 21-year-old forward. In his first full season with the Grand Rapids Griffins, Bertuzzi posted 30 points, along with 133 penalty minutes. He was able to turn some heads during the Griffins' playoff run, scoring seven goals in nine games. It will be interesting to see if that offense will carry over to the regular season, the way it did after his 2014 playoff performance with the Storm. While Ken Holland stated that Bertuzzi would be given every chance to make the team this fall, it's more likely that he will spend most of the year in the AHL, which could very well be the best thing for his career now.
I am a writer from Windsor, Ontario who has covered the Detroit Red Wings for The Hockey Writers. I have had the pleasure of doing so since February of 2015. Previously, I have written about Red Wings prospects for Hockey's Future. I am always up for chatting about the Red Wings and hockey in general, so leave me your comment and/or tweets. Follow me on Twitter at @BrandonPeleshok.