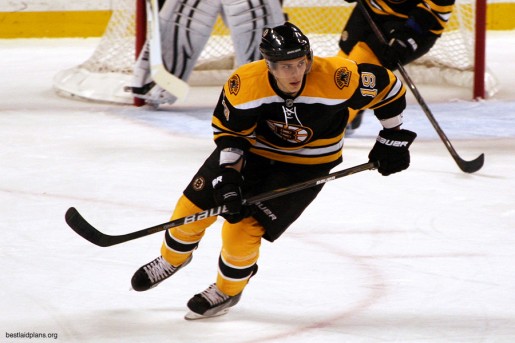 We have survived many calamities this early fantasy hockey season but not comes the next November edition of "Chutes And Ladders".  Riding the fortunes of a fantasy hockey team can be a lot like the original Milton Bradley game.  There are enough twists and turns to drive any normal person crazy.  So imagine what it is like for the average hockey fan who takes on a fantasy hockey league.
There are no lulls even in the dog days of November where bad starts can turn into deep holes and good starts can fade to black.  Once again, we ask the same question that seems to plague us every week and we even have the same answer.  Good evening Sidney Crosby.
The Crosby Question…….AGAIN??????
When is Sidney Crosby going to return?
Crosby and his status are "status quo".  The consensus is that he has been skating with perhaps the line combination he will start playing on when he returns but again the song remains the same.  Everyone knows the same as everyone else about this situation.  When we say nothing has changed, nothing really has changed.
Again the best course of action is leave Crosby out of your lineup until you are 100% certain of his return.  Reality dictates that one just has to be patient here even if patience is wearing thin.
Beware the injuries……..
November really does keep the fantasy player on their toes.  The problem becomes now is who to add on that is fantasy relevant.  As of Monday, there were 119 injuries in the National Hockey League.  If you do the math that is a hair less than 15% of the entire NHL.  There is no time like the present to go into some of these injuries so let us get down to business.
Daniel Alfredsson (Ottawa Senators) — Alfredsson is actually still recovering from the concussion he received at the hands of Wojtek Wolski (who is now out four weeks with a groin injury).  The key will be the baseline concussion tests after skating and contact.  People believe Alfredsson is close to returning so just keep an eye out on it every few days just to be sure.

James Reimer (Toronto Maple Leafs) — Now me worry.  Forgive us for the awful English vernacular but suddenly Toronto is in the midst of its first slump of the season.  Their starting goalie is still no closer to returning and some of the scoring has dried up a bit.  When the mother comes out and rips an organization, that is when a team should listen.  Clearly there is little news on the progress of Reimer and his concussion.  Check back next week for more details and maybe he will have returned (or closer anyway).
Tim Connolly (Toronto Maple Leafs) — It is believed that Connolly is very close to returning to the Leafs and it could happen later this week or on the weekend.  Again, we advise to read up for further updates but all indications seem to point to the fact that this latest injury has pretty well mended.  Proceed with caution obviously.
Mike Green (Washington Capitals) — Green just has that knack of not being able to stay healthy.  First it was the head, then the groin and the ankle, leg, and whatever other body part it seems.  The latest injury (groin thanks to Katie Carrera) means he did not travel to Nashville and his return timetable is uncertain.  Keep Green on your bench until he can at least play a full game without injuring himself.  This does like very cold, pragmatic advice but that is the reality.  Buyer beware.

Lubomir Visnovsky (Anaheim Ducks) — Yes Visnovsky was having a horrific start to the season but this injury just kicks Anaheim and fantasy owners further in the gut.  His broken finger will cost Visnovsky owners about four weeks.  Supposedly this could get worse but while you have the Anaheim defenseman on the IR, there are plenty of good suggestions on the waiver wire.  Cam Fowler is potentially one but look at Corey Potter or maybe even Josh Gorges as well.
David Legwand (Nashville Predators) — Legwand is still out against Washington but his upper body injury is healing and could be returning soon.  Just give it a few days to a week and Legwand hopefully should be as good as new.  Just hang tight fantasy owners as his 14 points is sorely missed on fantasy rosters.
There are other injuries but these are ones that impact fantasy rosters the most for the third week of November in fantasy leagues.
Here are the ladders…….
These are for the players who have seen their values shoot up in Week 5.  Some are waiver wire pickups but most are not.  November is when the number of games start going up in earnest.  Inevitably fantasy values for certain players will continue to look very enticing and here is our best.
Cam Fowler (Anaheim Ducks) — The reality is there is little to explain other than with the Visnovsky injury, Fowler is pretty much the only offensive game in town from the back end in Anaheim.  He scored two goals on Sunday but what will be most attractive is the near 30 minutes of ice time that he may get a night eventually.  He is young and fast with a little physicality to boot.  If you are not the Fowler trade, one may want to consider him now before its too late.

Tyler Seguin (Boston Bruins) — Seguin is better than Phil Kessel because he uses all the tools in his game usually at the same time.  He is also a bit better defensively which helps your +/- in the long run.  Seguin was the NHL Player Of The Week for a reason.  He was just too good with (4 G 2 A) in 3 games.  Simply the outlook for this week is also very good for Seguin who is just tough to contain or slow down.

Jimmy Howard (Detroit Red Wings) — Yes Howard has three shutouts on the young season ladies and gentlemen and his sub 2.00 GAA is rather similar to last year's start.  The test will be the coming weeks and according to people in Detroit, Howard looks more ready to handle the marathon as he is less likely to run out of gas like he did last season.  His GAA and save percentage were a progressive nightmare after the first six weeks a year ago.  Now we see if he grew up any.

Jonathan Toews (Chicago Blackhawks) — "Chelsea Dagger" is being played in the background as Toews tore his way into a nice week as he, like Seguin, had four goals and two assists.  The next week's schedule looks pretty nice as well so it would not surprise me if Toews adds a few more games to that point scoring streak.  This is just the type of player that he can be.
GAS Line (New York Rangers) — It is nice to see John Tortorella stick with a line for a change and let it work.  Marian Gaborik, Artem Anisimov, and Derek Stepan have been torching opponents for the last couple weeks.  If you have any of them on your fantasy team, you will know what I mean.  With seven points in his last five games, Gaborik has looked like the Gaborik of old while Stepan and Anisimov are right around a point a game as well.  Clearly this is a line that could excel with a favorable schedule this week.

Let's slide down a few chutes……
Ryan Miller (Buffalo Sabres) — It is very clear that Miller is rattled beyond belief.  Now he is injured with a concussion which will keep him out at least a few games.  However, ineffectiveness may have been a reason why Jhonas Enroth was getting more time in net anyway.  Miller has been pulled several times in the last couple weeks while Enroth has not lost in regulation this year in limited but very effective time.  Enroth's sub 2 GAA and save percentage around .950 are reasons why Miller's job is on some thin ice.

New York Islanders Goaltending — The results speak for themselves as the Isles have just gone south because of management's inability to resolve this issue.  They have now dropped to the bottom of the Eastern Conference and do not look anything like the team that started the season with all three phases working so well.  Either Rick DiPietro, Evgeni Nabokov, and Al Montoya get no support or they are just too rusty to get in any sort of rhythm.  This is why a three headed system just does not work at the NHL level in any way, shape, or form.  Jack Capuano and Garth Snow have to make a decision soon for the benefit of this team.

James van Riemsdyk (Philadelphia Flyers) — JVR has look a bit lost in the last week only nabbing one point in his last three games.  What may discourage some van Riemsdyk owners is simply his body language on the ice so next week may be a long week for owners.  Keep an eye out how Peter Laviolette metes out ice time for the forward and then make your decision on inserting him into your lineup.  Basically you have been warned.

Well that wraps it up for this week.  Good luck and hopefully November keeps rolling for everyone out there.  Do not forget to follow us @TheProgramBTR for all your fantasy hockey questions and more.