By Wayne Whittaker, Boston Bruins Correspondent
It's always tough to pinpoint exactly when it happens. Be it Eddie Shore's attack on Ace Bailey, Mike Milbury and Co. invading the stands at Madison Square Garden, Marty McSorley's cheap shot on Donald Brashear, or Zdeno Chara's hit on Max Pacioretty, at some point in every generation the hockey world's view of the Boston Bruins shifts. They are no longer looked upon as scrappy blue-collar players, and instead take on a new persona.
The bully.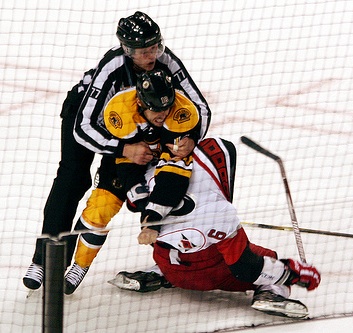 As shocking as this may sound to the Causeway Street faithful, outside of the Hub, the Bruins aren't always looked upon in the highest regard. The latest incident, of course, is Milan Lucic's encounter with Buffalo's Ryan Miller. The league deemed the hit unworthy of further disciplinary action, much to the disapproval of Sabres head coach Lindy Ruff, who essentially declared it to be open season for goalie hunters.
"It just means teams will be able to do exactly what Lucic did," Ruff said. "Their goaltender can play the puck, we can run him over… That's essentially what that means. You can concuss the other team's goaltender. You can run him going at whatever speed he was going. It means it's fair game on goaltenders."
Ruff isn't the only one showing concern. Old foes Alexander Burrows and Daniel Sedin of the defending Western Conference Champion Vancouver Canucks both expressed their own disappointment in the league's handling of the Lucic situation.
Of course, it was just five months ago when the Canucks were also alleging that the Bruins were guilty of bullying.
After Game Three of the Stanley Cup Final, Vancouver defenseman Kevin Bieska said, "I don't think you saw any scrums in front of our net. They were always in front of their net, their guys pushing and shoving after the whistle and flexing their muscles and proving how big and bad they are."
But let's go back even further, to a 1977 Pittsburgh Press article entitled "Here Come The Bruins…The Bullies Of Boston?". Back then it was Minnesota North Stars owner Gordon Ritz complaining to league officials that he believed the Bruins were "over-indulgent stick swingers."
It goes without saying that things were a little different back then, and not just on the ice. When asked to comment on the allegations, Bruins legend Gerry Cheevers didn't pull any punches. "If I had a chicken club like [the North Stars], I'd complain to everybody too. They need all the help they can get."
Cheevers finished with a sentiment that could very well have been quoted in the Bruins locker room today, "everybody hates us, and they're all out to get us."
Maybe things aren't so different after all. Beyond the fact that the Bruins powerplay was also struggling back then (0 for 25, eight games into the 1977 season), the Big Bad Bruins appear to once again have targets on their back.
Meanwhile, the Bruins aren't exactly helping themselves. Lucic's hit on Miller is just the latest in a string of controversial "aggressions" Boston has had a hand in.
In last year's Cup Final, Boston's dominant and intimidating play was highlighted by a few instances in which there were cries of foul-play from the North West. These included Brad Marchand using Daniel Sedin as a punching bag, Tim Thomas's "aggressive goaltending," Lucic's whack on Burrows,  and Thomas's statement response to Burrows' mischeif.
Needless to say, while Boston and their fans may view these acts as noble dominance and defense of home ice, the rest of league is beginning to grow tired of the act. Earlier this year it was reported that coaches were instructing their teams not to engage the Bruins in post-whistle scrums. Well, the Bruins are still finding ways to physically take over hockey games, and the league is, for the most part, letting "boys be boys."
The knee-jerk reaction would be to assume that Buffalo may take a run at Thomas or Tuukka Rask during the Northeast Division rivals' November 23rd rematch. If that's the Sabres plan, they may want to rethink it. Unlike the teammates of Ryan Miller, there's no question that any member of the Bruins roster would surely have done their best to separate the head from the shoulders of the perpetrator.
Maybe the debate shouldn't be whether or not the Bruins are bullies, but whether or not the rest of the league can keep pace with the physical tone the defending Stanley Cup Champions have found success using.
—
Wayne Whittaker has been a Boston Bruins Correspondent for TheHockeyWriters.com since 2010. As a Berklee College of Music graduate, and Massachusetts native, Whittaker has been around Boston, the Bruins, and the game of hockey his entire life. His work has also been featured in Sports Illustrated, Huffington Post, CBSSports.com, and Yahoo.com.