With fantasy hockey drafts rapidly approaching, fantasy managers will be scrambling to pick up the best dual-position players when draft day rolls around. Of course, everyone would love to have their roster full of dual-position eligible players such as Claude Giroux, Pavel Datsyuk, Henrik Zetterberg, and Evgeni Malkin, but that is a luxury that won't be afforded to many managers, unless they have stacked and traded talent in a keeper league over the last several years.
For those that do not have the opportunity to select a top end dual-position player, there will certainly be loads of options available to fantasy managers during the later stages of their drafts. While some of the players listed below might not have superb seasons when the 2013-2014 NHL season is over with, it can definitely be useful to have a dual-position player on your roster – especially one that could be a sleeper going into this upcoming season.
The Unusual Suspects
Danny Briere (Montreal Canadiens – C, W)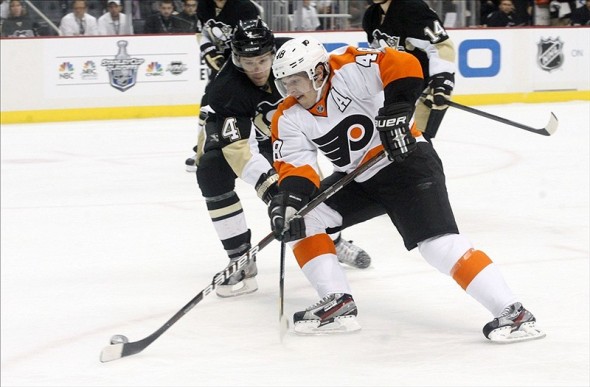 After having a lackluster '12-'13 fantasy season, managers might be a bit hesitant when it comes to selecting Briere, but there is definitely some upside to using a draft pick on the forward. While Briere only recorded 16 points (6 Goals, 10 Assists) for the Philadelphia Flyers last season, a change of scenery in Montreal might benefit all parties involved.
There is no doubt that Briere's stats were waning over the last couple of seasons with the Flyers, but that certainly isn't an indicator that the forward has lost the skill set which made him an offensive force to begin with. Even though it has not been decided if Briere will play as a center or a winger, potentially playing alongside Brian Gionta and Tomas Plekanec would create a very formidable first line combination for the Canadiens – one that fantasy managers can exploit to their want. Since Briere was only 15% owned in Yahoo! formats last season, fantasy managers can expect there to be some type of drop-off in terms of Briere's draft ranking, something that could make the dual-position forward a very appealing option in the later stages of a draft.
Jussi Jokinen (Pittsburgh Penguins – C, W)
Jussi Jokinen's trade to the Pittsburgh Penguins during the '12-'13 NHL Trade Deadline didn't cause much of a stir when it was announced, but the Finnish center definitely turned heads as he recorded 11 points (7 Goals, 4 Assists) in ten games played as a Penguin. Despite the fact that Jokinen might be on the lower half of Pittsburgh's depth chart when the '13-'14 NHL season starts, the forward will likely hold up his end of the offensive bargain, especially if your league factors in Face-offs Won as a category.
Jokinen's ice-time might be limited based on his role with the Penguins, but there is no denying the fact that the forward was extremely useful on Pittsburgh's man-advantage (1 Goal, 3 Assists) in a short span of time. Although Jokinen likely won't recreate the scoring pace that he had with the Penguins last season, he could be a good depth option for fantasy managers to consider in the late stages of their drafts.
Steve Ott (Buffalo Sabres – C, W)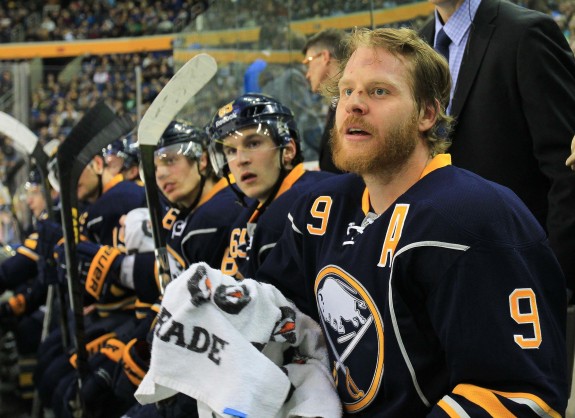 Steve Ott's statistics might not jump out at fantasy managers, but the centerman has been a very dependable fantasy option over the last several years. With Ott potentially centering Buffalo's second line, fantasy managers should expect the Center/Winger to put up his usual numbers (30 – 40 points) over the stretch of a full hockey season.
Last season, Ott registered 24 points (9 Goals, 15 Assists) in 48 games played, but he also provided tremendous support in categories such as Hits (187) and Face-offs Won (298) – something that he will undoubtedly duplicate and surpass if he is healthy for a good amount of Buffalo's games. Much like Briere, Ott was only 15% owned in Yahoo! formats during the '12-'13 season, and fantasy managers (especially those in deeper leagues) would be wise to keep an eye on the forward's availability on draft day and beyond.
Charlie Coyle will be going into his second season of NHL hockey with 37 games of experience already under his belt, and fantasy managers should continue to see the forward blossom into a fine player and fantasy contributor. During the '12-'13 hockey season, Coyle registered 14 points (8 Goals, 6 Assists) and a +3 rating.
With the possibility of playing alongside Jason Zucker and Mikael Granlund, Coyle's offensive opportunities could be plentiful to say the least. Coyle will most likely be playing top-six minutes for the Minnesota Wild, so fantasy managers should definitely select the young forward if they have a chance to do so on draft day. On the other hand, if one plays in a shallow league that probably won't draft Coyle, then it wouldn't hurt to keep the budding player on a watch-list.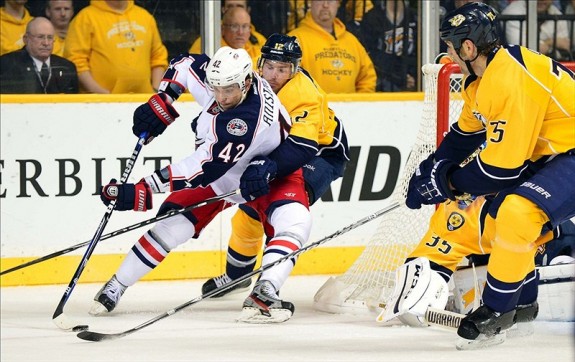 Anisimov will likely be seeing top six minutes for the Blue Jackets and will probably be centering either the first or second line in Columbus this season. Last year, Anisimov compiled 18 points (11 Goals, 7 Assists) in 35 games played and won 249 face-offs against opponents.
Despite the fact that Anisimov's previous season point totals might not look like much if his games played total were doubled, one must consider the fact that the forward could be on the same line as his former New York Rangers teammate, Marian Gaborik. Not only could Anisimov's familiarity with Gaborik help him for the upcoming hockey season, his comfort level in Columbus will only increase as he plays more games. Fantasy managers should absolutely keep a close eye on Anisimov on draft day as many might not be expecting much from the Center/Winger – something that might make the dual-position player a more easily attainable asset.
*** This will probably be a rotating list for the duration of the fantasy hockey season. If you feel that a lesser owned player was left off of this list, then please feel free to comment and let us know what you think!