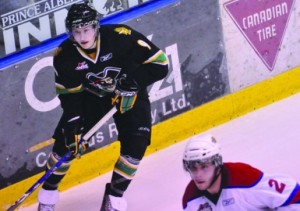 The 2013-14 regular season is just around the corner and it will officially open up the Chicago Blackhawks title defense after their thrilling 2013 Cup run. Of course before we see the banner raised and the puck dropped some young Blackhawks will get a chance to prove themselves. As rookie camps wind down and the main camp gets set to open there are a few promising Blackhawks prospects hungry to make the jump to the NHL. One of the brightest prospects for Chicago is forward Mark McNeill.
With a team as deep as the Blackhawks it will be tough for any player, let alone a developing talent to crack the roster and force themselves into an impact role. Andrew Shaw did it two seasons ago and Brandon Saad forced himself into a top 6 role last season.
With Teuvo Teravainen expected to spend one more season in the SM-Liiga, McNeill is one of the frontrunners to see some action with the big club and possibly force himself into a permanent role in Chicago.
Mark McNeill is ready to make the jump to the pros after a solid WHL career which included three straight seasons over the point per game pace. McNeill took on added leadership in 2012-13 season as captain and often led by example.
McNeill has above average defensive aspects to his game which makes him a valuable centre prospect for Chicago, though his above average offence in junior is not expected to translate into the NHL he could develop into a valuable two way centre. McNeill made the 2013 Team Canada WJC team due to injury, but during the tournament showcased a mature defensive game and brought energy with him on every shift, despite his offensive struggles.
With Brandon Pirri expected to be top contender for a permanent position at forward with Chicago, McNeill still has a good shot as securing the vacancy left by Dave Bolland if he has a strong camp. McNeill has the size and defensive responsibility to slide into the 3rd line centre role but must show consistency to stay there.
Pirri has proven himself a capable offensive player with top 6 forward aspirations in Chicago, with Stalberg and Frolik gone from the team Pirri may be looked upon to replace the offense they provided.
McNeill still looks to be facing some competition from the 2013 Hobey Baker winner Drew LeBlanc. The standout centre from St. Cloud State saw some sample action with the Blackhawks after signing with them late last season.
LeBlanc has been known to make the smart plays in the offensive zone and didn't look out of place with Team USA winning a bronze medal at the 2013 IIHF World Championships. He possesses more offensive potential than McNeill but lacks in comparison in skating and defensive abilities. With Pirri top choice to fill the offensive holes, McNeill could have the edge on LeBlanc in securing the 3rd line centre role.
With Mark McNeill you get a player who has grown into a leader, shows a maturity on the ice beyond his years and is keen to pinch in and help win battles all over the ice. If McNeill has a great camp it should surprise no one that he makes the Blackhawks opening night roster.
The NHL regular season schedule was released on Friday. Check out our partners at TiqIQ for the best deals on Chicago Blackhawks tickets for all 2013-14 games.
Creator of the Bettman Stand Up hockey blog. I cover the Chicago Blackhawks for The Hockey Writers, In Hossa we trust! I also write for publications such as Arbitrage Magazine and Elite Sports Blog. You can follow me on Twitter @RickEmrith