This week's fantasy hockey risers and fallers fit a pattern that reveals a lot about how many think when they construct their rosters.
I'm largely talking about keeper leagues here, since in daily and week-to-week games you're considering streaks a little more heavily. There's a combination of recency and reputation that can play tricks on general managers in many fantasy hockey leagues.
As we'll see below, guys who have had a lot of success in the past tend to get a lot of rope. We hope that they'll replicate past success, so we snatch them off waivers when they show the slightest sign of rebounding. That makes sense in some instances. You don't want to miss out on a guy who is 27 and has been a 30-goal scorer and is in a long slump, but could give you an edge in roster depth.
But that can also work against you when it's really just a guy in the twilight of his career. Think of the guy in your league who has picked up a Martin Havlat, Alexander Semin or Dany Heatley in recent years. There's always another guy like that coming down the pike.
At the other end of the spectrum, when a young player is about to enter his prime and could really bloom, the leash tends to be short, as we'll see with the three fallers, all of whom now have lower ownership levels than Leo Komarov.
RISERS
It's kind of amazing that Kunitz is able to even rise almost 30% during the season. Even more shocking is that this rise only brings him up to 52% ownership. It speaks to what a rough season it's been for the 36-year-old winger who scored 35 goals just two seasons back and was a part of the Canadian Olympic team.
So the rise is a combo of the usual love for Kunitz, in part because he's regularly put on Sidney Crosby's wing, and that he's finally start to put up some points.
How slow was his start? Over the season's first 22 games he posted just three goals and no assists. Since then, he's on a four-game point streak, over which he's posted a goal and six assists with a plus-6 rating.
Even if the Penguins are struggling a bit, it's reasonable to grab Kunitz because of his center and his track record, as long as you have reasonable expectations and aren't banking on 25 goals from him this season. There are a lot of formats where Kunitz can have value.
Yet, even during the last four games where he's produced, he was held without a shot in two of those games and averaged just a single shot per game.
His overall shot rate is a point of concern for any potential rebound. He's averaging 1.67 shots per game this season. No matter the circumstances surrounding it, that continues a decline of recent years and both means he's offering less value in that category and and creating fewer opportunities for a broader rebound. In recent seasons his averages have been (starting from last season and moving back through time) 2.3, 2.79, 2.35 and 2.8.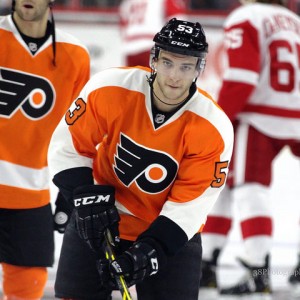 Just 12 games into his first season, Gostisbehere is having a huge impact for Philly. With four goals and four assists, he's instantly become a very productive defenseman. His 2.22 all situation P/60 trails only Erik Karlsson and John Klingberg among league defensemen.
Yes, he's doing this while getting the best relative zone starts among team defensemen, but he's also not getting the best scenario possible at even strength. He's playing relatively few even strength minutes and has been paired with Brandon Manning on the team's bottom pairing. So he's overcoming some obstacles.
But, only three of his eight points are at even strength. Where he's thriving is the power play. He's logging big minutes on the team's top unit. It's raising his total minutes played and than main source of his offensive production. If he's able to be the focal point on the blue line, he's going to be a dynamic addition to most rosters. He's working with Claude Giroux, who is one of the best power play distributors in the NHL.
What does this mean? It seems legit for now, but his ability to be useful on your roster is linked to his success on the power play. If he's taken off that top unit or stops producing on the PP, he could quickly become droppable.
Gaborik's rise is a move back toward where you'd expect to see him following a horrible slump to start the year. The funny thing with his rise is that it's really built on his reputation and not what he's done so far this season.
He put up just a single goal and a single assist through the first 16 games of the season, sinking his ownership levels. With three goals and two assists over his last six games, there's a feeling that you can start to rely on him to be Marian Gaborik once again.
It's probably a bet worth taking. As we'll talk about in a second, I'm a believer in the risky, high-upside gamble. Gaborik could be a nice pick-up in a keeper format. He's been feast or famine though (and moreso than he usually is). Even during his recent streak of success, he was held without a shot in two games. He put up seven, five and four shots in other games during that six-game run. And that's the issue with Gaborik, one game he looks like age has caught up with him and the next makes that down game look like an aberration.
FALLERS
After a hot start to the season, Zucker is now on pace for just 18 goals this year. That would be a disappointing follow-up to last year's 21-goal performance, achieved in limited games and with hardly any power play time.
Ultimately, his drop is a reaction to him producing about how we expected he would and then going eight games without recording a point, a streak that is active.
In a keeper league, it's madness to drop the guy who was second in the NHL in even strength goals per 60 minutes last year. But I'm going to get a little more in depth on that in a second.
Like with Zucker, there's recency to blame here and not the actual skill level of the player. With 11 goals on the year, he's on pace to break 30 goals this year. However, going seven games without a point is bound to sink ownership levels.
In a keeper league, you're mad to drop a 22-year-old center who is on pace for 30 goals. That's particularly true with the Ryan Johansen rumors going around. It's nothing that you should bank on, but if he was moved, Jenner would become a real go-to go for Columbus.
Same deal as with Zucker. We're going to dive a little more into this in a second.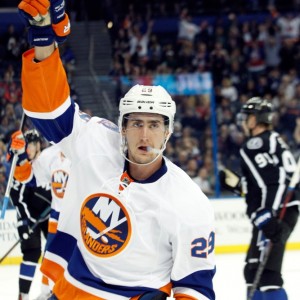 I'm jumping quickly through the first two and getting to Nelson because — and this is why he's my notable faller — the ignorance of your competitors is always to your advantage. All three of these guys are dynamic offensive weapons. But due to their age and that they aren't 40-goal scorers, you're going to get streaks and the slump portion of that streakiness will always drive people away.
There are a lot of guys in the NHL who are going to score around 20 goals. For some, like Leo Komarov who rose over 20% this last week to be owned in 50% of leagues, a 20-goal season is probably their ceiling. They can become a trendy pickup at a time like this when Komarov has scored five goals over his last 10 games.
However, a young player like any member of this trio (Nelson, 24; Zucker, 23; Jenner, 22) probably hasn't shown their ceiling yet. I think that's particularly true of Zucker and Jenner. If you're taking a bet for the rest of the season, I'm taking a young guy who could be a 30-goal scorer in a slump over a guy who is hot and has a career-high of eight goals at age 28.
Don't forget that Zucker was second to only Rick Nash in goals per 60 minutes of even strength play last year. He put up 21 in just 51 games and didn't see power play time.
Jenner was limited by injury last year, but scored at a 23-goal, 54-point pace. He's now 23 and his ownership is lower than Komarov despite the fact that they have the same number of points and Jenner's ceiling is clearly higher. Not to mention that Jenner bests Komarov in most categories: shots (76/54), blocked shots (23/9) [insert Tortorella joke here], penalty minutes (20/12), power play goals (4/2), game-winning goals (2/1), and a shooting percentage that's close to career average, unlike Komarov's, which is nearly double his all-time best.
As for Brock Nelson, we're talking about a guy who broke 20 goals last season and has been centering John Tavares and Kyle Okposo.
If someone in my league has Zucker or Jenner (or Nelson, to a lesser extent) and I have Komarov, I'm pitching them a trade and selling high on a guy that probably doesn't have any business being on my roster in the first place.
The takeaway being that guys who are in that 20-goal vicinity aren't plentiful, but there are a good handful of them and their upside varies wildly. Gamble on the guy with high upside and stick with him. If someone else pulls the rip cord on a guy like that, grab him now. The playoffs in your league are a long way off and you're going to be glad you stuck it out through the lean times to improve your lineup in the long run.