Fantasy Hockey Mailbag is a weekly column, answering your questions every Tuesday. No question is too big or too small, so if you want advice or feedback on any topic related to fantasy hockey, just ask away in the comments below.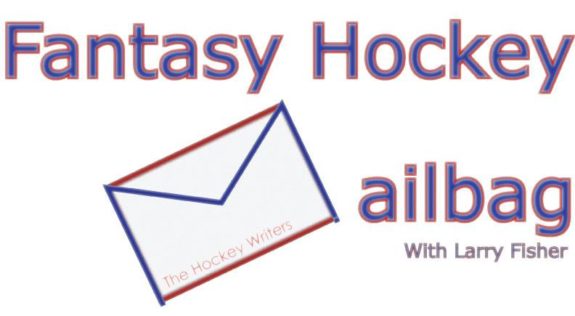 Remember just a couple weeks ago when I told Jason Carkner to hang onto Connor McDavid, to wait and see what the kid could do in his return?
Or how about all those times — I lost count at three — that I told concerned Sidney Crosby owners to keep the faith, insisting that he'd eventually return to form?
Yeah, you're all welcome . . . and I feel sorry for anybody that acted on impulse by trading — or, heaven forbid, dropping — either of those stars.
Crosby scored a ho-hum hat trick on Tuesday and is now leading the NHL in goals (11) since the calendar flipped to 2016 — that's three more than Calgary's Sam Bennett (8). Crosby is also tied with Patrick Kane for the most points (18) since Jan. 1.
So, yes, Sid the Kid is back!
As for that McDavid kid, all he did in his first game back after missing three months with a broken clavicle was, well, this:
Words couldn't have done that justice, but McDavid's goal-of-the-year candidate highlighted a three-point performance in Edmonton's 5-1 win over Columbus on Tuesday. It didn't take long for his bandwagon to fill up again, with all kinds of talking heads wondering aloud whether McDavid could still somehow win the Calder Trophy as rookie of the year or potentially lead the Oilers to an improbable playoff berth. He'll certainly be a big boost to a bunch of fantasy teams.
Granted, it was only one game — against the league-worst Blue Jackets — but it was very evident from the opening puck-drop how much better, or at least faster, McDavid was than everybody else on the ice. Poor Dylan Larkin, his fastest-skater record probably won't last past next year's All-Star Game, assuming McDavid enters the event.
Speaking of All-Stars, I've yet to see the results of the pool I joined, but I'm not liking my chances considering it was a B.C.-based draft and I didn't have Daniel Sedin, who finished tied for second in tournament scoring with three points, behind only Brent Burns, with four. I did the math and I finished with 14 points from 12 players, led by Taylor Hall and Tyler Seguin, with three each. I got two points from Vladimir Tarasenko and Evgeni Malkin (a late replacement for Alex Ovechkin on my 12-man roster), along with singles from Kane, Jamie Benn, Erik Karlsson and Roman Josi. My duds who got blanked included John Tavares, Steven Stamkos, Nicklas Backstrom and Claude Giroux, another addition to my team in place of Jonathan Toews. As you can see, I had high hopes for the Central and Metropolitan Divisions — loading up with five and four players from those respective teams — but that backfired when they both lost out in the semis, although only one goal was scored in the final. Sadly, I didn't pick Mr. MVP, John Scott, for my team, but I doubt anybody else did either.
Moving on to this week's Mailbag, it's publishing a day late because real life got in the way of fantasy, but better late than never, right? I do feel bad for keeping everyone waiting, especially "Field Marshal", who has been one of my loyal THW readers for at least the last year, often commenting with thoughtful insights and now reaching out for fantasy advice for the first time.
Field Marshal asked on THW: Keeper league prospect trade, being offered Kevin Fiala for Juuse Saros and a second-round pick, your thoughts?
ANSWER: I'm a prospect junkie and he asked for an "educated opinion", so hopefully this won't disappoint. I am familiar with both these up-and-comers, ironically both property of the Nashville Predators — Fiala a forward and first-round pick from 2014, and Saros an undersized goaltender who fell to the fourth round in 2013 but would arguably be a first-rounder in a redraft of that year.
It's worth noting, before we dissect this any further, that Field Marshal had already rejected several offers for Saros, whom he is very high on. He has Ben Bishop and Kari Lehtonen as his rostered goalies, with Saros, Louis Domingue, Laurent Brossoit, J.F. Berube and Garret Sparks as prospects on his farm team. The farm has a 24-prospect limit, so quality was more important than quantity in return here thus the reason Field Marshal turned down similar offers that included Dmitrij Jaskin, Michael Dal Colle and Joel Eriksson-Ek.
Do I value Fiala above all those guys? Yeah, I think he has the highest offensive upside, so he's a decent target for Field Marshal. Even with Ryan Johansen added to the fold, Nashville is still starved for offensive talent, so Fiala should eventually get an opportunity there — either flanking Johansen or Filip Forsberg, possibly sooner than later.
Saros probably has the tougher road to the NHL, with Pekka Rinne entrenched as the Predators' starter for at least a few more seasons. I don't see Saros supplanting Rinne within the next couple seasons, but he'll likely overtake Carter Hutton at some point to become Rinne's understudy — much like how Andrei Vasilevskiy is playing behind Bishop in Tampa Bay. Rinne and Saros are both from Finland, so they could work well as a tandem going forward. But would I be willing to wait that long — potentially three or four more seasons — for Saros to become a fantasy contributor? Probably not.
Forwards develop much faster and Fiala will likely be making an impact long before Saros, so I'd lean in that direction. Would I throw in a second-rounder to land Fiala? That seems a bit steep, especially with Fiala having a bit of a boom-bust factor too.
If I were Field Marshal, I'd probably counter with a simple 1-for-1 and if that wasn't accepted, I'd come back with a lower draft pick, perhaps a fourth- or fifth-rounder. If that's still a no-go, I guess you could go as high as a third-rounder if you're equally high on Fiala. If you're lukewarm on Fiala, then I'd explore some other options with Saros, see what else is out there.
Marty Bowes asked on Twitter: Nikita Kucherov for Filip Forsberg, Nick Merkley and a first-round pick (around 10th overall). Should I make this trade?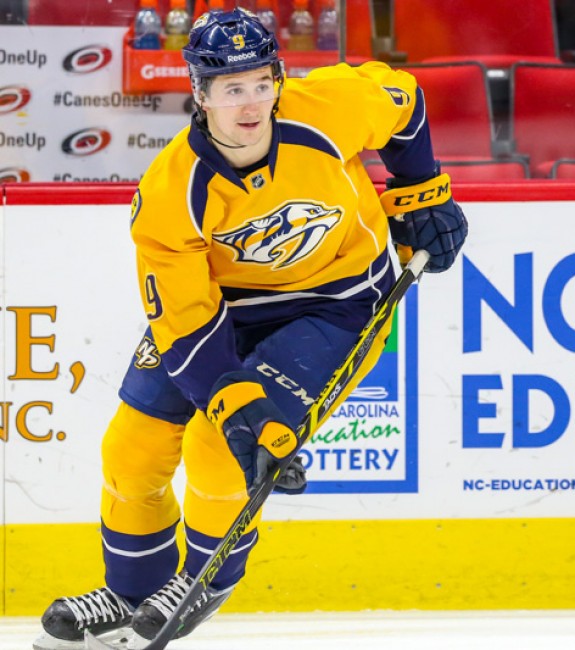 ANSWER: Yes, that's definitely a deal I would make — and that was even before Marty told me that he's in the midst of a rebuild, with his own top-10 pick and another later first already in his possession. So it makes sense, to me, to continue getting younger and stockpiling "futures" assets.
Forsberg isn't having the greatest sophomore season, only on pace for 22 goals and 47 points — down from 26 goals and 63 points as a rookie last season. Kucherov is a year older (22 to 21), on pace for 33 goals and 68 points in his third NHL season — up slightly from 29 goals and 65 points last season. I'm a fan of both players, but I actually think Forsberg has the higher ceiling in terms of point production in his prime. With the right linemates, I think Forsberg could crack the top 10 in league scoring and certainly be a point-per-game guy going forward, meaning 80-plus points in a season if he avoids injury. I see Kucherov as more of a perennial 30-goal, 60-point guy, which isn't a bad thing by any means. I wouldn't bet money on Forsberg outpointing Kucherov next season, but I wouldn't bet against that possibility either.
I would have strongly considered this offer as a 1-for-1 — Kucherov for Forsberg — so the fact that Marty would be getting Merkley and another first-rounder in addition to Forsberg, that makes it a no-brainer for me. I don't think Marty will be regretting this trade any time soon.
Ryan Stewart asked via email: I'm thinking Carey Price won't do much for me the rest of this season, so I'm thinking of trading him to a team with not-so-great goalies. What kind of draft pick do you think I could get for him, or is it not even smart to trade him?
ANSWER: Unlike the aforementioned McDavid, Price's injury is a real mystery and there is no definitive timeline for his return. He could be back in two weeks or be done for the season, nobody really knows for sure. So the temptation to trade Price is understandable. For the right player or package, it is an idea that I would at least entertain. It's still risky because Price is the reigning league MVP and he could return to dominate the goaltending categories once he's healthy. I wouldn't be giving him away, that's for sure.
Therein lies the problem for Ryan. The team wanting to acquire Price is already in first place — just seven points up on fifth-place Ryan — and is trying to buy low to say the least. Initial discussions surrounded a seventh-round pick for Price, which seems asinine to me. A lowball any way you look at it. This is only a nine-team league and the picks are used on actual NHL players to round out rosters for the ensuing season, with this proposed selection likely in the low 60s. Price is probably worth a top-10 pick when he's healthy, so that is hardly fair.
Ryan has pretty solid goaltending as is — with Roberto Luongo and Connor Hellebuyck holding down the fort — so he can afford to wait a bit longer for Price's return. Sure, it'd be nice to replenish some of the draft picks he's already dealt away, but not at the expense of Price and the potential for him to come back to bite you.
Ryan is still "going for it", so I would discourage trading Price to the first-place team — a team that he's trying to catch — in exchange for draft picks. For a seventh-rounder, that's an easy reject. For a first-rounder — thus a top-nine pick — that would be more difficult to turn down. But Ryan really has nothing to lose with Price sitting on the IR for another month either, and he'd have plenty to gain if and when he returns.
As a rule of thumb, you don't want to help the rich potentially get richer if you're chasing them — not unless they are willing to grossly overpay. A seventh-rounder would be selling extremely low in my opinion, and could prove extremely costly too. I'd be demanding a first-rounder for Price or a top-end roster player — somebody picked in the top three rounds — that could help you win-now if that's your goal. If that asking price is too steep for your peers, then just stay the course with Price and hope he comes back to help sooner than later.
@CanuckStruck asked on Twitter: Points-only keeper league, which 2/3 should I keep for next season — Nick Foligno, Gustav Nyquist and Jiri Hudler?
ANSWER: I'd probably recommend keeping Nyquist and Hudler, but let's wait and see what the trade deadline brings. I'd keep Nyquist regardless, he's the youngest of the three and has the best offensive upside in my opinion despite his strange struggles this season. He only has 13 goals and 26 points through 49 games — on pace for 22 goals and 44 points — after producing 27 goals and 54 points in a full 82-game season last year. Nyquist had 28 goals and 48 points in just 57 games the year before that, prorating to 40 goals and 69 points. I think he's capable of getting to that level as early as next season — he should be in his prime, turning 27 years old in September.
Hudler is the oldest of the bunch, having just turned 32, and he's a pending free agent who has fallen back to earth this season, with just six goals and 24 points in 41 games — on pace for 10 goals and 41 points (or 12 and 48 had he played the full 82 games). This, after scoring 31 goals and 76 points in 78 games last season. That likely makes Hudler trade bait leading up to the Feb. 29 deadline but, regardless of where he ends up for next season, he'll likely bounce back to being a 60-point guy. He could flirt with 70 again in a more favourable situation, but Hudler should definitely be good for 55 points.
Foligno has had his struggles as Columbus captain this season too, totaling just six goals and 26 points in 43 games to date — on pace for only nine goals and 41 points (11 and 50 if he had played a full season). So quite similar to Hudler, but Foligno is four years younger at 28. Age is a big deal in keeper leagues, so you have to factor that in. Much like Hudler, Foligno overachieved last season with 31 goals and 73 points in 79 games — his previous career highs were 18 goals and 47 points. I see Foligno as a 25-goal, 55-point guy going forward. He could get back into the 60s, but I'd be shocked if he ever topped 70 again. Foligno could also potentially be on the trade block with nobody safe in Columbus by the sounds of it. Chances are, he stays there and splits the difference of the past two seasons, which would be 61 points.
I guess this decision really depends on whether Hudler and/or Foligno get traded and what their situations will look like for next season. Who will be their projected linemates? Etc. As of today, I'd lean toward keeping Nyquist and Hudler, just because I think Hudler has higher point potential than Foligno in the right situation. However, in saying that, Foligno is younger and could have more productive years left in him. There's still roughly 30 games left in the regular season, so Hudler and Foligno could help make up your mind down the stretch. If they remain relatively even, maybe flip a coin between those two, but definitely hang onto Nyquist — he could still turn into a fantasy stud.
---
My Fantasy World
No results to report from either of my keeper leagues this week, because the All-Star break extended our current periods through to this Sunday. The trade deadline was a bit of a gongshow in my main keeper — an 18-asset deal went down, which didn't go over well with others — but I'll save all those details for next week's Mailbag. Stay tuned!
---
Do you have a question for the Fantasy Hockey Mailbag? You can reach out to me in the comments section below, by email at larry.fisher31@gmail.com, or on Twitter: @LarryFisher_KDC.
Larry Fisher is a sports reporter at The Daily Courier in Kelowna, British Columbia, Canada, and has been an at-large contributor for The Hockey Writers since August 2014.
Larry Fisher is a senior writer and head scout for The Hockey Writers, having been an at-large contributor for THW since August 2014. Fisher covers both the NHL and the WHL, specializing in prospects and NHL draft content, including his annual mock drafts that date back to 2012. Fisher has also been a beat writer for the WHL's Kelowna Rockets since 2008, formerly working as a sports reporter/editor for The Daily Courier in Kelowna, British Columbia, Canada from 2008-2019. Follow him on Twitter: @LarryFisher_KDC.