Fantasy Hockey Mailbag is a weekly column, answering your questions every Tuesday. No question is too big or too small, so if you want advice or feedback on any topic related to fantasy hockey, just ask away in the comments below.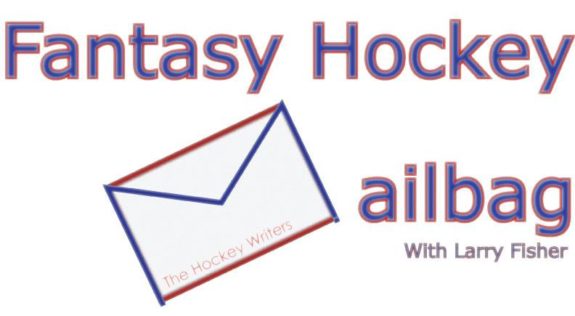 If, by some chance, you picked up John Gibson at the start of last week, it was probably a good week for your fantasy team.
Ditto if you already owned Shea Weber and, to a lesser extent, if you took my advice from last week's Mailbag and grabbed Shayne Gostisbehere.
While Weber has long been a fantasy stud — and yet an even more impactful player in real life, with the other intangibles he brings to the table — those two youngsters are certainly showing that they have bright futures ahead. Gibson is going to be backstopping the Ducks on a permanent basis soon enough — depending what Anaheim does with Frederik Andersen in the coming months — while Gostisbehere will surely be patrolling Philadelphia's blue-line and likely quarterbacking the Flyers' power play for years to come too.
Personally, I can't see either of them — Gibson nor Gostisbehere — going back to the minors, barring a drastic drop-off in their performance, but their two-way contracts could work against them in that regard.
Anaheim acquired Anton Khudobin to be Andersen's veteran backup and he's been solid in that role, but Gibson has come up and been so dominant that the Ducks are now just one point out of a playoff position. You'd think Bruce Boudreau would prefer to roll with the hot hand, but Bob Murray might want to revert to the original plan of riding Andersen in Anaheim while Gibson continues to be a workhorse down on the farm. It's definitely a situation to monitor closely if you've got Gibson on your fantasy roster.
Gostisbehere has been an offensive catalyst from the back end, making the Flyers much more dangerous with the man advantage and helping to get Claude Giroux and Jakub Voracek firing on all cylinders again. Gostisbehere was supposed to be a placeholder for the injured Mark Streit, who may still be a few weeks away from returning, but they might end up paired when the elder statesman rejoins the fold. Philadelphia does have a glut of defenceman on one-way contracts and just recalled one of the most expensive minor-leaguers in Andrew MacDonald, so Gostisbehere could become the victim of a numbers' game if Ron Hextall is unable to move out a body to make room for him. Hextall has been steadfast on wanting his young defenders to develop in the AHL, but Gostisbehere might be forcing his hand here. It wouldn't surprise me in the least if Hextall is working the phones, so fingers crossed that he finds a suitor if you're counting on continued contributions from Gostisbehere.
Moving on to this week's Mailbag . . .
Francis Desjardins asked via email: I'm being offered Filip Forsberg, Sean Monahan and David Krejci for Sidney Crosby. It's a keeper league with only points counting. We keep six players at the end of the season and I don't plan to win next year or 2017 either. What do you think?
ANSWER: Francis actually tracked me down at HFBoards.com where he posts under the handle "frankhabs87". As you know, if you've been a regular Mailbag reader, Francis isn't the first person to ask about trading Crosby this season. And he probably won't be the last either, not as long as Crosby continues to plod along at a very average pace by his lofty standards. He's been picking it up a bit lately, with at least a point in seven of his last eight games, but with only 18 points through 26 games, nobody is satisfied with that output and his fantasy owners are undoubtedly getting inundated with offers. The vultures are circling and I can speak from experience to that end — owning Sid in one of my keepers. Now, before you pull the trigger on any trade involving a superstar of Crosby's calibre — and especially in Francis's case — you want to guard against dealing quality for quantity. I'm not saying Forsberg, Monahan and Krejci aren't solid players — because they are — but Crosby is an elite talent in the midst of a mediocre season. I like Francis's current group of keepers with Crosby more than his potential group of keepers without him. If Francis were able to keep more players — say 10 total — then that trade would make a lot more sense. But he's essentially downgrading Crosby to Krejci, or possibly Phil Kessel if he can swing a subsequent trade — either way, that's a big drop-off in my opinion. And I'm not sure Francis is gaining a whole lot with Forsberg and Monahan over Aleksander Barkov and Sam Bennett. The difference there is definitely smaller than the difference between Crosby and Krejci/Kessel. Francis would be forced to release two really good young players in exchange for slight upgrades — and even that's debatable, keeping Forsberg over Barkov and Monahan over Bennett. If Francis is serious about building for a few years down the road, then he'd probably be better off cutting Jason Spezza and James Van Riemsdyk at season's end while retaining Barkov and Bennett for their long-term potential. That sounds crazy, though, cutting Spezza and JVR in a keeper league. If Francis went that direction, he'd be keeping Krejci/Kessel, Forsberg, Monahan, Barkov, Bennett and Tyler Johnson. That' solid, but I think I still prefer Crosby, Johnson, Barkov, Bennett, Van Riemsdyk and Spezza in that order. I don't think Francis gains enough with this deal to offset the loss of Crosby if/when he starts playing like himself again. Generally speaking, if you give up the best player in a trade, you end up losing the trade, and I don't think there is any doubt that Crosby is still, by far, the best player in this deal. For that reason, I'd personally decline and try to maybe move Spezza or Van Riemsdyk for younger replacements who will be in their prime two or three years from now. If I were Francis, I'd also be hounding my league's commissioner to increase the number of keepers per team, but that's a topic for another day.
Sean Earles asked via email: Would you consider trading a first-round pick for Marcus Johansson and a second-rounder — the picks are less than five spots apart in the draft based on our current standings? I had originally thought it was a good idea, that way I would have that whole Washington line.
ANSWER: As tempting as it might be to unite a line, I'm going to discourage this deal. It's always risky trading a first-round pick for a non-star player, especially if you get hit with injuries and all of the sudden that pick is top 10, top five or, heaven forbid, first overall. Poor Sean would never be able to forgive himself if he traded the pick that turned into Auston Matthews for Marcus Johansson and some boom/bust second-rounder. My rule is I only trade first-rounders for players that are absolute keepers and have star value. I'd hate to tell Sean to make this deal and then have his team plummet the rest of the way, thus giving up a legit stud prospect for a depth forward. If we were talking about that pick swap netting Sean a go-to guy like Alex Ovechkin, Evgeny Kuznetsov, Nicklas Backstrom, T.J. Oshie or John Carlson from the Capitals, I'd say go for it — I'd encourage it without thinking twice. But Johansson isn't on that level, so it's in Sean's best interests to decline and hang onto his first-rounder. If he's still in good shape standings-wise towards the end of January, then Sean can always trade that pick for a bigger fish than Johansson once some of his peers start selling. That would be my strategy going forward, but if Sean is middle of the pack at that point, I'd keep the pick and focus on the future more so than the present.
---
My Fantasy World
Keeper 1
I pulled off a minor miracle here thanks to some Sunday heroics. I actually feel bad for my opponent, but fantasy hockey is as much about luck as anything and I've already had quite the share of bounces go against my team. For a change, the Hockey Gods smiled on me to end a week and I managed to reverse my result — I was trailing 6-3-1 to start Sunday but wound up winning 6-3-1 thanks to flipping the forward goals (12-11), forward assists (10-9) and penalty minutes (46-39) categories in my favour. I had a full lineup going, which is obviously rare for a Sunday, but my Oilers had a strong showing against Buffalo and Crosby even did his part by picking up a key assist.
That was my second straight much-needed blowout win, coming off a 7-2-1 victory the previous week. I'll try to make it three in a row this week against one of our league's non-playoff teams and biggest sellers, albeit with a roster that still puts up a respectable fight week in and week out with the likes of Vladimir Tarasenko, Duncan Keith, Brad Marchand, Mike Hoffman and Artemi Panarin. It won't be a cakewalk, but it should be another 'W', with this opponent more so building for the future — as evidenced by adding Alexander Radulov and Ilya Kovalchuk on the weekend. If he's able to sign both of them ahead of our Jan. 27 deadline and they end up returning to the NHL for next season, this team could definitely be a contender thanks to those unheralded but high-risk gambles. That said, I wouldn't hold my breath on either of those guys.
Even with those consecutive blowouts, I'm still only in ninth place out of 20 teams — albeit just eight points out of a top-five payout position. I'm 22 points behind our standings leader, who has been on top for seven straight weeks but now has a few teams hot on his heels, with our defending playoff champion closing to within three points in second place.
My roster remained intact here — aside from swapping Anton Lander for Stefan Elliott in a very minor waiver move — but there were a couple intriguing trades involving other teams over the past week.
INCOMING = Blake Wheeler, Jason Pominville, Alex Galchenyuk, Shane Doan, Marek Zidlicky, Mark Borowiecki and Brendan Leipsic
OUTGOING = Nikita Kucherov, Valeri Nichushkin, Erik Haula, Seth Griffith, Matt Donovan and a first-round pick (currently 14th overall)
ANALYSIS: This deal was between two of our original GMs in their sixth season in this league. Our trade deadline is still roughly eight weeks away (Jan. 27), but the buyers are desperately trying to keep pace with each other and the sellers are looking to capitalize in the meantime. This particular buyer added depth both at forward and defence, but paid for it with some promising young players and a first-rounder. I think it was worth it, that this buyer is in good position to continue his climb up the standings — currently tied for sixth place but arguably now boasting a top-three roster. This week marks the midpoint of our season, so he's still got plenty of time to catch up, but needed to make a move in the midst of a tough stretch in his schedule. He's playing the third-place team this week followed by our current leader next week and then the second-place team two weeks after that. If this buyer can win two of those three matchups — and I think it's possible with these reinforcements — then he'll be in good shape the rest of the way.
---
INCOMING = Ryan Suter, Martin Hanzal, Matt Beleskey and Mike Condon
OUTGOING = Matt Dumba, Jonas Gustavsson, Brian Dumoulin, Jordan Martinook, Jordan Weal, Timo Meier, Nicolas Kerdiles, Roland McKeown, Oliver Kylington, Oscar Dansk, a first-round pick (currently 18th) and a second round pick (currently 21st)
ANALYSIS: Like I said, the big buyers are in an arms race right now. This was a knee-jerk reaction from the third-place team, knowing full-well he was about to face that technically seventh-place team that pulled off the aforementioned blockbuster. So this buyer countered that move by bolstering his defence with Suter, while also adding a couple decent depth forwards and another goaltender who is starting for the time being. He gave up a lot of quantity, but there is some quality in that package too with Dumba, Meier and the two picks, plus a few other prospects that could pan out. It's probably fair value based on our market this season, but it's not a bad year to be a seller, that's for sure.
---
INCOMING = Leo Komarov
OUTGOING = Daniel Winnik, Sebastian Collberg, Zack Phillips and a free-agent signing
ANALYSIS: A swap of Leafs forwards, with a couple fringe prospects as throw-ins. I doubt Collberg or Phillips amount to much going forward, but that free-agent signing could come in handy considering this seller is my current opponent — the same team that has since added Radulov and Kovalchuk. You can see that strategy coming to fruition, and if those signings work out for next season, he obviously wins this deal. But this buyer is in second place, so Komarov gives him that extra little boost in pushing towards another championship. Not only did he win our playoff title last season, but he was our three-time defending regular-season champ prior to that, so he knows a thing or two about winning.
---
INCOMING = Sam Gagner
OUTGOING = Greg McKegg
ANALYSIS: A swap of two guys who played some junior for the OHL's London Knights, but neither of them have much fantasy value. I guess I'd rather have Gagner for this season because at least he's in the NHL. McKegg might never get there now that he's property of the Florida Panthers.
---
Keeper 2
Ugh, there was no big comeback to speak of here. I fell behind early and got routed 176.3-117.7. My opponent put up the eighth-highest point total in this 28-team league, while my total was the fourth worst. I'm now on a three-week losing skid with a good chance it stretches to four against another pretty stacked foe. This week's opponent has a 6-3 record, while I'm below .500, at 4-5, for the first time in a long time, having strung together three straight wins prior to the wheels falling off and my team falling out of a playoff position.
As I mentioned in last week's Mailbag, I'm strongly considering "blowing it up" in this league, which would potentially mean parting with the likes of goaltender Kari Lehtonen, defencemen Cody Franson and/or Erik Johnson, and forwards Brandon Dubinsky, Craig Smith and Ales Hemsky. I'm listening to offers on those guys, and I'll probably start sending out my own proposals at some point this week.
Somebody needs to make a trade in this league — there were none last week — so it might as well be me. Stay tuned!
---
Box Pools Update
Once a month, I like to provide updates on my two box pools. Now two months into the NHL season, I still don't have much to brag about here — although I still have bragging rights over the inlaws, which is all that really matters.
In that league hosted by HockeyDraft.ca, I've moved up a couple spots — from 19th to 17th place — but I'm way behind the leader, 51 points off his torrid pace. I was 32 points back the last time we checked in — back on Nov. 10 — so I'm actually losing ground despite that modest climb in the standings. My wife-to-be's uncle is currently ranked 27th out of 32 teams — 15 points behind me — while her cousin is bringing up the rear, another 24 points adrift. They actually picked pretty good teams on paper, but injuries have held them back — as they often tend to do in box pools.
Meanwhile, in the Kentwood Hockey Draft put on my OilersNation.com, I've rocketed up the standings — all the way into a tie for, drum roll, 246th overall. That doesn't sound very impressive, but I had been tied for 693rd out of presumably thousands of entries back on Nov. 10. I had 207 points then, but I'm up to 415 points now, so do the math and that amounts to a decent month. As was the case in our family-run box pool, the standings leader is leaving me in the dust here too. I trailed by 48 points in the Kentwood at last check, but now I'm 61 behind the top-ranked 476. Comparing rosters, he took Jamie Benn where I took John Tavares and he has both Sedins whereas I only have Henrik. He also grabbed Weber and Roman Josi on defence, while I went for Kris Letang and Victor Hedman. Those seemingly little decisions can make a world of difference in box pools and I'm learning that the hard way again this season.
---
Do you have a question for the Fantasy Hockey Mailbag? You can reach out to me in the comments section below, by email at larry.fisher31@gmail.com, or on Twitter: @LarryFisher_KDC.
Larry Fisher is a sports reporter at The Daily Courier in Kelowna, British Columbia, Canada, and has been an at-large contributor for The Hockey Writers since August 2014.