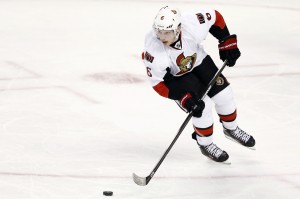 "Happy New Year" is a relative term for some of the United States' most talented players. After today's ever exciting installment of the Winter Classic, Team USA's general manager David Poile and company formally announced the 25 man roster that will represent the red, white, and blue in Sochi. For Jimmy Howard, Phil Kessel and James Van Riemsdyk this was a night to remember. The three returned to the ice surface donning the new Team USA sweaters in front of a freezing yet enthralled Michigan crowd. You can find the complete roster here For others, it was a night to forget.
Over the past few hours Bobby Ryan's omission from the roster has drawn the ire from fans across the states. Ryan expressed his displeasure about the snub on twitter briefly before deleting the evidence. That makes it go away forever right? Here is a link to more Bobby Ryan reaction, including a sarcastic retort from the man himself.
All Part of USA's Strategy?
Scott Burnside offered some interesting insight on the team selection process only moments after the announcement. Players weren't chosen solely based on skill or experience. Poile and his committee relied somewhat heavily on chemistry and intangibles.
Bobby Ryan was also in Vancouver and has been the most consistent of U.S.-born scorers, having tallied 30 or more goals four times for Anaheim before being dealt to Ottawa in the offseason. And yet there is surprising resistance to simply penciling him into a spot on the wing.

The issue is where he fits. If he's not a top-six forward, his skating doesn't really lend itself to him being a third-line checker. He cannot kill penalties, and while in Anaheim, he was not on the team's top power-play unit.

"I think he's sleepy. I think he skates sleepy," offers one member of the selection committee. And so Ryan, unbeknownst to him, finds himself in a battle for a place on The Board with wingers like Max Pacioretty, James van Riemsdyk, Blake Wheeler and T.J. Oshie before Ryan has set one skate on the ice.
Seems to me that Ryan is catching an awful lot of flack for four time 30 goal scorer who has 18 tallies in his first 42 games this season. Nonetheless, the USA selection team has every right to value pure scoring ability below other player behaviors.
A Statistical (Unrealistic) Approach
Much of today's hockey analysis is done quantitatively. Team USA clearly put raw statistics on the back burner. What if they decided to field only their best fantasy players in Sochi? How different would the lineup look? For this experiment, I used standard 6 category scoring for skaters (G, A, PP, SOG, +/-, PIM) and the 4 for goaltenders (W, SV%, GAA, SHO). Here are the 14 best forwards, 8 best defensemen, and 3 best tenders. The players are listed in descending fantasy value.
Forward Selections
Patrick Kane, Joe Pavelski, Phil Kessel, David Backes, Ryan Kesler, Bobby, Ryan, Kyle Okposo, Zach Parise, James van Riemsdyk, Blake Wheeler, Brandon Dubinsky, Brandon Saad,  T.J. Oshie.
Defensemen Selections
Dustin Byfuglien, Kevin Shattenkirk, Keith Yandle, Cam Fowler, Torey Krug, Erik Johnson, Ryan Suter, Andy Greene.
Goaltender Selections (min. 15 GP)
Ben Bishop (20, .935, 1.89, 3),  Cory Schneider (5, .914, 2.13, 2), Jonathan Quick (10, .905, 2.35, 1).
Fantasy Versus Reality
Using fantasy hockey as the only determining factor produces some major changes in the United States' lineup. Let's have a look at where Yahoo! Leagues say that Poile made the biggest mistakes.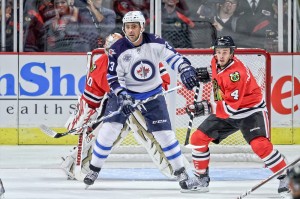 The first glaring discrepancy is that two of the top 3 fantasy American defensemen did not make the roster. Neither Byfuglien nor Yandle got the call this year. These two have aren't only considered snubs on paper. Byfuglien's booming shot and power play capability will surely be missed by the USA blue line. Like Byfuglien, Keith Yandle has 14 power play points and is an extremely skilled skater. He in all likelihood lacked the size to defend some of larger opposing forwards he may see in Sochi. Still, many consider either or both of these d-men to be better fits that Pittsburgh's pair that made the cut: Brooks Orpik and Paul Martin
Aside from Bobby Ryan, Kyle Okposo sticks out as a major oversight. It seemed impossible to snub the man who has the second most points of any American this season (Pat Kane has the most). Okposo was likely left off the list for a similar reason  as Ryan was; he simply didn't fit. Most teams are assembled with 2 scoring lines and two checking lines. Kessel and Kane are two right wingers that are cut from the scoring line cloth. While Okposo has been hot he fails to breach the top 2 and ultimately misses the cut. That being said, Okposo will likely be the first call up is any right handed shot catches an injury in the time leading up to the Olympics.
The goaltenders for Team USA are an equally hot debate topic. Jonathan Quick and his Conn Smythe trophy have proven that he can perform on any stage. Unfortunately, Quick has been injured most of the season and under-performed when he did play. Overall few doubt his ability to rebound. Ryan Miller was the MVP of the 2010 Olympics in Vancouver, and deserves a chance to play with a better team in front of him than the Buffalo Sabres.
Forgot About Ben
While the first two US goalies have been scarcely scrutinized, the number three slot has been hotly debated. Jimmy Howard has been all but sloppy this season yet still got an Olympic nod. While he has shown the ability to steal games in the past, he has done nothing to prove his worth this season. Goaltending is often about riding the hot hand, and right now Ben Bishop is on fire. Bishop's numbers legitimately insert him into the Vezina conversation at the midway point of the season. In his 29 starts, Bishop has allowed 3 or more goals on only 5 occasions. Bishop is giving Tampa a chance to win almost every night and is a huge reason why they have rebounded so nicely in 2013. While he may not see much if any ice time in Sochi, he at very least deserves a spot on the roster.