Adam Henrique has had an up-and-down start to the 2013-14 season with 18 points (9g-9a) through the New Jersey Devils first 41 games, but as the calendar turns to the second half of the season he seems to have found his scoring touch, along with some stable wingers. "They're taking some pressure off of Zajac, Zubrus & Jagr, which is what we needed," said head coach Peter DeBoer when asked about Henrique and his new linemates. "We needed some secondary chemistry, some secondary scoring, and those guys have done that for us; and it couldn't have come at a better time. We've been waiting for a while here (for that)."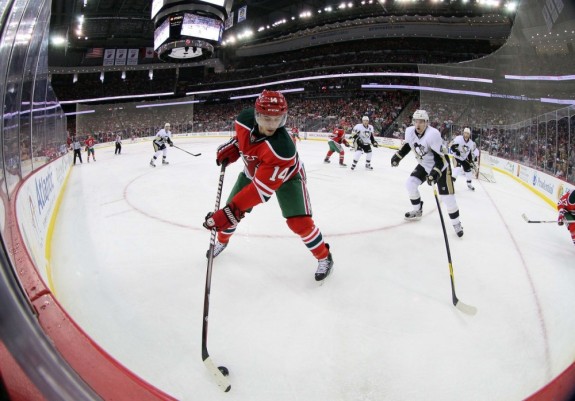 Ryane Clowe has been back in the lineup for the last three games and coincidently Henrique has potted a goal in each of those games (vs. Columbus, at NY Islanders, vs. Pittsburgh). After the Devils' win against the Pittsburgh Penguins on New Year's Eve, he had some high praise for his new center, comparing him to an ex-teammate. "He reminds me a lot of Logan Couture in San Jose," said Clowe, "I played with Logan for three years and he's a helluva hockey player. I think he and Rico have some similarities there when he's on top of his game and playing with pace. You see in the three goals that Rico scored the last three games, they're all driving the middle with speed."
The Hockey Writers sat down with Adam Henrique (who turns only 24 in early February) after the New Year's Eve game to talk about confidence, line chemistry and how often he's asked about that goal he scored against the Rangers in the 2012 playoffs.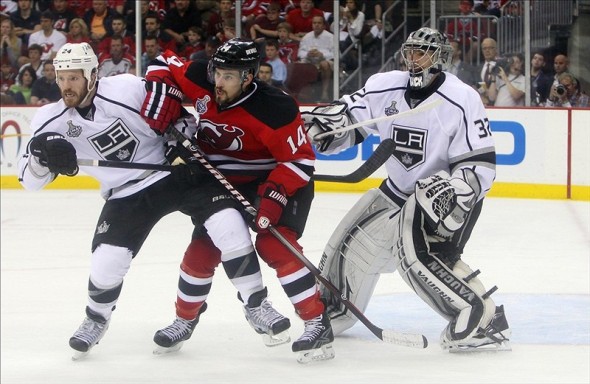 The Hockey Writers: You struggled for a while this season (13 games w/o a goal), but now you have a goal in each of your last three games; do you feel like you're in a groove now?
Adam Henrique: Yeah, it's been good of late; I'm just trying to stay on it. I'm trying to keep playing well offensively, it's nice to have Clowe back in the lineup — we seem to have found some chemistry here. He brings that big, aggressive presence; he's always in on the forecheck, on the body, turning pucks over. I think we can be a dangerous line going forward.
THW: Does it help build chemistry, playing consecutive games with the same guys? Or does everyone on the team have chemistry from being around each other in practice, etc?
AH: It does, you just get more familiar with each other; I've played with (Michael) Ryder here and there since the start of the year. It helps getting Clowe back; I felt we (the three of us) played well in preseason and the start of the year. It was tough to see him go down with an injury but it's big to have him back. Sometimes you get that chemistry between three guys and I think everybody brings a little something different, element-wise, to the line. It's been big for us so far; we are playing well offensively and defensively too. We talk a lot on the ice, we talk off the ice about what we expect of each other and it's been good so far.
As fans we all love to give lines nicknames, and we really liked Rico & the Newfies; sounds like a band name:
ZZ Pops Remix and Rico & the Newfies are both solid lines. This team is starting to take shape.

— John C (@general_devs89) December 31, 2013
THW: Is it expected that confidence is something that comes and goes throughout an 82-game season?
AH: Yeah it definitely is. I felt I was playing well the last few weeks; I was just right there — hitting posts and the goalies were making big saves, stuff like that. I just made sure I stayed on top of my practice habits and our game plan. Keep shooting, going to the net, things like that; figuring it was just a matter of time.
Peter DeBoer: We always talk about going to the net; I think having Clowe & Ryder there he has more jump in his step. He's feeling obviously more confident, he's a streaky guy too; he always has been — a lot like Ryder, a lot like (Damien) Brunner. He's obviously feeling it right now.
Adam Henrique burns the New York Islanders with his hot hands:
THW: Your team has now played 18 home games and only once you've been able to win two of them in a row; is that something to work on as we hit the halfway mark of the season?
AH: It's always nice to get some big wins here, in front of our fans. I think (for the most part) we've played well at home; there have been a few games here where the shootout has gotten us but we're still trying to build that identity at home and make it tough for teams when they come in here to play us.
THW: When you go out, whether it's on your personal time or doing an autograph signing do people still ask you about the goal you scored in the playoffs against the New York Rangers? Is it a once a day thing?
AH: Yeah (laughs), it's not very often but every once in a while it comes up. That was a big one. I'll never get sick of hearing about it, being asked about it or seeing it, that's for sure. It's always nice when people come up to you and ask about it.
For the younger generation of Devils' fans, the OT Goal Adam Henrique scored is their 'moment':
THW: What's the strangest thing that a fan has asked you to sign?
AH: You know what, I haven't had anything too bad or out of the ordinary.
THW: We talked to another player last week and he admitted he has been asked to sign a woman's chest. You're a pretty good-looking guy and a lot of the female fans like you a lot, that's never happened to you?
AH: (grins) No, that's never happened but we'll wait and see. Hopefully I have a long career and you never know.
Dan Rice can be reached via Twitter: @DRdiabloTHW or via Email: drdiablo321@yahoo.com
Dan Rice is in his 9th year of reporting for THW & has covered NJ Devils home games for 15+ years at various websites. He began his journey working for legendary broadcaster/writer Stan Fischler from 2002-04 & completed an internship at the ECHL; he also has been writing features for the NWHL (nwhl.zone) website since 2016.